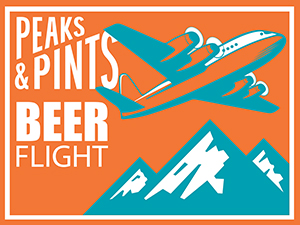 One of the most crucial activities on the day before Independence Day is the "beer run." That's when people make last-minute beer runs to stock up for Fourth of July celebrations. In fact, the week leading up to today is among the largest sales weeks for craft beer each year. "For small and independent breweries, the Fourth of July period is like Black Friday," says Bart Watson, chief economist for the Brewers Association, in a news release. "It's easily one of the biggest beer holidays for to-go sales, and is a huge driver of on-premise sales as well." It's only right, then, that July 3 is designated National Beer Run Day. To help you celebrate, Peaks and Pints suggests five running-themed beers to consider filling up your coolers and fridges for this Fourth of July. Stop by our craft beer bar, bottle shop and restaurant and grab Peaks and Pints Pilot Program: Beer Run Day On The Fly.
Peaks and Pints Pilot Program: Beer Run Day On The Fly
Mirage Foot Chase
4.9% ABV
The greatest foot chase on film? No actor is better known for his skills of running on camera than Tom Cruise. It seems like he fits an intense running sequence into all of his movies, especially in the Mission: Impossible franchise — especially the 2018 Mission: Impossible – Fallout flick. The foot chase scene is a master class of action filmmaking. It's literally just Cruise's Ethan Hunt running on foot after villainous August Walker, played by Henry Cavill. The chase involves Hunt accidentally interrupting a funeral, running through an office in the midst of a workday, jumping out of the window, and a scene where Cruise meant to hit the side of the wall and pull myself over, but his foot hit the wall and snapped his ankle, for real. Mirage Beer's Foot Chase is a rustic 8-week pilsner brewed with spelt, Mecca Grade Pelton Pilsner-style malt, and Contessa hops for lemon notes and noticeable hoppiness — should you choose to drink it.
E9 Detour Ahead
5.2% ABV
If you're training for a long-distance race such as a marathon, chances are you're tackling the same route throughout your training cycle. To fight boredom and monotony — and to keep yourself on your toes — choose a detour. Try an entirely different path, or simply take a short detour on your regular run and explore a new part of the park or town. By differentiating your long runs, you'll keep your mind alert while switching up routine. Afterward, celebrate with an E9 Brewing Detour Ahead single hopped lager brewed and dry hopped with Palisades hops for flavors of nectar fruits and citrus.
Mother Earth Project X: Cognitive Aerobics
7.2% ABV, 28 IBU
Researchers have long understood that running improves people's cognitive performance, including their executive functioning, attention and memory, as well as their brain structure. In older adults especially, running has been shown to increase the size of the hippocampus, which is the part of the brain responsible for memory, learning and emotion. Remember these facts on your beer run to grab Mother Earth Brewing's Project X: Cognitive Aerobics. Mother Earth spent 18 months fine-tuning their hazy IPAs, grouping them under their "Project X" series. This straw-colored haze bomb is brewed with a combo of New Zealand and PNW hops lending a huge aroma, full of citrus and fruit candy. Peach rings, orange marmalade, and lemon zest are just a few adjectives that describe the nose on this choice, lactose-free west-coast hazy. A light malt profile allows the citrus and tropical qualities to shine.
Brothers Cascadia Easy Win
5.8% ABV
A hare challenges a tortoise to a race. The tortoise accepts. The hare chuckles to himself, knowing that all the bookmakers will have read that fable about the tortoise and the hare and give him long odds. What the hare does not realize is that the tortoise bought a pair of Nike Air Zoom Alphafly Next% running shoes. Another pair reunite for a race to your pallet. Citra and mosaic come together in Brothers Cascadia Brewing's delicious hazy IPA made for this beautiful weather! It's dry and balanced with a touch of tropical and dank.
Two Beers Wonderland Trail IPA
7.1% ABV, 84 IBU
The Wonderland Trail is a 93-mile loop that circumnavigates Mount Rainer within Mount Rainier National Park. It has lots of technical terrain, footbridges, rock scrambles, dense forests, and more than 22,000 feet of elevation gain. The trail is usually completed by hikers in 7-14 days. In August 2020, Dylan Bowman, a Boulder ultrarunner, completed the loop in 16 hours and 58 minutes, breaking the previous record by 1 hour and 29 minutes. With his time, he was running the trail at a pace of over 5 mph. Two Beers Brewing Wonderland Trail IPA is brewed with Cascade, Amarillo, Mosaic, and Legacy hops, then dry hopped with Citra and Mosaic hops. On the nose, a slightly sweet aroma of tangerine is followed by a wave of citrus and passionfruit on the palate, finishing clean and refreshing — unlike Bowman.
LINK: Peaks & Pints cooler inventory
---