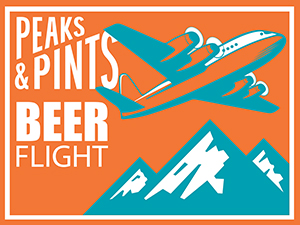 You've heard of gose. It's German, a sour beer. Pronounced "go-zuh," like the thing that wrecked New York in Ghostbusters. Reported to be between 200 and 1,000 years old, it's sour and salty, a low-ABV session beer, which means it won't get you sauced. The gose style is a wheat beer that balances a sour twang from lactic acid-producing bacteria, a distinct salinity and a subtle floral spice from added coriander. It's made with a souring process using a natural bacteria like what you'd find in yogurt. This provides a natural acidity; a really nice tartness that helps balance. It has a really clean and dry finish with a bit of salt. Today, Peaks and Pints suggests a to-go six-pack gose flight we call Peaks and Pints Pilot Program: Gose On The Fly.
Peaks and Pints Pilot Program: Gose On The Fly
Modern Times Brain Vacation
3.5% ABV, 10 IBU
With the recent heat, your outdoor workload is such that an immediate shower is necessary. And lest your insides feel envious of your outsides, you indulge in a can of something chuggable and reinvigorating while soaking your bones. Voilà, showerbeer. And really, it has to be a can. Meet Modern Times Beer Brain Vacation. It's a refreshing gose layered with pineapple, passionfruit, guava, and orange, which converge in a dazzling liquid tapestry of tropical radness belied by its hella-sessionable ABV and modest 100 calories, so you shouldn't slip and fall.
Kulshan Raspberry Gose
4% ABV
Bright and highly sessionable, Kulshan Brewing's Raspberry Gose pays homage to Northwest Washington's unbeatable long summer days and the hardworking raspberry farmers of Whatcom County. Malted wheat, Pilsner malt` and German Perle hops and fresh raspberries are inoculated for a hazy pink-ish summer sipper. Expect mild sour aroma with berry notes, some body, light malt base and slight tartness.
Anderson Valley Briney Melon Gose
4.2% ABV
At Anderson Valley Brewing Company in Boonville, locals and travelers mix in the age-old spirit of a roadside public house, and you might even end up speaking a few words of the local folk dialect, Boontling, before you leave. Their Briney Melon Gose hits the nose with melon-like fruit sweetness and some underlying honey notes. Expect a thirst-quenching lactic tartness up front followed by some melon-fruit sweetness. The saltiness only adds to the melon sweetness, which transitions to a medium-sour finish.
7 Seas Grapefruit Sour
4.7% ABV
7 Seas Brewing Grapefruit Sour is a modern twist on the ancient gose style; if you took a grapefruit and ran it through a Vitamix, it would look just like this beer. Grapefruit Sour Ale is a refreshingly tart sour loaded with pureed grapefruit. The grapefruit helps balance out the San Juan Island sea salt. Unlike other goses, this sour doesn't contain coriander. What you do get is plenty of that bright, lacto sour sitting right along the fruit, reminding you that, hey, this is a beer after all. Pilsner malt and malted wheat are also behind the giant red "7" on the can, but good luck tasting it in all the fruit flavor.
Rogue Ales Raspbery Tartlandia
4.9% ABV, 9 IBU
Rogue Ales & Spirits offers Raspberry Tartlandia, a sour ale brewed with raspberry, coriander and hand-harvested salt from Newport's Yaquina Bay. This delicious tart and salty gose pays homage to their home in Newport, Oregon, with salt they hand harvested from the Yaquina Bay in their backyard and is inspired by a beer that they brewed with Chris Rogers to celebrate the Oregon Coast Community College's independent accreditation.
Bruery Terreux Goses Are Red
5.3% ABV
Roses are red / Violets are blue / Craft beer costs less / Than dinner for two. This is a rosé — and a gose — by any other name. Goses are Red is a stylish match of a funky, crisp and tart gose with the soft sweetness of a rosé wine. The refreshing wheat-based beer begins with some of the qualities you'd expect from a gose, including coriander spicing and a light saltiness to complement the tartness imparted by Bruery Terreux's house cultures. But the story doesn't end there — it builds in complexity, thanks to time spent in an oak foeder and the addition of grapes, which impart a refreshing rosé character and color. It's a charming interpretation that says all the right things, but it's not as sweet as you.
LINK: Peaks & Pints cooler inventory
---