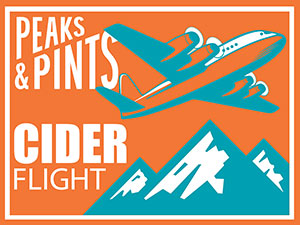 Variety is the spice of life. Variety is also a defining characteristic in hard cider. Like wine grapes, cider apples have the tannin, acid, sugar and aromatic precursors necessary to make a complex fermented beverage. Unlike wine grapes, these characteristics are rarely all contained within one variety. Therefore, most ciders are blends. Cider makers often blend inedible bitter-sharp and bittersweet apple varieties with crossover apples to create their signature house styles. Others are experimenting with single varietals, using just one type of apple to create ciders with a distinct flavor profile. Peaks & Pints enjoys ciders made with cider specific varieties. We're highlighting a few of the varietals in this week's Monday cider flight: Peaks and Pints Monday Cider Flight: Apple Varietals.
Peaks and Pints Monday Cider Flight: Apple Varietals
Alpenfire Northern Spy
6.1% ABV
The original name for Northern Spy apples was Northern Pie because of its prominent use in the baked dessert. This variety has long been used to make cider because of its high level of juice and its ability to give a strong apple flavor without being overly sweet. The apples for Alpenfire Cider's single varietal Northern Spy cider were grown organically in Hood River, Oregon, at Heirloom Orchards. The apples are fermented to a crisp refreshing dryness with a medium level of acidity. The lack of commercial yeast added a bit of complexity to the fermentation and increased the complexity of the final cider adding some woody aromas.
2 Towns Cosmic Crisp
8% ABV
Cosmic Crisp apple is the work of 20 years of study and research by Washington State University, resulting in a classically bred hybrid of Enterprise and Honeycrisp apples. The resulting fruit is a large, round, crisp, and super juicy apple that is perfect for snacking, baking, and, perhaps most importantly, cider making. Crafted from a resplendent blend of fresh-pressed juice from its namesake, Cosmic Crisp, and other Northwest apples, 2 Towns Ciderhouse's cider shines with strong notes of white currant and pineapple blossom off of a platinum-colored cider that is as crisp and sparkling.
Whitewood Imperial McIntosh
8% ABV
David White started his production-only Olympia cidery in 2011 with business partner Heather Wingwood, with their first cider release in 2012. In May 2013, Whitewood Cider Company opened for business in Olympia, the only craft cidery between Seattle and Portland. The McIntosh apple was developed in Ontario, Canada in 1798. The McIntosh has a distinct perfume-like aroma. The flesh is firm, juicy, and white. It is an all-purpose apple great for eating fresh, cooking or an imperial cider with a champagne-like nose and sweet, bubbly apple taste.
Union Hill Kingston Black
8.5% ABV
An English cider apple that first appeared in Somerset in the early 19th century, Kingston Black is regarded as the perfect cider apple that is often used to make a single varietal cider. It is classified as a bittersharp with notable spice notes and medium acidity and mild tannins. Union Hill Cider believes "the perfect apple only becomes better by growing in the perfect region: the hot and dry climate of central Washington. This cider is well rounded and enjoyable to the novice as well as the seasoned cider drinker." Union Hill's Kingston Black — made with 100 percent Kingston Black apples and cane sugar — grabbed the "Judges Pick" at the 2020 Cidercraft Awards.
LINK: Peaks & Pints cooler inventory
---