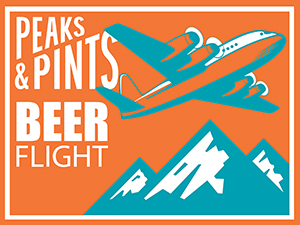 Evil Twin Brewing's Some People Are Immune To Good Banana Stout arrived at Peaks & Pints this week. So, let's go bananas with a banana to-go beer flight today! Yes, of courser, hefeweizens have their say in this beer flight as the top-fermenting Bavarian yeast Torulaspora delbrueckii, which German brewers refers to as the "proper" hefeweizen yeast, produces phenols and esters that impart banana flavors. WLP300 yeast is also used in the production of traditional, authentic hefeweizen. It produces a high level of isoamyl acetate, giving the resulting beer notes of banana. We also threw in said stout and, duh, Banana Bread Beer. Let the peelings slip where they may, and enjoy Peaks and Pints Pilot Program: Banana On the Fly.
Peaks and Pints Pilot Program: Banana On the Fly
Stoup Bavarian Hefeweizen
5% ABV, 13 IBU
Stoup Brewing honors German tradition by brewing this beer using decoction mashing techniques and fermenting with a German yeast strain that imparts prominent banana and clove notes. The wheat gives this beer a crisp, slightly tart, refreshing finish.
Brauerei Michael Plank Dunkler Weizenboch
7.8% ABV, 14 IBU
A throwback to celebrate Bavaria's late 19th century brewing traditions, Brauerei Michael Plank's award-winning weizenbock offers flavors of ripe banana, vanilla, bubble gum, and clove, with just a kiss of honey and plum. This full-flavored, yet thirst-quenching beer also has a lovely creamy texture.
Eagle Banana Bread Beer
5.2% ABV, 18 IBU
First things first: Wells & Young's Brewery (Wells & Young's Brewing Company) was formed in October 2006 from the merger of the brewing operations of Charles Wells Ltd and Young's Brewery. In 2011, Charles Wells took full control when it bought Youngs 40 percent stake. Charles Wells built and brewed his Banana Bread Beer at the Eagle brewery. Marston's recently bought the Eagle brewery from Wells and most of the beer brands in the Wells portfolio. Marston's has rebranded the beers under the existing name of the brewery they now own — Eagle. So Wells Banana Bread Beer is now Eagle Banana Bread Beer. Whatever brewery is brewing this beer it still smells like bananas. Seriously. In fact, Banana Bread Beer not only smells like bananas, but tastes like bananas, too, and not the artificial banana of bubble gum. The flavor is nicely balanced with the hops, the banana component more a whisper than a shout. The whole thing was a little sweet, but not in a disagreeable way.
Evil Twin Some People Are Immune To Good Banana Stout
10.7% ABV
Knock, knock. Who's there? Banana. Are you sure? The banana is subtle in this imperial stout with banana and maple syrup additions. Brewed at Westbrook Brewing Co. in South Carolina, Evil Twin Brewing's Some People Are Immune To Good Banana Stout hits the nose and tongue with roasted malts, chocolate, maple syrup and mild banana character. We's gotsta have more banana, Evil Twin! Some People Are Immune To Good Banana Stout does have a big body, syrupy mouthfeel and the chocolate is accountable in this tasty stout.
---