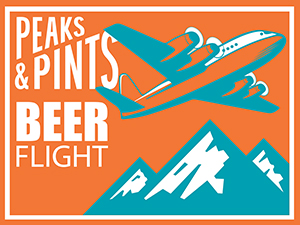 Why an IPA flight the day before Halloween? First, the majority of the world's hops are harvested in late summer, starting at the tail end of August and stretching into September. After harvesting, most hops are kilned and pelletized, a process that can last until it gets cold. Brewing a beer when the hops are at their freshest, for the brightest possible hop character, happens to land at the beginning of winter. Second, this time of year IPAs carry a little bit more malt, incorporating adjuncts like cedar, and a touch more alcohol to shake off winter's chill. Stop by Peaks and Pints and grab this three beer to-go flight, Peaks and Pints Pilot Program: Autumn IPAs On The Fly.
Peaks and Pints Pilot Program: Autumn IPAs On The Fly
Tacoma Cigar Box IPA
8% ABV, 50 IBU
Morgan Alexander brewed beer in high school. He used Baker's yeast and apple juice, which Alexander says was horrible. He kept the lab coat on, home brewing with unusual ingredients for years before converting his beloved Tacoma Triangle District Amocat Cafe into Tacoma Brewing Company, a tiny taproom that he eventually abandoned for a ginormous space up the street. His reoccurring Cigar Box IPA is aged on Spanish cedar opening an aroma of cedar, vanilla, tobacco and sandalwood. The rich, mellow, spicy hint of wood receives a puff of grapefruit, thanks to Chinook, Simcoe, Cascade, and Centennial hops.
Sierra Nevada Celebration Ale
6.8% ABV, 65 IBU
Now that it's almost wintertime, where do all the hops go? They're currently hibernating in this yearly seasonal from California's Sierra Nevada Brewery. In the midst of the many big and malty winter ales, Celebration Ale provides a comfortable winter home for the season's displaced hops. The neo holiday IPA skips the spiced and sweet for citrus and pine aromas, plus bold and intense thanks to Cascade, Centennial, and Chinook hops.
Bale Breaker High Camp Winter IPA
7.3% ABV, 84 IBU
Named for the ski lodge atop of White Pass Ski Resort, High Camp IPA takes Bale Breaker's signature hop-forward style to a darker side with the addition of chocolate malts for malty backbone of spice and chocolate. Dry-hopped with Cascade, Centennial, and Mosaic, the hop character in High Camp bursts with pine and grapefruit.
---