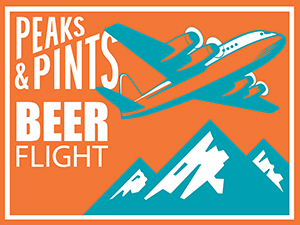 It's that time again. You know what we're talking about. Don't try to play coy. It's the time when 30 degrees meets the sting of a $90 ticket, and together they form something more tasty than a new Pierce County Airport — that's right, it's the 2022 Apple Cup. Washington State University ended a seven-game skid in the Apple Cup last season and looks to upend the season of No. 13 Washington when the fierce rivals meet in Pac-12 play tonight at Pullman. The Huskies (9-2, 6-2 Pac-12) still have an outside chance of reaching the conference title game but a loss would end that pursuit. Washington enters with a five-game winning streak. The Cougars and Huskies renew the annual Apple Cup tradition for the 114th time in Pullman's Martin Stadium. The game kicks off at 7:30 p.m. and will be televised on ESPN. In celebration of one the state's annual biggest game, Peaks & Pints presents a to-go flight of Apple Cup themed beers — a flight we call Peaks and Pints Pilot Program: Apple Cup 2022 Beer Flight.
Peaks and Pints Pilot Program: Apple Cup 2022 Beer Flight
E9 Puppies Vs. Kittens
6.5% ABV
E9 Brewing brews an annual IPA celebrating the Washington Huskies and WSU Cougars annual match-up. This double dry hopped IPA is enhanced with Citra Cryo, Simcoe Cryo, and Comet, plus 2-row malted barley and German pilsners malt with a small amount of golden naked oats and torrified wheat, plus fermented with E9's Barbarian Yeast to produce juicy stone fruit, apricot, and peach flavors. When the final whistle sounds, expect characteristics of lime and grapefruit citrus, apricot, stone fruit, and tropical melon.
No-Li Big Juicy
6.1% ABV
John Bryant's first taste of the beer business was pouring pints for fellow Washington State University students at the Cougar Cottage. Since then, the 1988 WSU Communications graduate has helped build microbreweries in Oregon and Colorado into some of the most successful and respected in the country, including No-Li Brewhouse in Spokane. A 2020 US Open Beer Championship Silver medalist, Big Juicy has a light malt foundation providing a platform for Citra, El Dorado, Belma, and Azacca tropical and citrus flavors to shine. Mellow bitterness just balances the fruity notes in this hop forward, golden-colored IPA.
Wayfinder Animal Beer
5.3% ABV
LINC Malt is devoted to connecting inland Northwest grain growers with the local craft brewing communities. In fact, Joel Williamson, head maltster at Spokane-based craft malting company LINC Malt, helped Washington State University's barley breeding program create Lyon malt for brewers. Wayfinder Beer's Apple Cup appropriate Animal Beer pilsner combines the choicest Oregon-grown Cascade hops with mild complexity of Mountain-malted Genie barley from LINC Maltings and locally sourced corn. Brewed in Collaboration with Fair State Brewing Cooperative in Minneapolis, Minnesota, Animal Beer is light, clean, and super smooth.
Bale Breaker Incoherency
8.7% ABV
Hops have long defined life at B.T. Loftus Ranches in the Yakima Valley. Back in 1932, Kevin Smith and Meghann Quinn's great-grandparents founded the family hop farm that's now run by their older brother, Patrick. Meghann and her husband, Kevin Quinn, and younger brother were keen homebrewers. Wouldn't it be natural to start a brewery on the farm? In 2013, the trio took down three acres of the farm's Field 41 and built Bale Breaker Brewing Company, which is surrounded by fields of hops. We're including Bale Breaker in this Apple Cup to-go beer flight because Meghann Patrick, and both Kevins are UW alumni. First released through the Imagination Station in 2017, the reprise of Bale Breaker's mind-altering golden stout made with vanilla beans, cacao nibs, and Basalt Roasters' coffee proves that looks can be deceiving. Brewed as part of their Caskmates collaboration with Jameson, Incoherency is aged five months in Jameson whiskey barrels.
Ravenna To The Edge
12% ABV
Former London-bound information-security architect and University of Washington alumni Tommy Ortega, his wife, Elise Ransom Oretga, and several Ransom family members — including Tommy Ransom who was the real estate agent who found the Seattle neighborhood Ravenna location for the brewery — opened Ravenna Brewing on April 15, 2016 across from Ravenna Park. Ortega and Elise originally planned to call the brewery Ol Faithful Brewing after the couple's name for their home — a Craftsman in Fremont built in 1907. Tommy Ransom eventually became head brewer for many years, just recently turning over the head brewer job to Audra Johansen, the University of Washington master's degree in chemistry graduate who went on to brew at Urban Family Brewing and Big Time Brewery and Alehouse before arriving at Ravenna. Ravenna's first barleywine, To the Edge, is an exploration of decadent and complex malt and barrel character. This multi-year endeavor employed bourbon and maple syrup barrels, with stock aged for 12 and 18 months. The resulting blend boasts indulgent aromas and rich flavors of chocolate, dark fruit, toffee, and caramel. Warming bourbon and subtle maple sweep in, adding depth and nuance.
LINK: Peaks & Pints cooler inventory
---
Category:
Beer Flight
,
Beer Line Blog
,
Contest
,
Craft Beer
,
Critical Drinking
,
Events and Festivals
,
In The Cooler
,
News and Updates
,
Shop
,
Specials
,
Sports