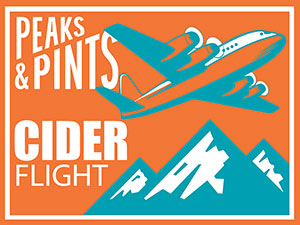 Apples were among some of the first crops grown in colonial America. Potted seedlings and bags of apple seeds were brought over on the Mayflower. The Bible-thumping Puritans were not teetotalers. Apple orchards in colonial America usually meant one thing: hard cider. Apples flourished in the fertile soil and friendly climate, and soon apples were a key part of most colonial farms and menus. The popularity of cider in America grew as the nation's territory expanded. Then, the Temperance movement and popularity of German lager squashed the hard apple cider movement … until 2013. Zealous connoisseurs grow dissatisfied with the mass-produced apple cider sold by far-away, massive corporations. In response, they retreat to their basements and garages and start playing with recipes, learning about fermentation and putting their own spin on the old tried-and-true. Eventually, some hit on flavors in their homemade libation that are so tasty and unique, it seems a shame to hoard it all for themselves. They start putting some in bottles and growlers to share with like-minded friends and family. People flip out. Professional cideries began to pop up. It's an explosion of craft cideries, and a return to the drinking habits of Colonial America. Today is National Apple Cider Day. Peaks and Pints has created a special to-go cider flight we call Peaks and Pints Pilot Program: Apple Cider Day On The Fly.
Peaks and Pints Pilot Program: Apple Cider Day On The Fly
Yonder Dry
6.5% ABV
Founded by CEO Caitlin Braam, Head Cidermaker Tim Larsen and Creative Director Maddy Porter, Yonder Cider's taproom is a stone's throw from Seattle's Green Lake and a drive from the orchards and pressing facility in Wenatchee. Their Dry is bright, light and refreshing with the bite of bittersweet apples.
Seattle Cider Dry
6.5% ABV
Made primarily from culinary/table apples modern ciders are generally lower in tannin and higher in acidity. Seattle Cider delivers delicious modern ciders. With zero percent residual sugar, its Dry is a very dry cider in a classical style. The dryness doesn't equate to a lack of flavor, however, as it still has a refined apple nature underlined by notes of stone fruits and a light tickle of lilac on the nose. It's a cider that can stand alongside one of our roast beef sandwiches without losing the flavor battle.
Herb's Double Stroke
6.5% ABV
After suffering two heart attacks, 53-year-old Primus drummer Tim "Herb" Alexander opened Herb's Cider in Bellingham, Washington. He knew he needed a change. Herb's Cider is made with 100 percent organic Washington apples, and guided by Chris Weir, formerly of Finnriver Cidery and Port Townsend Brewing. Double Stroke (yes, all the ciders have a drum theme) is the cidery's dry offering.
Double Mountain Dry Cider
6.7% ABV
Double Mountain had long toyed with releasing their own hard cider, occasionally featuring housemade cider on at the taproom made from owner Matt Swihart's own apples. The brewery finally releases its own Dry Cider in December 2017, blending freshly harvested heirloom apples from Double Mountain Orchards and Hood River Newtowns, Braeburns, and Hanners for old world complexity. Double Mountain gave it plenty of time to dry out and develop the aromas of juicy pear, lychee, green fruit, and chamomile.  It finishes tart, crisp, dry and quenching.
Tieton The Dry Side (The Hipster)
6.9% ABV
Tieton Cider Works dressed with a piece of clothing from a different decade including a faux-raccoon-fur coat and tap shoes, fluffed their eyebrows, donned enamel pins, brought their "modest" vinyl collection to the cidery and brewed The Dry Side (The Hipster) flavored with rosehips. Brewed for PCC Natural Markets, naturally, Peaks & Pints scored some of this dry, somewhat tart, and moderate bitter cider.
Ole Swede Charred 5 Aged With Toasted Applewood
7.5% ABV
About a 1,000 people live in Tonasket, a city in Okanogan County, Washington. Lucky them to have Ole Swede Cider in their backyard. Tonasket native Casey Oberg launched Ole Swede on his family farm in 2014. His Charred 5 Aged with Toasted Applewood is made with Okanogan harvested Golden, Granny, Pink Lady, Honeycrisp and Manchurian Crab apples. Aged with Toasted Apple Wood from the same farms this off dry cider isn't too tart but rather sweet with applewood flavor.
---