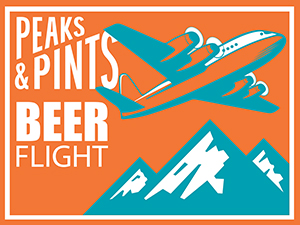 The 16th annual American Craft Beer Week will take place from May 16-22, 2022, throughout all 50 states. Now with well over 9,250 operating breweries within the United States, ACBW is a weeklong, nationwide celebration that focuses on the small and independent craft breweries. Beer was once the unfussy option, the tonic of the masses. On Cheers, Norm simply orders beer — no need for a name, because beer was just beer. In contrast to the perceived snobbery of wine, beer was meant for drinking, not thinking. Today that divide is not so sharp. Peaks and Pints listens to guests discussing the merits of individual hops the same way sommeliers might extol grape varietals. American beer is more interesting and nuanced than ever before. In honor of National American Beer Day, Peaks and Pints presents a craft beer flight of the nation. You'll board on the East Coast and end in Alaska. Peaks and Pints Pilot Program: American Craft Beer Week 2022 is ready to board.
Peaks and Pints Pilot Program: American Craft Beer Week 2022
Evil Twin I'd Like A Triple Grandiose, Extra Sweet, Cookies N' Cream, Caramel Macchiato Cappuccino Please
12% ABV
Our flight boards in Brooklyn, New York, at Jeppe Jarnit-Bjergsø's Evil Twin Brewing. The founder and man behind Evil Twin Brewing was a physics and English teacher in his native Denmark before starting Copenhagen's Ølbutikken, a highly regarded beer store. He founded Evil Twin Brewing in 2010 as a nomadic brewery. In 2012, Jeppe Jarnit-Bjergsø moved the brewery to Brooklyn and relocated there with his family, opening the beer bar TØRST the same year. His I'd Like A Triple Grandiose, Extra Sweet, Cookies N' Cream, Caramel Macchiato Cappuccino Please is an imperial stout brewed with cacao nibs, coffee, cookies, caramel, and milk sugar.
Imprint Frosted Hops 4
8% ABV
The next stop is Hatfield, Pennsylvania, where Imprint Beer Co. has been brewing beer since 2017. They have gained a loyal following in the beer community with its diverse and innovative offerings, from juicy IPAs to sweet pasty stouts, heavily fruited smoothie sours to traditional German lagers. Their Frosted Hops 4 is a nitrofied hazy double IPA brewed with Citra, Strata, and Cashmere for bright tangerines, frozen peach mango smoothie bars, and passionfruit punch.
Hoof Hearted South of Eleven 666
10.2% ABV
The next stop on this beer-drinking flight across the US is Hoof Hearted Brewing in Columbus, Ohio. Funnier than saying "Hoof Hearted" Brewing is the brewery's can art. The cans' artist, Thom Lessner, met Hoof's head brewer Trevor Williams in the second grade. Lessner met another Hoof co-owner, Jarrod Bichon in the fourth grade, and eventually met the last owner, Ryan Bichon. They're all on the same zany page. Lessner doesn't brew the delicious craft beer, but he take's their beer name — influenced by hops, hair metal, and video games — and runs with it. Williams and Jarrod Bichon, a wine salesman and welder, respectively, met at Ohio State University in 1995 and basically drank craft beer across the nation. They opened Hoof Hearted in 2011 in a barn just northeast of Columbus, Ohio, in Marengo — the middle of nowhere. The barn's taproom is complete with a giant projection screen rotating through '80s movies. The opened a second location in Columbus, which screams Danish art gallery. Their South of Eleven 666 begins as their OG hazy triple IPA but the Mosaic hop dry hop is bumped up to 6.66 pounds of per barrel for a hazy orange pour with a creamy, thin white head. It hits the nose with peach, papaya, and tangerine, followed by candied mango, pineapple, papaya, tangerine, and a piney, bitter, soft sticky finish. It's an easy-drinking triple IPA.
450 North SLUSHY Shelly P. Cup
5.3% ABV
When King Neptune's supply of 450 North Brewing smoothie sours is stolen, SpongeBob and his starfish buddy Patrick set off from Bikini Bottom on a perilous journey to replenish his supply. First, the plucky albeit easily distracted heroes make a call to the Columbus, Indiana, brewery pleading with owner David Simmon to brew a new batch for the king. He said, "Yes." Second, they hit the road but face dangers that range from a biker gang, dehydration, and an absurd battle while balanced on David Hasselhoff's hairy leg. "Holy Chum Bucket!" yelled SpongeBob when he pulled up to 450 North's loading dock to discover Simmons brewed a special batch of SpongeBob-themed beers. Headed back to the sea, SpongeBob and Patrick dropped some of the beers in Tacoma, including SLUSHY Shelly P. Cup, a fruited sour conditioned on blackberry, peach, dragon fruit, and marshmallow. It's a worthy pit stop on this trip.
Avery Vanilla Bean Stout
10.8% ABV, 29 IBU
Our flight touches down in Boulder, Colorado, to grab Avery Brewing's Vanilla Bean Stout. In 1993, Adam Avery launches his Avery Brewing Company in a garage off an alley in Boulder, making him one of the pioneers of Colorado's craft beer scene. After 22 years, they moved out of "Avery Alley'" and built a world-class brewing compound in Boulder — a $30 million investment that has created numerous opportunities for the expanding business. After a long absence Avery Brewing's bourbon barrel-aged blend of an imperial stout and a regular American stout flexes its decadent vanilla addition once again, offering a big nose of warm, sticky vanilla, toasted coconut, and a flit of whiskey. Double dose of vanilla derived from both fresh bourbon barrels and the trio of Tongan, Ugandan, and Mexican whole vanilla beans is complemented by the essences of chocolate, caramel, and molasses to round out this luxurious silky stout.
Bombastic Big Dumb Beer
15% ABV
The Peaks & Pints American Craft Beer Week to-go flight lands in Hayden, Idaho, to grab Bombastic's Big Dumb Beer. Phil Hottenstein, a railroad engineer, and Russell Mann, former owner of the Enoteca wine and beer shop in Post Falls, Idaho, and Matt Skillicorn, a mechanical engineer and homebrewer opened Bombastic Brewing after Mann sold the store. The brewery began on a half-barrel (15-gallon) pilot brewing system at the Panhandle Area Business Council incubator near the Hayden, Idaho airport. Their Big Dumb Beer imperial stout is brewed with roasted wheat and flaked oats for a full body and chocolate rye to give bold chocolate notes with minimal bitterness.
E9 Tacoma Brew
5.1% ABV
Of course, we're making a stop in Tacoma, our hometown, which is a bit of a history lesson too.  Columbia Brewing Co. brewed Tacoma Brew in the late 1800s in Tacoma's now Historic Brewery District. Beer made at the facility gained national attention for its flavor and smooth aftertaste in the early 1920s, prompting the brewery to double in size and increase capacity by the mid-1930s. Success at the plant got the attention of another brewery, Heidelberg Brewing Co., which purchased the Columbia plant in 1949 and set out for another round of remodeling. The facility was bought yet again a decade later by Carling Brewery, making it the only West Coast holding of the otherwise East Coast beer company. The brewery is long gone but Tacoma Brew, a Kolsch, is still being brewed. Tacoma's Engine House No. 9, now E9 Brewing located in Tacoma's Historic Brewing District, bought the recipe for the breweries' "Tacoma" brew, and still serves it many, many years after the originating brewery held its last call. Tacoma's first beer has a medium body accentuated with crisp Northwest hops.
Anchorage Better This Way
8.4% ABV
Our flight ends in Anchorage, Alaska. Gabe Fletcher, the head honcho at Anchorage Brewing, started his career at Midnight Sun, another Alaskan brewing company. After 13 years of helping cultivate an image of creating adventurous beers, Fletcher decided to part ways with Midnight Sun and strike out on his own. In 2011, Fletcher released his first Anchorage beer. Turns out Fletcher's meticulous attention to detail and brewing expertise combined to make some amazing beer. The brewery took off, eventually moving to its own brick and mortar in 2014. His Better This Way double IPA juice bomb is brewed with Galaxy, Strata, Motueka, and Melba hops for fresh mango juice with a spritz of sweet passionfruit and lemon Kush followed evergreen pine lingering on the finish, balancing the fruity flavors.
LINK: Peaks & Pints cooler inventory
---