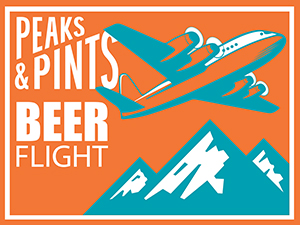 Amber ale in 2020 might seem a little passé in a world dominated by hazies, adjunct-laden stouts and barrel-aged beasts. But not that long ago, amber was the ale that practically built the craft beer house, as you have witness during the Peaks & Pints Tournament of Beer: West Coast Flagships. Immensely sessionable and immediately recognizable, amber ales were easy to drink — making it an enticing prospect to macro drinkers looking for something different — while also being flavorful enough for seasoned drinkers in search of something lighter. Sure, many beers, from IPAs to extra special bitters to barleywines, have a decidedly amber hue to them, but amber they are not. What makes an amber an amber is the malt: soft and sweet with notes of caramel, raisin, maybe even biscuit. Today, Peaks & Pints presents a to-go amber beer flight we call Peaks and Pints Pilot Program: Ambers On The Fly.
Peaks and Pints Pilot Program: Ambers On The Fly
No-Li Porch Glow
5% ABV
No-Li Brewhouse's new amber ale, Porch Glow, added a touch of Chocolate malt to this lager-like amber with just enough hops to keep it balanced. It's slightly fruity with a hint of roasted malt that finishes crisp and refreshing.
Wet Coast Hi Jack! Red Ale
5.5% ABV, 33 IBU
Wet Coast Brewing's name is a triple entendre: 1. West Coast, 2. Northwest weather, 3. Prohibition, where citizens voted wet or dry. In 1920, the United States has just enacted the Volstead Act, prohibiting the production and consumption of intoxicating liquors. Bottles were smashed, babies cried and Americans everywhere were forced to be "dry" and live a life without beer. That is, everywhere but Washington state. Lt. Roy Olmstead with the Seattle Police Department began smuggling alcohol from Canada and soon enough Washington wouldn't just be a rainy state out west, it would become the Wet Coast. Many Wet Coast beers give a nod to Prohibition days, including Hi Jack!, which was used in speakeasies as a code word for law enforcement. Hi Jack!, the red ale, is brewed with Crystal and Black malts for a deep amber hue and smooth body. Centennial hops provide floral and citrus notes with a small amount of bitterness to balance the beer.
Hopworks Queen of Hearts Imperial Hoppy Red
8.9% ABV, 90 IBU
Hopworks Urban Brewery's latest Imperial card-themed series is the Queen of Hearts Imperial Hoppy Red Ale. Queen of Hearts is a hop-forward imperial IPA that maintains a smooth mouthfeel with hints of toffee, caramel, and biscuit balanced with hop driven aromas of fruit, red berries, and pine.
North Jetty Graveyard of the Pacific
10.4% ABV, 65 IBU
Collaboration with Heathen Brewing, North Jetty Brewing's Graveyard of the Pacific Imperial Red Ale takes this amber flight to the extremes, although the amber color is there from Crystal, Honey, and Chocolate malts. It's a full-bodied imperial red bursting with aroma and flavor from a hardy dose of Amarillo, Galaxy, Columbus, and Simcoe hops. Citrus sits in the front followed by a hint of passion fruit and floral. Expect a touch of earthiness and roast roll over the palate in the malty finish.
---