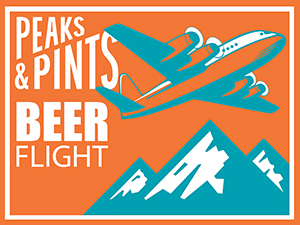 Last Saturday, the Seattle Mariners clinched an American League Wild Card win over the Blue Jays and advanced to the AL Division Series against the Houston Astros. The Houston Astros stunned the Seattle Mariners, notching an 8-7 walk-off victory on Tuesday in Game 1. The two sides meet at 12:37 p.m. today in Houston. The Astros and the Mariners know each other well, both being members of the American League West. They faced each other 19 times in regular play this season, with the Astros winning 12 of those games. Houston finished the season 16 games ahead of Seattle. The Astros have been regulars in the postseason in recent years, going to the ALCS in each of the last five seasons. In three of those years, they made it to the World Series, winning it all in 2017. This is Seattle's first trip to the postseason in 21 years. In celebration of today's games, Peaks & Pints presents a to-go beer flight of Seattle and Texas brewed beers to enjoy while watching the game or ask a Peaks bartender to open the beers one by one while enjoying the game at our craft beer lodge in Tacoma's Proctor District. Either way, we're calling the flight Peaks and Pints Pilot Program: 2022 AL Division Series Beer Flight.
Peaks and Pints Pilot Program: 2022 AL Division Series Beer Flight
SEATTLE BREWERIES
Urban Family Vitality
6.5% ABV
The family-run Urban Family Brewing hid in Seattle's Magnolia neighborhood for many years until they relocated to Seattle's Ballard neighborhood in early 2020. The new location allowed for a 20-barrel brewhouse, a large walk-in space, an expanded taproom, and a larger outdoor area. With the new location, Urban Family expanded their expertise brewing more IPAs, specifically hazies. Their Vitality hazy IPA is brewed with Motueka, Nelson, and Wakatu hops for aromatics of melon and lime peel followed by cucumber, melon, citrus peel, and a splash of limeade flavors. Modest bitterness, and the slight astringency does not overwhelm the fruity flavors.
Fremont Head Full of Fresh Hops
6.8% ABV
Fremont Brewing's Head Full of Dynomite is an ongoing series that pays tribute to hazy IPA, each iteration is slightly different, in terms of the hops, (and each can design is cooler than the last). The Seattle brewery also brews a fresh hop version, and this year's freshie is brewed with fresh Mosaic and fresh HBC 586 with Mosaic and dry hopped with HBC 586. Expect notes of pithy tropical fruit, blueberries, sweet citrus, dankness, and a little hop burn.
Pike XXXXX Stout
7% ABV, 65 IBU
XXXXX marks the spot. While stouts share many key attributes, there is still plenty to differentiate them. For example, all stouts are very dark beers and they all have roasted grain notes. They all have alcohol, fruity esters, hop bitterness, hop character and residual sweetness too, but it is the prominence or subtlety of these attributes that differentiate one style from another. Pike Brewing's XXXXX Extra Stout arrives one X short of the boozy Russian imperial stout, but its flavor is still five-times supersized over dry stouts such as Guinness. Wafts of dark chocolate and coffee tantalize the nose; though, in the flavor, rich dark burnt malt flavor dominates the palate, molasses sweetness in the middle, with dark coffee and espresso that lend bitterness throughout the taste. Extra delicious, you might say.
TEXAS BREWERIES
Spoetzl Shiner Bock
4.45% ABV
In 1915, with a co-buyer, Kosmos Spoetzl, a brewmaster trained in Germany, bought the Shiner Brewing Association, and gave it his last name, but he still remained true to Shiner and kept the beers named after their precious Shiner, Texas. Spoetzl Shiner Bock is a no-frills kind of bock, but still arguably the most demonstrative of American-brewed bocks. It sports a light body, and slightly roasty notes from caramel malts, making this an easy bock to drink.
Urban South Bananagram
14% ABV
Urban South Brewery was founded in New Orleans in 2016 by LSU graduates Jacob Landry and Kyle Huling. In six years of operation, the brewery had increased its production volume by almost 900 percent. It's the largest craft brewery in New Orleans. Urban South chose Houston as its first satellite location to celebrate the deep connection between the cities of Houston and New Orleans. Urban South – HTX opened its doors for the first time on February 29, 2020. Brewed in Houston, Bananagram is a collaboration with Orchestrated Minds Brewing out of Florida. This chocolatey imperial pastry stout is layered with heaps of coconut, toasted hazelnuts and, of course, bananas.
Urban South Beaming
6% ABV
Urban South – HTX, Urban South's Houston's brewhouse, is a research and development-focused brewery. In its two years of operation, Urban South – HTX has grown from a team of three to 12 employees, released more than 450 unique beers and packaged more than 600,000 cans of beer. Urban South's Beaming is a fruited sour brewed with blueberries, strawberries and raspberries.
LINK: Peaks & Pints cooler inventory
---