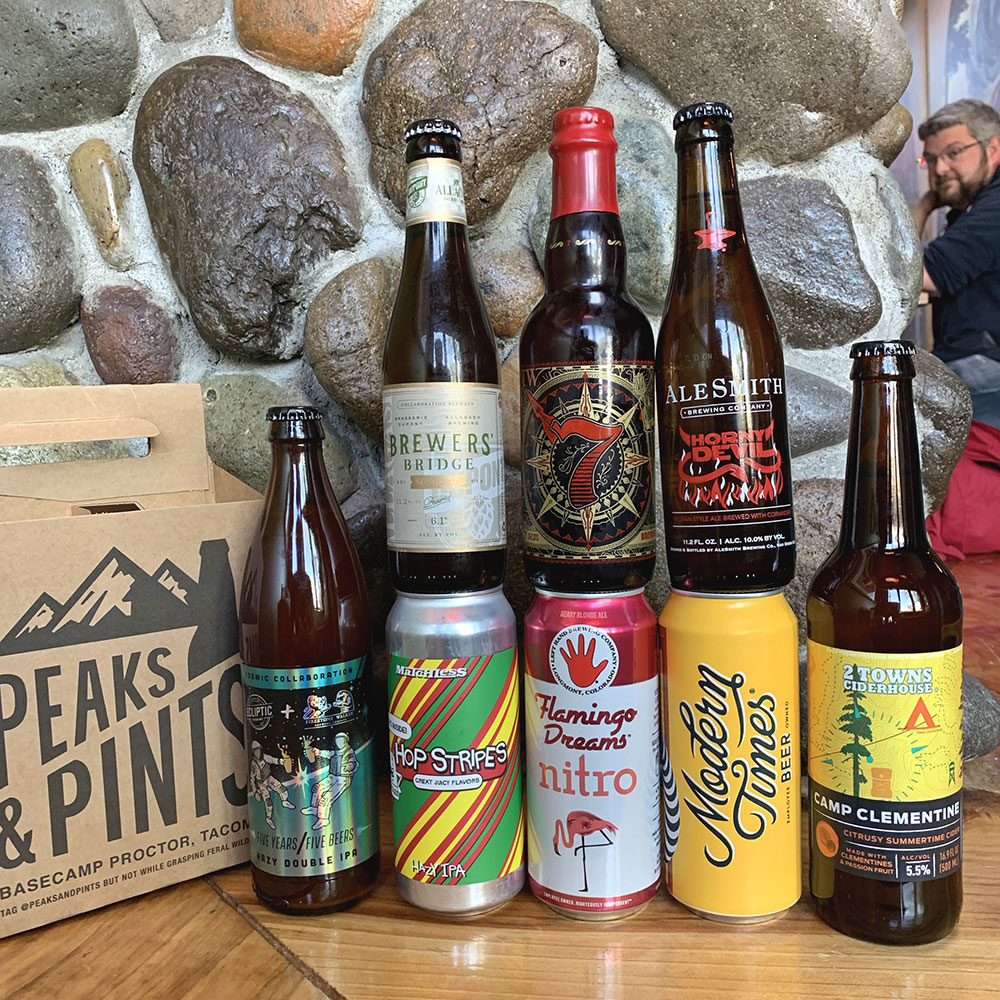 Ecliptic Brewing and Firestone Walker collaboration Hazy Double IPA, Dupont and Allagash collaboration Brewers' Bridge and other treasures.
Peaks and Pints new beers and ciders in stock May 3 2019
Happy Friday, y'all! Partly cloudy and upper 60s this weekend! Which one of these new arrivals will be your first to crack open from the lawn chair? Peaks and Pints has them all in our craft beer bar/bottle shop/restaurant. Come snag them up!
2 Towns Ciderhouse
CAMP CLEMENTINE — An easy drinking summer cider packed with California clementines and yellow Maracuyá passionfruit. It's juicy and bright. 5.5%
7 Seas Brewing
SOUR RASPBERRY BLEND — Part of 7 Seas' Vintage Ale Series, dip your nose into the ruby red 2019 Sour Raspberry Blend for stone fruit and jam. It's a blend of the brewery's Sour Raspberry Blonde and Flanders Style Red Ale, both aged in French oak barrels, for flavors of fruit, leather, mild oak, and a pleasantly sour finish. 6.1%
AleSmith Brewery
HORNY DEVIL —Belgian-style golden ale brewed with authentic Belgian ingredients including candi sugar and a Trappist yeast strain for fruity and spicy aromas including notes of orange, banana, and peppercorns. Coriander seeds add refreshing citrus notes, which melds with the beer's delicate malt. Expect lively carbonation and a refreshingly dry finish. 10%
Brasserie DuPont
BREWERS' BRIDGE — Building a bridge between Belgium and the U.S. isn't going to happen anytime soon. In the meantime, enjoy Brewers' Bridge, a collaboration between Belgium's Brasserie Dupont and America's Allagash Brewing. The resulting saison has a soft yeasty sweet malt aroma with refreshingly tart, earthy malt flavor upfront followed by notes of coriander and white peppercorns. It finishes with slightly bitter notes of lemon peel and wheat grain. 6.1%
Ecliptic Brewing
HAZY DOUBLE IPA – Ecliptic Brewmaster John Harris and Firestone Walker Brewmaster Matt Brynildson collaborated on this big, juicy hazy double IPA. Brewed with pale malt, wheat, oats, along with Idaho 7, HBC 692, and El Dorado hops, this IIPA drinks like kumquats, banana, strawberry and kiwi. 8%
Left Hand Brewing
FLAMINGO DREAMS NITRO — The new year-round berry blonde ale pours striking pink with raspberries and blackcurrants riding the nitro glide. 4.7%
Matchless Brewing
HOP STRIPES — Attention former disciples of Fruit Stripe gum! Matchless has released a hazy IPA inspired by the favorite fruity gum from childhood. They dry hopped the heck out of Hop Stripes and added a touch of lactose and maltodextrin to make it slightly sweet and super drinkable. 6.4%
Modern Times Beer
TELESTO HAZY IPA — Stuffed with Simcoe and Amarillo hops, this hazy IPA is a citrusy, fruity hop-saturated beer that's easy to drink. 7%
---