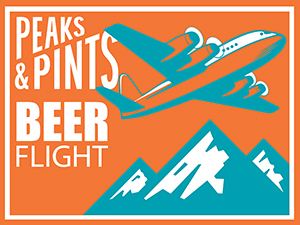 Flash back to the Roaring Twenties, when America was in the midst of the Prohibition: Booze was banned, stealthy speakeasies adorned Tacoma, and the Paramount Theatre sat in Tacoma's Proctor District, which later became Peaks and Pints bottle shop, taproom and eatery in November 2016. Prohibition, the law that prohibited the sale, manufacture, and transportation of alcohol in the United States, was ratified as the 18th amendment on Jan. 16, 1919, and went into effect on Jan. 16, 1920. Dec. 5, 1933, passage of the 21st Amendment, brought an end to Prohibition. Peaks and Pints presents a flight of the first American craft breweries to open in five selected states. We don't currently have any Redhook beer in the house to represent Washington state. Not only do these breweries brew flavorful beer, but also had a profound impact in how people produce beer, purchase beer, drink beer, and think about beer. Nestle up to Craft Beer Crosscut 5.3.19: A Flight From Five First Breweries.
Craft Beer Crosscut 5.3.19: A Flight From Five First Breweries
Anchor Brewery Anchor Steam
4.9 % ABV
The great-grandson of a home appliances magnate and the son of an Iowa dairy farmer, Fritz Maytag was intrigued upon hearing the 69-year-old Anchor Brewing Company was facing closure and thus up for sale in 1965. He purchased it for just a few thousand bucks. Anchor Brewing was perhaps the most primitive small craft brewery in the world, but by 1971 — the year it began bottling Anchor Steam beer — the San Francisco brewery kicked off the craft beer movement. Anchor Steam Beer derives its unusual name from the 19th century when "steam" was a nickname for beer brewed on the West Coast under primitive conditions and without ice. While the origin of the name remains shrouded in mystery, it likely relates to the original practice of fermenting the beer on San Francisco's rooftops in a cool climate. In lieu of ice, the foggy night air naturally cooled the fermenting beer, creating steam off the warm open pans. Northern Brewery hops are enjoyable in the flavor, but the rich, almost chewy malt is the best aspect of this brew. It's complex, rich flavor, deep amber color, and its thick, creamy head make it an instant classic.
Bayern Killarney
5.7% ABV, 23 IBU
Bayern Brewing was founded in Missoula, Montana in 1987. Literally translated, Bayern (pronounced Bye-ern) means the German state of Bavaria — the homeland of Jurgen Knoller, Bayern Brewing's owner and masterbrewer. Brewed for St. Patrick's Day, Killarney was created to honor the Irish influence on Montana's culture. Brewed first in February of 1988, before any other American breweries came out with their versions of an Irish Red style beer, Killarney is Jürgen's invention of the beer style and one of his favorite Bayern beers. It is brewed with Two-row, Pilsenser, Caramel, Munich, wheat and German Dunkel malts.
BridgePort India Pale Ale
5.5% ABV, 50 IBU
Northwest Portland's BridgePort Brewing Co., a pioneer of Oregon's beer scene and the state's oldest craft brewery, announced this past February that their closing its doors, becoming the latest legacy brewery in Portland to shut down. The brewery, founded in 1984, has ceased production in its Pearl District production facility and the brewpub closed March 10. And if you like IPAs, take a moment of silence for the BridgePort IPA, which was at the forefront of the IPA craze. BridgePort blended five hop varieties grown locally in the Willamette Valley to create a signature floral and citrus aroma. Bottle-conditioned, BridgePort IPA is exceptionally balanced with a soft round body and robust character.
Alaskan Spruce IPA
7% ABV, 55 IBU
Thirty years ago, 20-somethings Marcy and Geoff in Juneau, Alaska, started a brewery — Juneau's first brewery since Prohibition. Back then, there were fewer than 100 breweries operating in the US and none in Alaska. Now, the Alaskan Brewing Company ranks 22 out of more than 4,300 craft breweries by volume. This IPA is brewed with Sitka Spruce tips – a flavorful, Alaskan twist on the American IPA, as well as Chinook, Citra and Denali hops. The result is big citrus and pine flavor up front, ending with a light malt sweetness and berry-like spruce character.
Dogfish Head 60 Minute IPA
6% ABV, 60 IBU
Sam Calagione started making beer in 1995 when he opened Dogfish Head Brewings & Eats in the beach community of Rehoboth Beach, Delaware. Calagione is the founding father of beer in Delaware as operating a commercial brewery in the state was illegal until he convinced the local government to update the ancient Prohibition-era laws and let him open Dogfish Head Craft Brewed Ales. Within a few successful years, the company activated a major expansion, switching from making very small, homebrew-style batches to industrial-sized sessions in a sizeable brew house. Dogfish Head expanded and moved to a 100,000 square foot facility in nearby Milton, Delaware in 2002. They're one of the largest craft brewers in America but yet there may be no brewery today that exhibits such a dedication to experimentation and boundary pushing. The brewery's 60 Minute IPA, the brand's flagship, is continuously hopped with more than 60 hop additions over the entire boil to create a powerful yet balanced East Coast blend with a ton of citrusy hop character. Inspired by a cooking segment he saw in the late '90s where a chef added little increments of pepper over an extended period to enhance flavor, Calagione turned to a vibrating magnetic football game to create a system that would continuously add hop pellets during the entire time a beer boiled. The 60 minutes of continuous "A Northwest Hop" contributes to sweet aroma of apricot and pear — similar to a Riesling. The beer doesn't taste as sweet as it smells and instead we get notes pungent grapefruit pith with a slight bitterness.
---