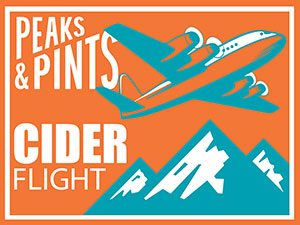 The annual winter onslaught of Facebook photos from friends' vacations to Hawaii, Mexico, or some decadent tropical destination never really irks Peaks & Pints. You're sitting poolside in 72-degree weather — the temperature is always noted — drinking a Mai Tai and reeking of suntan lotion? Good for you, we guess. We'll be hanging in Tacoma, where the winters are appropriately cold and gray, and the summers are superior to any other cities in the country. We think we'll make it — especially with our Monday cider flight taking on a tropical theme. In a market dominated by high sugar and syrup flavor-filled concoctions, Peaks and Pints Monday Flight: Tropical Cider features fruit ciders that are a shining beacon of how good it can be if done with purity, transparency, and respect.
Peaks and Pints Monday Cider Flight: Tropical Cider
Seattle Cider Papaya Sparkling
4.2% ABV
Joel VandenBrink, the founder of Two Beers Brewing Co., launched the Seattle Cider Company in August 2013, with the help from his Two Beers sales rep and a former farm hand Eric Willard. Diagnosed with Crohn's disease, which makes beer difficult to digest, VandenBrink launched the cider company with only two products: Semi Sweet and Dry. Today, Seattle Cider has many options, including Papaya Sparkling, which is inspired by seltzer and crafted in the tradition of their ciders, ala apples. It's light, refreshing, and naturally gluten free.
Avid Pineapple Mango
6% ABV
In 2013, Avid Cider Co. invaded the Bend, Oregon craft beer-crazed town with something different. Back then, they went by ATLAS and quickly gained recognition locally and regionally depicted by their major award display case. AVID became known as a semi-sweet cider company placing their craft between the dry and sweet market. They live and die by their "NW to the Core" slogan sourcing regional fruit pressed in Bend to create "core" ciders and seasonally inspired hits such as blend of tropical pineapple and mango. The tart pineapple is skillfully balanced with the mango's sweetness and flavor. And although she looks like a sweat treat, they targeted an off-dry but fruit forward profile that showcases the aromas and flavors.
Newtopia POG
6.5% ABV
Newtopia Cyder co-founder and cyderist Rick Moreno got his start in the industry as co-owner of beer bar Toronado in Seattle. The San Diego cidery sources apples and other fruits in nearby Julian and Temecula, and as far away as Santa Cruz, Hood River and Yakima. For their POG, Newtopia takes their signature five apple blend and adds pineapple, blood orange, pink guava, lychee tea and crystalized ginger. It's sweet and tart with pineapple leading the way.
Lost Giants Pineapple
6.8% ABV
In 2018, Chris Noskoff, Abraham Ebert, and Brad Wilske founded Lost Giants Cider Company in Bellingham, Washington, focusing on handcrafted modern and traditional ciders that showcase the agricultural abundance in the state. Lost Giants adds a one pound of Costa Rica pineapple to every gallon of cider made with fresh, Washington apples to give the cider a subtle pineapple flavor and aroma without sacrificing the delicate flavors of the apples.
LINK: Peaks & Pints cooler inventory
---