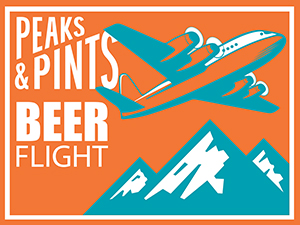 "Invention, my dear friends, is 93 percent perspiration, 6 percent electricity, 4 percent evaporation, and 2 percent butterscotch ripple." Those are the words of Gene Wilder in Willy Wonka and The Chocolate Factory. Brewing beer could be said to be much the same, especially these days, when creative beer makers are using all kinds of sweet treats in their recipes, from candy and cookies to cereal and cinnamon rolls. While the notion of a sweet beer may be sickening to those who prefer their hops, malt, and water to be unadorned by ingredients more commonly seen in the sticky hands of children on Halloween, there are many more beer lovers whose sweet teeth just can't be satiated. For them, we present Peaks and Pints Pilot Program: Dessert Beer On The Fly.
Peaks and Pints Pilot Program: Dessert Beer On The Fly
Icicle Brewing Dark Persuasion
6.5% ABV, 22 IBU
Icicle Brewing Co. sits in the Bavarian theme park known as the city of Leavenworth, which seems perhaps the most appropriate place for a brewery. Owner Oliver Brulotte, who has deep family roots in Washington's hop farming history, basically launch the Wenatchee Valley's craft-beer boom. The brewery draws their water from nearby Icicle Creek, a run-off from surrounded by numerous mountain ranges including the Stuart Range and Wenatchee Mountains. And, Icicle Brewing makes a liquid German chocolate cake, Dark Persuasion. Seriously, this stout tastes exactly like German chocolate brownie, with strong chocolate and coconut notes, a touch of vanilla and a smooth finish.
Heathen MegaMint
9% ABV, 22 IBU
Though an official stamp of approval from the Scouts is probably out of the question (for obvious reasons), that doesn't mean a brewery can't take a little inspiration from the girls' iconic Thin Mints to whip up a brew. Heathen Brewing's MegaMint Imperial Chocolate Milk Stout is kicked up a notch by using fresh picked mint in the brewing process. The milk sugar leaves a pleasant residual sweetness that is balanced with the chocolate and biscuit notes of the specialty malt that are seductively balanced with aroma of the cacao nibs and fresh mint.
Evil Twin Christmas Eve at a New York City Hotel Room
10% ABV, 50 IBU
Jeppe Jarnit-Bjergsø, the founder and man behind Evil Twin Brewing, was a physics and English teacher in his native Denmark before starting Copenhagen's Ølbutikken, a highly regarded beer store. He's also an evil twin himself. His brother, Mikkel Borg Bergsø, brews under the Mikkeller label. Jarnit-Bjergsø, however, has done his best to outshine the good twin. He founded Evil Twin in 2010 as a nomadic brewery. In 2012, Jeppe Jarnit-Bjergsø gave up his nomadic brewing days and opened Evil Twin in Brooklyn. His Christmas Eve at a New York City Hotel Room imperial stout has an intense black color topped by a fine beige head. The nose is complex with molasses, sweet milk, chocolate, vanilla, and licorice, but also notes of espresso in a perfect balance. On the tongue, we get vanilla, roasted malt, bitter coffee, earthy hops, and licorice flavors with a subtle chocolate finish.
Lagunitas Unrefined Shugga
10% ABV
Lagunitas Brewing screwed up their 1997 batch of Olde GnarlyWine Ale resulting in an all-new-beer-style they called "Irresponsible." They believe this Special Ale was something unique. "Feeding brown cane sugar to otherwise cultured brewery yeast is a'kin to feeding raw shark to your gerbil," states Lagunitas Brown Shugga hype. "It is unlikely to ever occur in nature without human intervention. And it looks weird besides. But it has happened and now it's too late." Brown Shugga was a hit for years until they discontinued it last year. This year, they brewed Unrefined Shugga instead, a holiday barleywine chockfull of malted barley, malted wheat, Munich malt, and crystal malts, then generously dry-hopped with Simcoe, Columbus, Cascade, and Centennial hops. Unrefined Shugga' gets its name from the addition of whole cane Panela sugar. It's basically Brown Shugga with even more sweetness.
Epic Big Bad Baptist Black Forest Cake
11.5% ABV
Black Forest Cake is called "Schwarzwälder Kirschtorte," which literally translates to "Black Forest cherry-torte." The cake has many layers of chocolate sponge cake, whipped cream, and cherries. It is decorated with additional whipped cream, cherries, and chocolate shavings. It is truly not a black forest cake unless the layers have been added with "kirschwasser," which a clear spirit made with sour cherries. Epic Brewing brewed a Black Forest Cake variant of their Big Bad Baptist barrel-aged imperial stout with chocolate, ripe cherries, and fresh coconut layered into Big Bad Baptist for flavors of the classic German treat.
LINK: Peaks & Pints cooler inventory
---