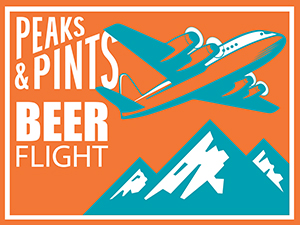 Every September, Peaks & Pints presents Fresh Hoptoberfest on the masses, a month-long autumn beer party marrying up two popular seasonal beers — fresh hops and Oktoberfest. Women dressed in lederhosen. Men got fresh … hop beers. Hop farmers and malters began living together — mass hysteria! Cider can follow the same Fresh Hoptoberfest guidelines — fresh hop and the Oktoberfest style ciders also exist. Throw in the other autumn stalwart style, pumpkin, and you have The Great Fresh Hoptoberfest Pumpkin. For this week's Peaks and Pints Monday Cider Flight we combine the three autumn styles — fresh hops, Oktoberfest, and pumpkin — in a to-go cider flight we call Peaks and Pints Monday Cider Flight: The Great Fresh Hoptoberfest Pumpkin.
Peaks and Pints Monday Cider Flight: The Great Fresh Hoptoberfest Pumpkin
Portland Cider Pumpkin Spice
6% ABV
Oregonian Jeff and British Lydia launched Portland Cider Company in 2012 with the intent of marrying English cider traditions with the innovative Northwest micro-brewing culture.  It all started from a desire to make the clean, dry cider Lynda grew to love in England, and Jeff yearned to find in Oregon. With their Pumpkin Spice, they take the flavors of cinnamon, nutmeg, cloves, allspice, and ginger and blend them for pumpkin pie flavor.
2 Towns Hollow Jack
6.4% ABV
In late 2010, Corvallis homebrewers Aaron Sarnoff-Wood and Lee Larsen filled a gap in the college town's drinking scene — cider. The duo opened 2 Towns Ciderhouse crafting unique ciders brewed with the traditional English and French-style's tannic apples, Oregon grown, of course. Made from A brew of fresh-pressed apples, caramelized pumpkin, and sweet potatoes, 2 Towns Ciderhouse Hollow Jack is basically fall in a glass. The pumpkin flavor isn't overwhelming, which is enjoyable and not too sweet.
Seattle Cider Pumpkin Spice
6.9% ABV
Seattle Cider Pumpkin Spice is a flavorful, small batch of seasonal cider crafted by the same folks that bring you Two Beers Brewing. Seattle Cider Company combines fresh pressed Washington apples with cinnamon, nutmeg, allspice, and cloves for a semi-sweet cider with just a touch of pumpkin.
Reverend Nat's Ehrwürdig Nat's Oktoberfest Apfelwein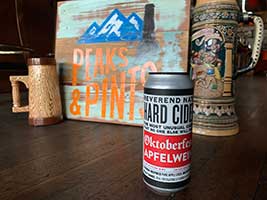 6.9% ABV
When his North Portland neighbor begged him to take his backyard apples off his hand in 2004, Nat West began experimenting with fermentation, turning the small green apples into hard cider. His friends went nuts. West would go on to hold weekly free cider parties at his house, experimenting on his friends, which ended up at 50 or so people. In the summer of 2011, West launched Reverend Nat's Hard Cider. In Munich they drink beer, but in Frankfurt, they drink apfelwein. Reverend Nat's Hard Cider Ehrwürdig Nat's Oktoberfest Apfelwein's is an interpretation on the classic German style: medium-dry, full-bodied and easy-drinking.
Bauman's Fresh Hop Strata
6.9% ABV
In 1895, on the West Coast, between Salem and Portland, Bauman Farms was first homesteaded by Elizabeth Bauman and her teenage sons, Stephen and Leo. Stephen eventually married at the cider apples on their Gervais, Oregon, farm, with the barrels in their barn fermenting the goods into hard cider. His great granddaughter, Christine Walter, armed with a degree in biochemistry from Lewis & Clark University, revived her great grandfather's hard cider operation, taking advantage of the family farm history spanning five generations, her work ethic growing up on the farm and modern-day cidermaking methods. She opened Bauman's Cider Company in 2016, honoring Stephen Bauman on the cider's branding. The hops in her Fresh Hop Strata are subtle with just enough floral character to be interesting.
Tieton Fresh Hop Cider
6.9% ABV
Using fresh Mosaic hops along with crisp Washington apples, Tieton Hard Cider produces a cider that is full of fresh, fruity, and floral characteristics. The Mosaic hops provide tangerine and papaya tropical aromas that accentuate the ciders natural characteristics and attribute
to its drinkable hoppy flavor.
LINK: Peaks & Pints cooler inventory
---