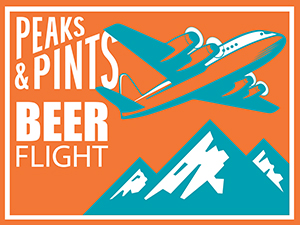 Yes, it's National Crush A Can Day today, sometimes called National Crush Day. It's a day dedicated to educating our country and the world about the importance of recycling. Every Sept. 27 people remember that recycling helps to conserve life and our natural resources by reducing waste, lowering carbon emissions, and saving money. It's also the perfect day to crush a beer can. After all, beer cans are rapidly replacing beer bottles as the consumer choice. It was 1935 when the world was introduced to a beautiful and paradigm-changing concept: canned beer. Krueger Brewing Company of Richmond, Virginia walked into a grocery store carrying a steel can that weighed in at almost 4 ounces and opened with a church key. Stop by Peaks & Pints and grab our to-go beer can flight — a flight we're calling Peaks and Pints Pilot Program: Crush A Beer Can Day Flight.
Peaks and Pints Pilot Program: Crush A Beer Can Day Flight
Oskar Blues Double Dale's
9% ABV, 65 IBU
This year marks the 20th anniversary of Dale's Pale Ale, the voluminously hopped, groundbreaking American Pale Ale that holds the distinction of being the first craft beer ever packaged in a can. To mark the milestone, Oskar Blues Brewery released Double Dale's Imperial IPA, a double-take on the beer that started it all. Founded by Dale Katechis in 1999, Oskar Blues Brewery began life as a simple brewpub. The people of Lyons, Colorado, visited and drank often, but none of the place's beers were available anywhere except draft lines in the immediate area. It wasn't until that fateful day in November 2002 that Katechis decided to package his brews, and then he had a decision to make. Would he invest, as most emerging craft breweries were, in a bottling line and a responsible order of 12-ounce bottles? Or would he go all in on cans, a more expensive option that at the time was the realm of the big brewers and soda producers? Katechis ignored the status quo, and by 2003 the "Canned Beer Apocalypse" had begun. Dale's Pale Ale, Oskar Blue's flagship American pale, was the first to hit shelves. Gordon, an imperial red now known as G'Knight, came soon after. And then, in 2007, the Ten FIDY can arose.
7 Seas IPA
5.9% ABV, 75 IBU
Flash forward 10 years, Mike Runion and Travis Guterson sat in their Gig Harbor offices pondering how to package their 7 Seas Brewing Co.'s craft beer. The duo became the first to can in Washington state. Not focusing on the cost, owners Runion and Guterson canned their beers for quality and environmental reasons. Light is destructive to the organic compound in beer. Cans block light and are an effective barrier to oxygen, meaning the only thing limiting the freshness of 7 Seas beer in the can is the time it takes to get from the brewer to a beer lovers' mouth/glass. Their flagship IPA, formerly known as Rude Parrot IPA, is aggressively hopped with Nugget, Simcoe, Citra, and Cascade. It sports a big juicy, tropical fruit, citrusy hop aroma yielding way to an off dry, pleasantly bitter finish.
Brasserie Dupont Saison Dupont
6.5% ABV, 30 IBU
La Brasserie Dupont in Belgium has brewed this classic saison since 1844 on an actual farm. Saison Dupont seems, at first glance, to be a simple saison. The complexities, however, are nearly endless. There is an inherent sweetness that is counter-balanced by an earthy taste. Dry and bitter with a fruity aroma, it's also brewed to keep re-fermenting in its bottle, or can as the brewery has recently began canning it to the shock of many. Dupont follows the tradition of brewing in the winter and setting aside until spring, but you can find it year-round at Peaks & Pints.
Stillwater Wavvy Saw Tooth
8% ABV
Brian Strumke found a home. In 2010, the iconic gypsy farmhouse pioneer founded Stillwater Artisanal Ales brewing in Brooklyn, or Baltimore, or wherever he happened to be. The MD record producer and DJ turned gypsy brewer brewed mostly Belgian-inspired ales, with an emphasis on saisons, or farmhouse ales. After moving to Seattle several years ago and starting Fast Fashion Brewing with Matt Storm of The Masonary, Strumke recently decided to brew his Stillwater beers from a permanent location — Talking Cedar Brewery & Distillery on tribal land in Rochester, Washington. One of the first beers out of Talking Cedar is his longtime pale ale Wavvy, but with a twist. Wavvy Saw Tooth is a double international hazy pale ale hopped with Citra, Motueka, and New Zealand Cascade and packaged in a cool can.
Reuben's Fresh Hop Double Crush
8% ABV, 60 IBU
In October 2016, Reuben's Brews launched their Crush Series of crushable Northeast-style IPAs with Cloud Crush, a soft, hazy, pillowy IPA brewed with Galaxy hops. In November 2016, they released Citra Crush, which they brewed with Citra hops. Today, Reuben's released their Fresh Hop Double Crush, a fresh hop version of their Reuben's Double Crush imperial hazy IPA brewed with fresh Citra hops. It's creamy, citrusy with a bit of bitterness and easily crushable —both in drinking cadence and can recycling.
LINK: Peaks & Pints cooler inventory
---