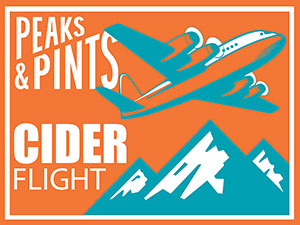 Jacob Mitchell's passion for hard cider started at home, crafting small batches, and sharing his varietals with family and friends. He later honed his skill at the Peter Mitchell Cider School at Oregon State University and continued refining over his time at Eaglemount Cidery in Port Townsend. He later transitioned to Elemental in Woodinville as their head cider maker before finding his new home at Ragged and Right Cider Project to continue his nearly decade-long career in the industry. Starting in 2017 as an offshoot of Farmstrong Brewing, in Mount Vernon, Ragged and Right grabs their juice straight from Skagit Valley juice makers and skips added sugars and substitutes. Today, Peaks & Pints suggests a to-go flight of Ragged and Right ciders — a flight we call Peaks and Pints Monday Cider Flight: Ragged and Right.
Peaks and Pints Monday Cider Flight: Ragged and Right
Ragged and Right First Pick: Jonagold
6% ABV
The Jonagold apple, a high-quality bicolor variety, was developed in Geneva, New York. When researchers tested the apple at Washington State University Mount Vernon, it proved well adapted to a cool maritime climate. The first commercial plantings in Western Washington were made in the1970s. Although growers have planted Jonagold in Eastern Washington, it performs best at higher, cooler elevations. Ragged and Right grabbed Mount Vernon Jonas for their semi-dry, single varietal with notes of green grapes and crisp honeydew melon.
Ragged and Right Full Flat Peach
6% ABV
Made with a fresh pressed Sweet Tango apple base sets the stage for all-natural peach concentrate. It's just sweet enough to delight without ever being cloying.
Ragged and Right Tulip Festival
6.9% ABV
Tulip Fest Cider starts with a base of Pinata apples from Cedardale Orchards in Mount Vernon and honey from Valley Buzz, then blended with strawberry puree for a cider that is tart and slightly sweet.
Ragged and Right Blackberry Tango
7% ABV
Ragged and Right Blackberry Tango is a mixture of fresh pressed Sweet Tango apples and Northwest blackberry concentrate for crisp tanginess with just enough sweetness from the blackberry.
LINK: Peaks & Pints cooler inventory
---