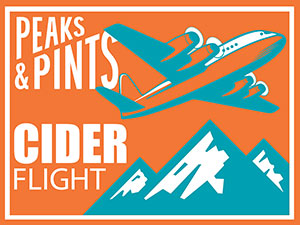 In 1906, Cuban and Mexican immigrant José María Rivera Corral founded the Estrella de Galicia brewery and ice factory in Galicia, located in the northwest corner of Spain. His Hijos de Rivera company's first beer was La Estrella de Galicia, a Pilsen-style beer — unpasteurized in the barrel and pasteurized in bottle format. Today, Hijos de Rivera and its beverage brands — Estrella Galicia, 1906, Cabreiroá, Fontarel, Agua de Cuevas, Ponte de Boga and Maeloc — are consumed and enjoyed in the Spanish market and across more than 50 countries. Since it's Monday, the day Peaks & Pints presents a to-go flight of hard cider, we're featuring Hijos de Rivera's Maeloc ciders. Maeloc was a 6th century bishop of Britonia, a settlement founded by Celtic peoples in Galicia. Maeloc ciders are brewed with apples sourced from more than one thousand local apple farmers. Stop by our taproom, bottle shop and restaurant in Tacoma's Proctor District and grab Peaks and Pints Monday Cider Flight: Maeloc.
Peaks and Pints Monday Cider Flight: Maeloc
Maeloc Pineapple & Pear
4% ABV
Maeloc cider is made with fresh Galician Pero, Verdeña, Perezosa, Rabiosa, and Raxao apples grown by Galician farmers. These apple types are generally small apples with a medium level of bitterness. Maeloc uses a pneumatic press to capture the pure apple juice. Fermentation happens as a result of the natural occurrence of the Saccharomyces Cerevisiae yeast strain from the apples, and lasts 2 to 3 weeks, while the malolactic fermentation takes place via the natural occurrence of the Oenococcus Oeni bacteria. The malolactic fermentation takes place over the course of 3 to 4 months. The total time it takes to transform Galician apples to Maeloc hard cider is approximately 5 months, which includes the addition of pineapple and pear for intense aroma of pineapple and with hints of pear followed by notes of fresh, deep pear and citrusy notes.
Maeloc Blackberry
4% ABV
Maeloc Blackberry hard cider is made with 100 percent Galician apples sourced from local farmers, with all-natural blackberry puree from the south of Spain, added after the 4 months long spontaneous fermentation occurs before being bottled. It hits the nose with fresh berries and floral aroma, followed by balanced blackberry tartness and apple sweetness, with subtle jammy notes of raspberry and cherry.
LINK: Peaks & Pints cooler inventory
---