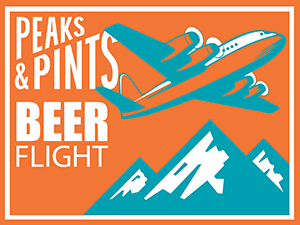 Ah, Father's Day, when all patriarchs become Clark Griswold on vacation and all filial conversations become sentimental diatribes: "Enjoy this, kids. Someday when you have families of your own, you'll wish you had several hours together in the back of a cop car like this, just to sit and talk." That's some advice. Dads have given us a lot of advice over the years: Wear a helmet, get good grades, don't drive too fast or you'll end up like Tony from your high school who wrapped his Corvair around a huge oak over by the American Legion. And while we did follow (most of) that advice, it's not necessarily the wisdom that stands out to us. What we really remember are the bigger lessons — the stuff that we still think about and use in our lives and careers today. The advice that maybe our dads didn't even realize they gave us. Today, skip the multitool and show your appreciation with a 6-pack of craft beer. Peaks & Pints crafted a craft beer flight for dear ol' dad — at least satisfying six different kinds of dad. Stop by our craft beer lodge in Tacoma's Proctor District and choose your gift for your specific dad or grab all six different beers in our Peaks and Pints Pilot Program: Different Dad Beer Flight and show your father it's OK to step outside his comfort zone — if it doesn't land him in the back of a cop car.
Peaks and Pints Pilot Program: Different Dad Beer Flight
Hipster Dad
Heidelberg Premium Lager
4% ABV, 18 IBU

Hipster Dad passes around a petition to have the downtown Tacoma water fountains changed to organic water. Your childhood backyard playground rested upon compostable, LEED-certified, artisanal chips from an old iron workshop in Brooklyn, New York. In addition to Father John Misty songs, broccoli rubber bands, and T-shirts from 1898, Hipster Dad also loves craft beer, especially the re-vamped Heidelberg Premium Lager. In February 2022, 7 Seas Brewing relaunched the Heidelberg brand canning their version of the premium lager — although not tin cans like the original brewery in 1936, three years after tin cans were invented. Brewed with mostly malted barley, with some rice and corn, and Old-World hops, Heidelberg Premium Lager is crisp, clean, and quaffable.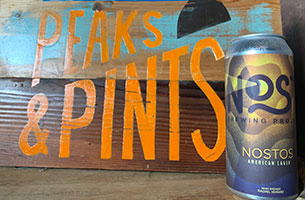 Backyard Dad
Nost Nostos
4.5% ABV
Backyard Dad is out there scraping moss and keeping the grass lush and trimmed – cool him down and refresh his spirit with a lager. Nost Brewing Project has Backyard Dad's, er, back. Nost is based around the Greek word meaning "coming home" and the shortened version of nostalgia. Nost brews beers that remind dads of where beer all started. Nostos is an unfiltered American lager with aroma of mildly grainy biscuit malt, grassy noble hops, wheat, and a touch of caramel. Flavor follows with biscuit malt with a touch of graininess, light grassy hops, wheat, and oat grain.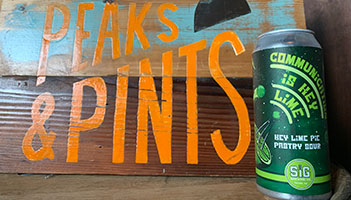 Joke Dad
Sig Communication Is Key Lime
6.7% ABV, 10 IBU
There's just something so liberating about embracing the groan-inducing riff, the painfully obvious observation, the high-five that begs to be left hanging. The dad joke is often a joyously degenerate form of punnery, and the beer geek in us grabs onto those cheap puns and runs with 'em. It doesn't hurt that the beer world loves a good pun, or a bad one, more than just about any other industry outside of maybe nail salons and lube and filter joints. No better example is Sig Brewing's Communication Is Key Lime. Silly, perhaps, but you must smile when you order this fruit beer loaded with key lime juice, Nabisco graham crackers and toasted coconut. What do you call a lime that opens doors? A Key Lime.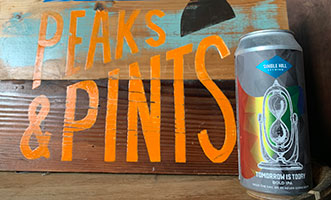 Workaholic Dad
Single Hill Tomorrow Is Today
7.1% ABV, 40 IBU
This dad is writing a beer flight the morning of Father's Day. His work phone is literally attached to his hip by a holster so he can have instant access to LinkedIn. One eye is watching the elementary school production of Hamilton and the other eye is scanning email. He won't look up to say hello unless he detects a networking opportunity, almost certainly job-related. Tomorrow is always today with Workaholic Dad so gift him Single Hill Brewing's Tomorrow Is Today Bold IPA. It showcases Loral, Mosaic, and Ekuanot hops, lending it a bright aroma of mango, cantaloupe, and strawberries while closing on a conference call.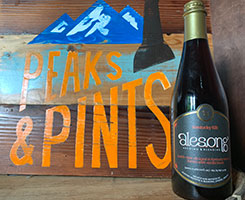 Scotch Dad
Alesong Kentucky Kilt
12.5% ABV
Your dad loves scotch. He tells you all the time, claiming the beloved brown spirit tends to possess so many of the same qualities that define him: strength, wisdom, and a well-rounded complexity inclined to improve with age. The craft beer version of scotch is Alesong Brewing & Blending's Kentucky Kilt — a malty, deep amber-colored, Scotch-style ale that was matured for nearly a year in Heaven Hill Kentucky bourbon barrels. A subtle final addition of vanilla beans at blending accents the barrel-induced aromas of bourbon and oak, while hints of ripe fruit and toffee round out this unique and complex barrel-aged blend.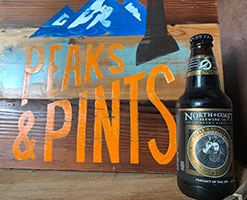 Barbecue Dad
North Coast Old Rasputin Russian Imperial Stout
9% ABV
There's just not much we shove in our pie holes that we Americans can claim a clear title to. Sandwiches? British and, concurrently, Russian. French fries? Belgian. Meatloaf? French, though they'd call it something like le galantine de boeuf and probably wouldn't have a problem ceding that one to Betty Crocker, anyhow. We Americans do have one food that's all ours, which crosses all socioeconomic boundaries and is eaten everywhere: Barbecue. And nobody operates a grill like craft beer loving middle-aged barbecue dad. Barbecue dad smells like smoky delicious barbecue when you hug him and he will certainly enjoy the complimentary flavors in North Coast Brewing's Old Rasputin Russian Imperial Stout, with its deep flavors reminiscent of chocolate-coated malt balls, toasted vanilla, and espresso. It also works well with grilled hamburgers topped with crumbled blue cheese and a good bacon-onion jam, which he should whip up for his special day — just saying.
LINK: Peaks & Pints cooler inventory
---