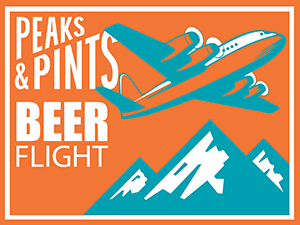 "When I heard, I teared up," says Michael Dempster after learning a portion of the original Buoy Beer building suffered significant damage last week — a brewery where he spent time brewing their beer. "The portion that collapsed held the small batch brewery, brite tanks, lager tanks, canning line, and blocks the entrance to where they relocated their restaurant. Bad things aren't supposed to happen to good people, and Buoy people are good people. It's devastating." Dempster's Buoy years were sandwich between his time at Greenpoint Beer Works in Brooklyn and Wingman Brewers in Tacoma — before he went on to open his own production brewery, Mirage Beer, in the Seattle South Park neighborhood in November 2017. After countless 16-hour workdays logging hundreds of miles a week between him and his father gathering ingredients, canning, and moving product and brewing, Dempster finally opened a permanent location in Seattle's Georgetown neighborhood this past March. Perfectionist and workaholic Dempster now has more time to throw ungodly amounts of hops at hazy beers, which Peaks & Pints scored his latest that we turned into a to-go flight, Peaks and Pints Pilot Program: Mirage Beer Flight.
Peaks and Pints Pilot Program: Mirage Beer Flight
Mirage Pushing Boulders
4.8% ABV
Degrees in Czech beer culture are according to the Balling scale (or Plato scale) which is a measure of gravity or density on the day the beer was brewed. It's expressed as a weight percentage of sucrose and indicates the percent by weight of extract (sucrose) in a solution. For instance, 11 degrees states that a beer is 11 degrees Balling, and it means that if the extract in solution were 100% sucrose, it would be 11% of the total weight. Mirage's 8-week lagered Pushing Boulders is an 11-dregree pilsner brewed with Czech Saaz hops and the "best" German malt, this pilsner sports light bready notes from malts with the floral and spicy notes of the Czech grown hop.
Mirage Matter & Superposition
6.8% ABV
A collaboration with Special Brews Bottleshop and Tavern in honor of their 11th anniversary, this New England-style IPA is mash-hopped with Czech Saaz, a variety noted for its high content of bound thiols, and whirlpooled with a thiol-rich motherlode of Freestyle Hops Nelson, New Zealand Phantasm, and frozen Gewürztraminer must from Brehm Vineyards. Next, Mirage fermented this wort with a thiol-unlocking yeast strain designed by Berkeley Yeast and double-dry-hopped it with more Freestyle Nelson and Crosby Hops' new Nelson CGX cryo-hops.
Mirage Brewers of Light
8.2% ABV
This New England-style double IPA is mash-hopped with Saaz, boiled with El-Dorado incognito, whirlpool with Phantasm, fermented with a thick-unlocking yeast strain, and double dry-hopped with Citra Lupomax and Bella CGX, yo.
Mirage Détente
8.2% ABV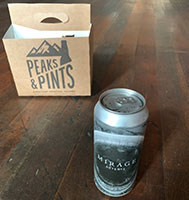 This soft New England-style double IPA is brewed with El Dorado Incognito and double-dry-hopped with Galaxy, Motueka, and HBC 586 Lupomax for mild tropical aroma such as pineapple, followed by steady tropical and citrus flavor.
LINK: Peaks & Pints cooler inventory
---