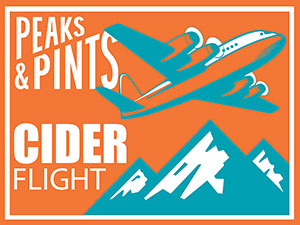 We received our second vaccination shot buzzed on French cider. We forgot our scheduled morning tasting with Joan Harkins, president and CEO of French Cider and Spirit. Despite the noon vaccination appointment, the French cider tasting happened anyway because, well, French cider. The morning sun lit the flutes of traditional and heritage Normandy ciders as Harkins poetically described each pour as if she were leaning against a barrel in Normandy. Yes, the alcohol remained below 5 percent per pour, but when in Domaine Dupont, as some say. Oh, the sweet, slightly carbonated taste of France. The chosen ciders arrived last week, just in time for our weekly Monday cider flight. Stop by Peaks & Pints and grab Peaks and Pints Monday Cider Flight: French Cider and bring a little northern France to your world.
Peaks and Pints Monday Cider Flight: French Cider
La Chouette Cidre Rosé
4.5% ABV
Located in the Mont-Saint-Michel Bay, La Chouette — which means "the Owl" in French — is a homage to the birds that watch over the production from their perches under the barn roof. Made from a selection of pears and apples, including red-fleshed apples, La Chouette's multiple award-winning Rosé is an all-natural craft cider with beautiful rose color and a bright, crisp demi-sec flavor. It's refreshing with tart finish on the tongue thanks to the acidity of the cider pears.
Hérout Amour Brut
4.5% ABV
The Cotentin peninsula, not far from the Normandy landing beaches, is home to some of the driest and most complex ciders made in France, including Maison Hérout's ciders. While the Hérout family tree goes back to the Vikings, who settled in this area around the ninth and 10th centuries, they have been producing artisanal ciders since 1946. Maison Hérout Amour Brut is a full-bodied, fruit-forward, authentic Normandy cider bursting with flavor. Crisp with round notes, this bottle condition cider is dry, but not too dry, with loads of personality
Pierre Huet Cidre Bouché Brut
4.5% ABV
Pierre Huet's Manoir la Briere des Fontaine is a family-owned estate, located in Normandy, in the heart of the Pays d'Auge, which has its own Appellation d'Origine Contrôlée. They are renowned throughout the region for their Calvados, cider, and pommeau. Their Cidre Bouché Brut is a traditional, unpasteurized cider comes from the Calvados department in France. Bedan, Binet Rouge, Bisquet, Fréquin Rouge, Saint Martin, Rambault, Moulin à Vent, and Mettais, among others apple varieties, are used in its production. Time-honored cider methods, 100 percent pure apple juice fermented for four months, and bottle conditioning produces a dry, slightly bittersweet cider with flavors of green apple skin and ripe apples that's slightly tannic on the tongue with a hint of tanginess.
LINK: Peaks & Pints cooler inventory
---