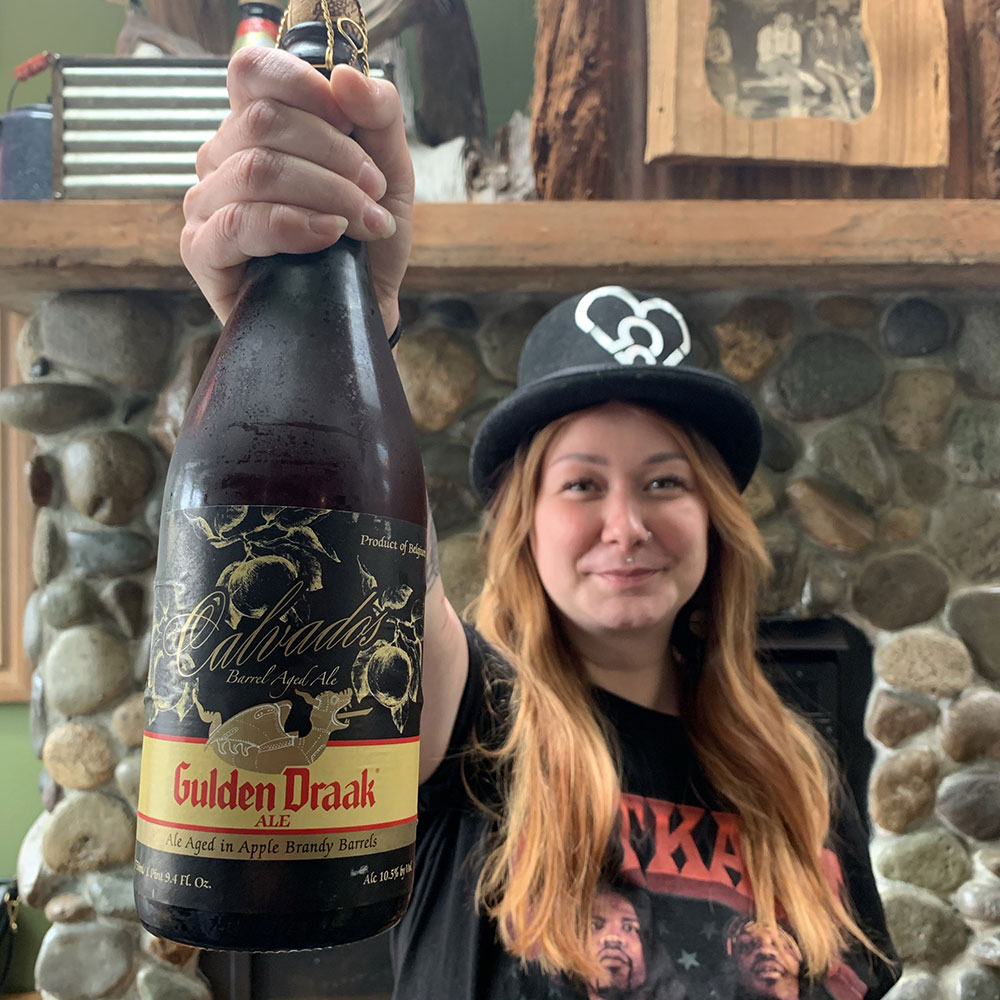 Fancy Pants Sunday: Gulden Draak Calvados Barrel Aged
Van Steenberge is a Belgian brewery in East Flemish Village of East Flanders, Belgium. The brewery started out in 1784 after it was founded by Jean Baptiste De Bruin. The brewery is considered to be a family brewery since its ownership and management has been passed on to several family generations after Jean Baptiste De Bruin's death. Fancy Pants Sunday: Gulden Draak Calvados Barrel Aged is worthy of this weekly column.
Many beer connoisseurs who claim to have cut their teeth on Belgian beer often mention Van Steenberge Piraat and Gulden Draak in the same breath. As if that reputation is not enough their Flemish Red-Brown Ale, Monks Cafe (a recipe that dates back to their founding in the late 18th century), was one of the first widely accepted sour beers in the United States. The unique flavors of the Van Steenberge yeast strain are undeniable and make their beers truly irreplicable.
The brewery's Gulden Draak 9000 Quad pours a lovely chestnut brown, unusually light for a quadruple and is topped by the trademark towering, tan colored creamy head. It hits the nose with sweet malts, alcohol, caramel (almost burnt sugar) spicy yeast, floral notes (herbal and grassy) and crisp orchard fruits. On the tongue, expect a big caramel sweetness lead followed by biscuity, doughy malts coupled with dark fruits — though not as heavy as other quads, more berry like than dried fruits. A slight tartness from green apples and pears cut through along with just the right amount of clove spicing. Mild hops and a warming alcohol note finish things off perfectly.
That's all fine and dandy, but let's get to Peaks & Pints' Fancy Pants Sunday: Gulden Draak Calvados Barrel Aged, which is Gulden Draak 9000 aged in Calvados barrels for 4-6 months. What is Calvados? Calvados is a variety of brandy made from apples (and sometimes pears). Like Champagne, Calvados has to be grown in a certain region to be called Calvados, and that region is Normandy in northern France. Calvados first lives as an apple cider, made by fermenting apples. It is then distilled and aged in oak casks, where it is required to remain for at least two years to be properly classified as Calvados under the appellation d'origine contrôlée, a French certification govern by the French government.
Van Steenberge Gulden Draak Calvados Barrel Aged (10.5%) hits the nose with strong calvados, plus wonderful Belgian yeast full of pear, apple, and lemon esters, light fig, raisin, floral, grain tones, and candi sugar malt. The taste takes all of that and adds oak, caramel, kisses of booze, with more depth to the yeast grains. It's smooth, warm, and surprisingly full on the palate without taxing it. Spectacular!
With a price tag that high, Gulden Draak Calvados Barrel Aged is the kind of beer that calls for a brilliant occasion with the best of company to truly enjoy it. Unless, of course, you have money to burn then Peaks & Pints supposes every day is worth celebrating.
Peaks & Pints has several 750ml bottles of Gulden Draak Calvados Barrel Aged in our cooler.
You fancy Van Steenberge Gulden Draak Calvados Barrel Aged!
LINK: Peaks & Pints cooler inventory
---