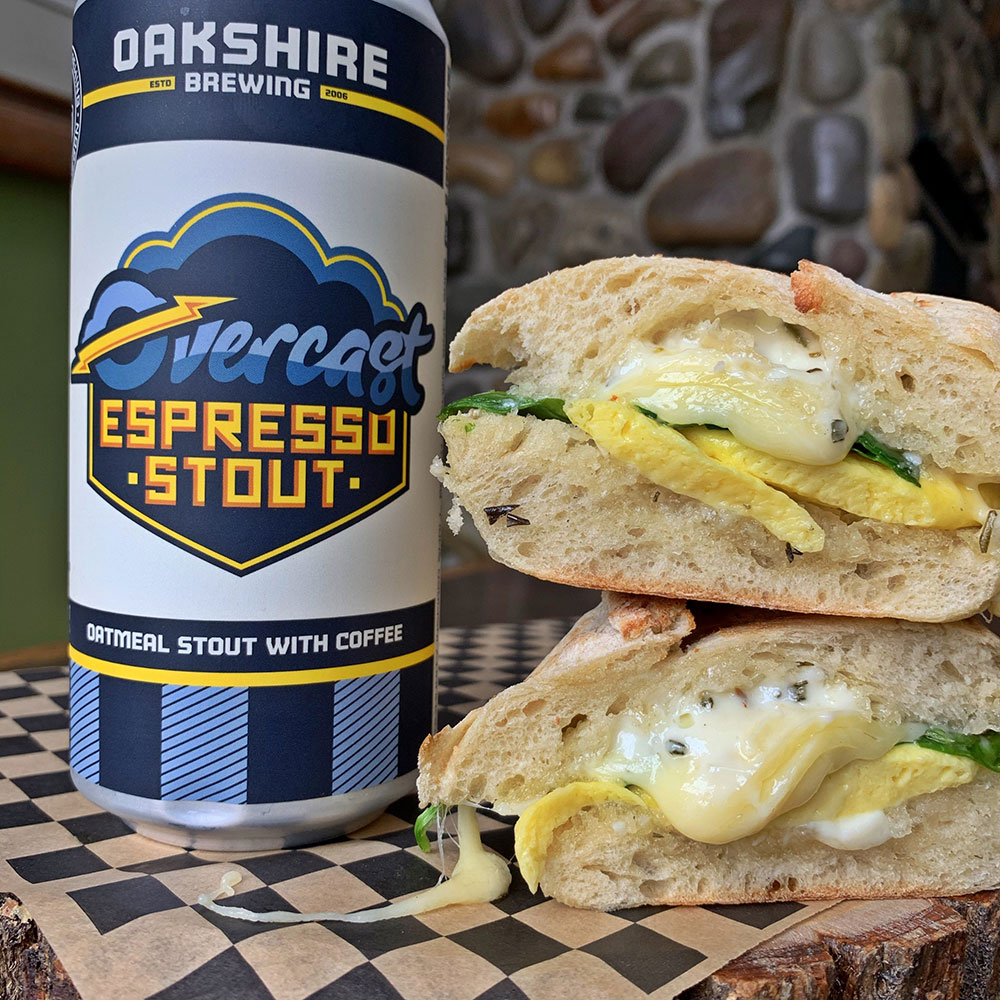 Tacoma Breakfast Sandwich: Florentine
Just a reminder Peaks & Pints serves breakfast sandwiches until 2 p.m. daily. Our Florentine is spinach, egg, melted Havarti and rosemary aioli on a toasted baguette. We suggest pairing it with Oakshire Brewing's Overcast Espresso Stout, well, because it's an overcast breakfast kind of day.
Oakshire Overcast Espresso Stout
When Jeff and Chris Althouse founded Oakshire Brewing Co. in 2006 they were the only employees, brewing Original Amber on a four-barrel system under the moniker Willamette Brewery. In 2008, Willamette Brewery became Oakshire Brewing. Today, Dan Russo is the lead brewer managing Oakshire's collaborative production team of seven and overseeing the Pilot, Vintage and Core Seasonal programs. Their Overcast Espresso Stout is an oatmeal stout blended with cold brewed coffee, offering a full palate of roasted malts, chocolate and espresso, 5.8%.
Guaranteed seating on the Open Table app; or call ahead at 253.328.5621 and grab the Tacoma breakfast sandwich Florentine and the Overcast Espresso Stout or others treats from our 850+ cooler. Cheers!
Today's Peaks & Pints Tap List
1

Maison Noir Wines

O.P.P PINOT NOIR

UNITED STATES

Oregon

Willamette Valley

%

Just Tapped

2

Alexandria Nicole

Jet Black Syrah

Woodinville, WA

12%

Just Tapped

3

Milbrandt

Simply Chardonnay

USA

Washington

Columbia Valley

%

Just Tapped

4

San Juan

Spiked Seltzer Fruit Punch

Hard Seltzer

San Juan Islands, WA

%

IBU

Just Tapped

5

Bluebeard Coffee Roasters

Nitro Cold Brew Coffee

Cold Brew Coffee

Tacoma, WA

Just Tapped

6

Rainier

Mountain Fresh Rainier Beer

Lager

Seattle, WA

4.73%

IBU

Just Tapped

7

Double Mountain

Tossed Apples

Heritage

Hood River, OR

7.3%

Just Tapped

8

Tieton

Sour Watermelon

Cider

Yakima, WA

6.9%

Just Tapped

9

Yonder

Perry

Perry

Seattle, WA

6.9%

Just Tapped

10

E9/Best of Hands

Corpse Pose

Sour - Wild Ale

Tacoma, Washington

7%

IBU

Just Tapped

11

pFriem

Pêche

Lambic-Inspired Peach Sour Ale

Hood River, OR

5.8%

6 IBU

Just Tapped

12

pFriem

Pilsner

Pilsner

Hood River, OR

4.9%

35 IBU

Just Tapped

13

Bombastic

Chatter

Mexican Lager Lime, Salt

Hayden ID

4.7%

16 IBU

Just Tapped

14

Ayinger

Bräuweisse

German Hefeweizen

Aying, Germany

5.1%

13 IBU

Just Tapped

15

Wayfinder

Shamanic Whip

Pale Ale

Portland, OR

4.7%

41 IBU

Just Tapped

16

Old Schoolhouse

Between Peaks IPA

IPA

Winthrop, WA

7%

IBU

Just Tapped

17

Radiant

For Real Life

Hazy Double IPA

Anaheim, CA

8.4%

65 IBU

Just Tapped

18

Block 15

Science!

IPA

Corvallis, OR

6.3%

IBU

Just Tapped

19

Fort George/KEX

Atomic Jukebox

Milkshake IPA w/ Passion Fruit, Cara Cara Orange, Guava & Lactose

Astoria, OR

8.4%

IBU

Just Tapped

20

Aslan/Georgetown

Offshore IPA

IPA West Coast IPA

Bellingham, WA

6.5%

75 IBU

Just Tapped

21

Cigar City

Aruba Red

Red Ale

Tampa, FL

5.5%

IBU

Just Tapped

22

Level

Gimli

Dry Irish Stout

Portland, OR

4.6%

IBU

Just Tapped

23

Rogue

Hazelnut Brown Nectar

Brown Ale With Hazelnut extract

Newport, OR

5.6%

33 IBU

Just Tapped

24

Hair of the Dog

Alan

Strong Ale Hoppy

Portland, OR

8.5%

IBU

Just Tapped

25

Nogne O

Ghost Ship

Smoky Barrel-Aged Barleywine - Barrel Aged (Bourbon & Whiskey blend)

Grimstad, Norway

13%

50 IBU

Just Tapped

26

Stemma

Pluit Porter

Porter

Bellingham, WA

5.5%

30 IBU

Just Tapped

27

Ridgefield Craft

Stari Night

Milk Stout Caramel Espresso

Ridgefield, WA

6.8%

24 IBU

Just Tapped

28

Bombastic

Shiver

Imperial Coffee Stout Thomas Hammer

Hayden ID

10.5%

47 IBU

Just Tapped
---