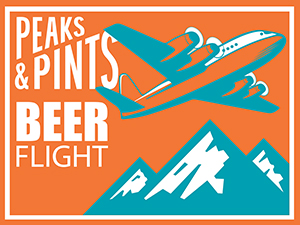 With sweets, decorations and costumes lining store shelves in preparation for Halloween, fall may seem to be candy season. It's really June, though, that takes the candy-encrusted crown as National Candy Month, and Peaks & Pints is one option to celebrate. There's something so sweet about sweet. The cavemen knew it; they were willing to risk limbs and whatever other body parts weren't covered in hair in order to grab honey from beehives. Over many, many thousands of years, the preferred form of sweet evolved from honey to all kinds of confections, including craft beer. Today, Peaks & Pints presents a to-go flight of beer that tastes like candy. Stop by our craft beer bar, bottle shop and restaurant in Tacoma's proctor District and grab Peaks and Pints Pilot Program: Candy Beer On the Fly.
Peaks and Pints Pilot Program: Candy Beer On the Fly
Wingman P-51 Peanut Butter Cup Porter
8% ABV
Wingman Brewers introduced a peanut butter and coconut porter to the Port Townsend Strange Brewfest several years ago. At its 2014 Porterpalooza festival, the Tacoma brewery dropped the coconut and added chocolate. It was a huge hit. It re-appeared for Porterpalooza 2015, this time in 22-ounce bottles as a seasonal. Peanut Butter Cup Porter tastes like a Reese's Peanut Butter Cup full of rich peanut, chocolate, some light roasted notes and a decent amount of sweetness.
Equilibrium Rocky Road Trip
11% ABV
Conditioned on cacao, vanilla beans, marshmallow, almonds, and walnuts, Equilibrium Brewing's Rocky Road Trip pours pitch black with a creamy tan head releasing notes of Rocky Road candy. Flavors of a smooth chocolate and dollops of chewy marshmallow swirls contrast with an almond nuttiness and a touch of walnut to create a balanced stout that pays homage to one of their favorite sweet flavors. Decadent, creamy, and playful, this imperial stout will take to you back to sweet childhood memories.
Heathen MegaMint
9% ABV, 22 IBU
Though an official stamp of approval from the Scouts is probably out of the question (for obvious reasons), that doesn't mean a brewery can't take a little inspiration from the girls' iconic Thin Mints to whip up a brew. Heathen Brewing's MegaMint Imperial Chocolate Milk Stout is kicked up a notch by using fresh picked mint in the brewing process. The milk sugar leaves a pleasant residual sweetness that is balanced with the chocolate and biscuit notes of the specialty malt that are seductively balanced with aroma of the cacao nibs and fresh mint.
Matchless Hop Stripe
6% ABV
Admit it: you used to mix sticks of Fruit Stripe gum together to make your own unique flavor. That's cool, so did Matchless Brewing. And the Tumwater brewery misses it so much that they made an IPA that does the same thing. Using just the right combination of Waimea, Citra, and Topaz hops (for flavor that lasts) with a bit of maltodextrin (to give it just a hint of sweetness) this juicy IPA will make you think of cartoon zebras.
Omnipollo Theoricus Jawbreaker
10% ABV
A continuation of Omnipollo's candy inspired collaborative series with fellow Swedish breweries Dugges, Morgondagens, and Duckpond Brewing. Boxes of jawbreaker candy are crushed and swirled with the breweries' favorite hops into this triple IPA for grapefruit, pineapple, guava, orange, and sweet caramel on the nose, followed by a tropical fruit taste with toasted caramel and a sharp bitterness.
LINK: Peaks & Pints cooler inventory
---