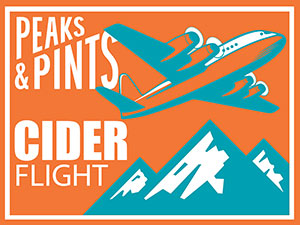 When Robert Frost came upon his two paths, he chose the one less traveled. But what if he didn't have to choose? What if he could take both paths simultaneously, thereby removing guesswork and consequence from his action? Peaks & Pints' Monday Cider Flight is choosing both paths — sparkling cider. You've probably tasted a cider with lots of fizzy bubbles, and you may have even had a completely still cider. However, carbonation variation is more than just a question of its presence or absence. There are a few bubble types that have to do with fermentation and legal limits. While there are still more ways to carbonate cider, we're choosing forced carbonation for Peaks and Pints Monday Cider Flight: Effervescent.
Force carbonation occurs most often on what is essentially an already finished product. The act of creating effervescence is an add-on, rather than a part of the inherent characteristics of the liquid. The result is larger bubbles than you'll find in ciders carbonated through other means. Additionally, those bubbles disappear fairly quickly, encouraging enthusiastically fast drinking before the cider goes flat.
Peaks and Pints Monday Cider Flight: Effervescent
Seattle Papaya Sparkling
4.2% ABV
Seattle Cider Company's new Sparkling series, in colorful, retro-inspired cans, are this industry stalwart's take on the seltzer craze. Just like their ciders, each seltzer flavor is crafted from fresh-pressed Washington Apples, along with water and a touch of sugar. These sparklers do contain natural flavors and essences, but they are balanced and tasty, such as Papaya Pride. Bonus: For every Papaya Pride can sell, Seattle Cider will donate to GSBA, Washington's LGBTQ Chamber of Commerce.
Double Mountain Red Fleshed Rosé
5.9% ABV
Matt Swihart, owner of Double Mountain Brewery, stepped into the cider world in 2017 with his Dry Cider, made using Newtown apples he grows on his Odell area property: Double Mountain farm, which had its name before Swihart opened Double Mountain Brewery and Taproom 12 years ago in Hood River. He's killing it in the cider world, as they say. His Red Fleshed Rose is made from red-fleshed Mountain Rose and Pink Pearl apples, which bring the light rose color. This cider is dry and effervescent, leaving behind tart cranberry and chardonnay.
Alpenfire Spark!
8.9% ABV
Port Townsend cidery Alpenfire Cider creates Spark, a sparkling cider with an unique blend of organic heirloom apples. Varietals grown in Sequim, Washington, such as Melrose and Winter Banana make up 80 percent of the blend while Alpenfire's estate Brown Snouts, Foxwhelp and Vilberie apples round out the last percent and help give this cider a nice astringent finish. By the way, owners Nancy and Steve "Bear" Bishop, including their son and sales director, Philippe, adore showing people around their orchard, where they grow three French and five English cider apple varieties as well as many heritage and dessert apples.
---