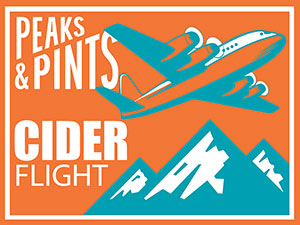 As you set your sights and stomach on your Christmas Eve and Christmas Day feast; consider cranberries. No doubt you're thinking roast beef or roast ham, mashed taters, glazed carrots, stuffing, pigs in a blanket, parsnips, Brussels sprouts, and Yorkshire pudding for supper, but don't forget the most important condiment: cranberry hard cider. You should have saw that coming. After all, it's Monday, which means Peaks & Pints suggests a cider flight to-go. Cider has roots in the holidays after all — going back to the Middle Ages, people would go wassailing to orchards in the English countryside, chanting recitations in hopes of spurring a good harvest in the coming year. Since the peak cranberry harvest season is October through December, cranberries are used most often during the holidays, which is why many cranberry ciders find a way to the market in December, including the ones we chose for our flight, Peaks and Pints Monday Cider Flight: Cranberry.
Peaks and Pints Monday Cider Flight: Cranberry
Portland Crangerine
5.1% ABV
Portland Cider Co. released Crangerine for the holiday season. A medium sweet, crimson cider, Crangerine highlights tart and juicy tangerines complemented by fruity Oregon-grown cranberries. The citrus zest of the tangerines interacts with the fruitiness of the rich red cranberries for a playful spin on a fall classic.
Seattle Cider Punch Bowl
6.5% ABV
Nothing cuts the initial awkward tension of a holiday family gathering quite like a little injection of alcohol (or a lot of it, depending on how heavy you pour). And Seattle Cider Company's Punch Bowl recipe is not only seasonally appropriate (there's cranberry!), Punch Bowl also includes hip ingredients lime peel and ginger.
Herb's Hopped Cranberry
6.5% ABV
A blend of organic Washington grown apples co-fermented with cranberries and hops, Herb's Hopped Cranberry is crisp and bright with a berry-forward flavor and a nuanced hop finish that lingers with notes of tropical fruit and citrus. Bonus: it benefits Ciders For ALS (sister organization of Ales For ALS) — a national fundraising campaign raising awareness for Lou Gehrig's disease.
Yonder Cashmere
6.9% ABV
Yonder Cider's winter seasonal Cashmere, is inspired by one of their favorite cocktails, the Negroni. Made with tart cranberry, ⁠dark cherry and a hint of bitter orange, Cashmere hits the nose with orange peel and berry, pairing beautifully with notes from one of their favorite cider apples, Ashmead's Kernel. ⁠
Channel Marker Cran Clove Cyser
8% ABV
Nestled between the lush Cascade Mountains and the salty Puget Sound, the maritime climate and adventurous spirit of Seattle provides the inspiration for Channel Marker cider recipes. And They source, forage and grow many of our ingredients from around the Sound — their backyard. Their Cran Clove Cyser offers warm and spicy flavor of whole cloves and orange zest in a cranberry and apple cyser. Pacific Northwest honey lends a sweetness.
---