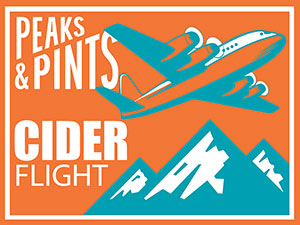 In 1982, Pommeau went legit. Up to that point, the beverage, officially classified as a mistelle, was a well-guarded secret among French farmers who produced it and wasn't legally available to the public market. The farmers would use a system called mutage, a process in alcohol production that slows fermentation, on their fruitiest and tastiest apple juice. Apple brandy, known as Calvados in the Normandy region, was added to the juice to prevent it from losing its flavor. It's then aged for a minimum of 18 months before being bottled as a Pommeau. The ratio is approximately two-parts of juice to one-part of Calvados with an alcohol by volume between 16 and 18 percent. Pommeau received an official Appellation d'Origine Contrôlée designation in 1986, regulating its production and process under French law. Today, Peaks & Pints presents Peaks and Pints Monday Cider Flight: Boozy Ciders, a to-go flight of three Pommeau ciders.
Peaks and Pints Monday Cider Flight: Boozy Ciders
Alpenfire Smoke
18% ABV
Alpenfire Cider Smoke barrel-aged pommeau sits as the second best cider in the world on RateBeer's best of list. It starts with estate-grown Kingston Black, Dabinett and Vilberie bittersweet apples for a very tannic base. Next, it's fermented dry, refermented and aged in a rye whiskey barrel, then matured in a peated whiskey barrel, then blended with cider aged over oak chips before estate bittersweet apple brandy is added in to bring it up to 18 percent. It pours a clear amber with big, warm alcohol, apple, and a hint of smoke on the nose. The taste is big and warm with smoke, toasted oak, bittersweet apples, scotch/whiskey, notes of honey, vanilla, char barrel character, and a hint of peat. Expect a long warm finish. 
Finnriver Pommeau
18.5% ABV

Finnriver Farm & Cidery's Pommeau apple wine goes through all of the stages of apple metamorphosis: it begins as apple juice, which the Chimacum, Washington cidery ferments into an apple wine. They then fortify this wine with their 100-proof apple brandy (distilled from their cider made with organic Pacific Northwest apples and aged two months in American oak). The autumn apple harvest comes in and the must, or fresh unfermented juice, is then blended with the brandy in oak barrels. The 18.5 percent ABV mixture continues to mature in the barrel for approximately two years. Bright and clear, with a beautiful amber color and a rich range of aromas, Pommeau delivers notes of bright, fresh apple followed by butterscotch, leather, brown sugar, caramel and hints of spice, with a deeper hint of vanilla. Anchored by the oak with subtle flavors of stewed apple, dried fruit and honeyed fullness.
2 Towns Marrissimo
19% ABV
2 Towns Ciderhouse's Marissimo is crafted with marion blackberries and Pacific Northwest apples. Once the ripe apples have been "sweated" at cool temperatures, they are pressed and fermented with local marionberries, then aged with apple eau de vie. Matured in French oak barrels for one year, Marissimo emerges as a delightful twist on a traditional Pommeau. Brimming with dark berry character enveloped in complex notes of oak spice, Marissimo can accompany an array of dark chocolates and other fine desserts and is best served slightly chilled.
---