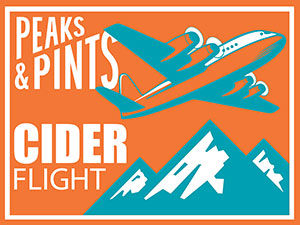 Named for a sharp hook in the Deschutes River in Central Oregon's high desert, Bend wasn't on everyone's radar; decades ago, it was a bump on the state highway between golf resorts Black Butte Ranch and Sunriver. Lumber ruled the roost until the two large timber mills closed in 1994. Now what? Boom! Bend underwent a housing boom — and an image boom — in the mid '90s. Suddenly mountain biking wasn't just for teenage boys, kayaks outnumbered suits and ties, and microbrews poured in Mount Bachelor's ski lodges; Bend became a paradise for outdoor adventures and outdoor beer and cider gardens. Breweries, wineries and cideries began popping up and locals would rather discuss hops and apples than the predictably sunny weather. Today, Peaks & Pints presents a to-go flight of cider made in Bend — a flight we're calling Peaks and Pints Monday Cider Flight: Bend Oregon.
Peaks and Pints Monday Cider Flight: Bend Oregon
Avid Blueberry Pomegranate
6.2% ABV
In 2013, Avid Cider Co. invaded the Bend, Oregon craft beer-crazed town with something different. Back then, they went by ATLAS and quickly gained recognition locally and regionally depicted by their major award display case. AVID became known as a semi-sweet cider company placing their craft between the dry and sweet market. They live and die by their "NW to the Core" slogan sourcing regional fruit pressed in Bend to create "core" ciders and seasonally inspired hits. Their Blueberry Pomegranate cider combines the two flavors for a balanced, not too sweet, delicious flavor.
Avid Blackberry Currant Apple
6.2% ABV
Oregon has a state flag, song, flower, and Avid would like to nominate their Blackberry Currant Apple for Oregon's official cider. Oregon's reputation as superb berry country stretches back at least as far as 1885 when historian Herbert Lang decreed: "There is no country in the known world where wild berries are so common as in Oregon." In 2013, Oregon farmers produced a nation-leading 51 million pounds of blackberries. Oregon is the major producer of black currants west of the Mississippi. Avid grabbed the two Oregon berries and took zero short cutes blending them. The tartness of the blackberries is rounded out by the complex characteristics of the black currant. Filled with tannins the cider leaves a delightful dry and rich finish.
Avid Cider Vanilla Bean Pear
6.2% ABV
"We called upon the Greek Goddess of Snow 'Khione' to forge a cider to combat that bitter, bleak, unyielding chill of her father's (Boreas God of the North Wind) winter season," states Avid Vanilla Bean pear hype. "Equipped with a quiver of Madagascar Vanilla Beans her quest began with a hunt to collect the finest NW pears. In an effort of pure blasphemy to her father, she then pressed, blended, and fermented a drink in the perfect elixir that would allow us mortals to survive through the winter." Peaks and Pints has no idea what that means, but EXCITING! This cider tastes exactly what hard apple cider, pear juice and vanilla bean extract can produce.
Tumalo Huckleberry Lemon
6.5% ABV
The Tumalo Cider House was built from the ground up by its brewer, Kelly Roark, with business partner Jeff Bennet, plus the help of friends and family. Roark has been brewing cider out of his home since 2007 creating a cider that is authentic, distinct, and loved amongst the Bend, Oregon community. He started years ago filling up trash cans with free apples he would find growing around town Bend, then pressing them with friends for homebrew apple cider. Today, Tumalo, still in Bend, specializes in small batch, artisan cider with a focus on dry, complex apple profiles. Head Cidermaker Kelly Roark also knows his way around berries too. Northwest berries come together with a touch of lemon for a refreshing combination of sweet and tart Huckleberry Lemon cider.
Tumalo Pomegranate Pear
6.2% ABV
Pomegranates require long, hot, dry summers to mature sweet fruits, which describes Bend summers. Heat accumulation increases the sweetness of the fruit. As Bend weather turns from the heat of the summer to the crispness of fall, a myriad of fruits come into season. Avid chose the two fruits in this cider for this fall seasonal, which marries the tartness of the pomegranate with the subtle sweetness of the pear.
LINK: Peaks & Pints cooler inventory
---