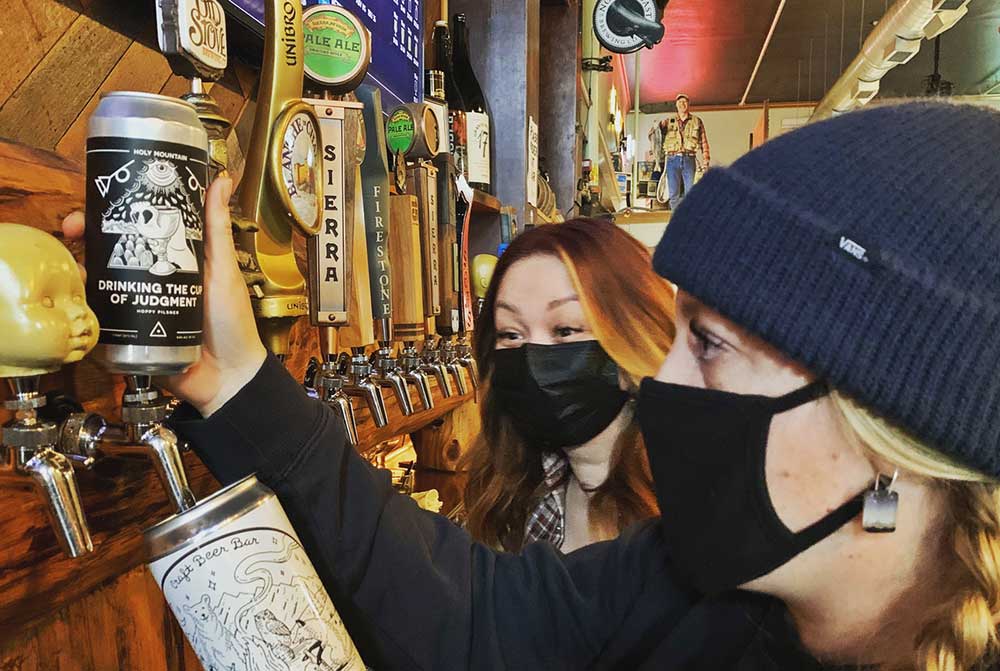 Peaks and Pints Tap List: Holy Mountain Drinking The Cup of Judgment
Peaks and Pints houses a mind-boggling array of suds: 850-plus bottled and canned in our cooler, with another 28 on tap for pint and Campfire Crowler fills. While craft beer remains our foundation, you don't have to be embarrassed for ordering artisan craft cider, wine, cold brewed coffee and kombucha as those delights are on tap too at Peaks & Pints. To follow our tap list live from your phone, click here for iPhone and here for Android. Peaks & Pints has tapped Holy Mountain Brewing's Drinking The Cup of Judgment and Peaks bartender Amber judges her fellow bartender Amy's pouring of the hoppy, crisp, and light pilsner.
Amy uses proper form when fake pouring.
Amy loves to chat up our Western red cedar tap log.
Amy can point you to the Drinking The Cup of Judgment can in the Peaks cooler.
Amy knows how to salchow.
Amy communicates effectively both horizontally and vertically.
Amy is not fazed by Enya on the jukebox.
Amy never really "could go for a salad."
Amy said, "My COVID-19 vaccine shot made my beer drinking arm sore — good thing I have two!"
Amy has a holder for her Half-Caf Hazelnut Latte, No Foam, in her shower.
Amy makes great impact on women waiting in line for the bathroom.
Amy doesn't care about the rumored links between the Marvel Cinematic Universe and the Sam Raimi Spider-Man trilogy.
Amy can shred the hell out of a mountainside.
1

Patterson

Cabernet Sauvignon

USA

Washington

Columbia Valley

Woodinville

%

Just Tapped

2

Proletariat

Sangiovese

USA

Walla Walla, WA

14%

Just Tapped

3

Proletariat

Sauvignon Blanc

USA

Walla Walla, WA

13%

Just Tapped

4

Craftwell

Hibiscus Lemonade

Apple-Wine Cocktail Imperial Hard Cider

Corvallis, Or

8.5%

Just Tapped

5

Vahalla Coffee Roasters

Viking Nitro Cold Brew

Nitro Cold Brew

Just Tapped

6

pFriem

Pilsner

German-style Pilsner

Hood River, OR

4.9%

35 IBU

Just Tapped

7

2 Towns

RiverBreaker

House Cider

Corvallis, OR

6.9%

Just Tapped

8

Union Hill

Barrel Aged Cider

Barrel Aged Farmhouse Cider

East Wenatchee

7.4%

Just Tapped

9

Whitewood Cider

Cranberry Douglas Fir

Winter Cider

Olympia, WA

6.3%

Just Tapped

10

Double Mountain

Peche Mode

Belgian Style Sour Ale w/ Peaches

Hood River, OR

8.7%

8 IBU

Just Tapped

11

Here Today

Good Dog Club

Saison Rye, Belgian Candi Sugar

Seattle, WA

6.7%

IBU

Just Tapped

12

Rainier

Mountain Fresh Beer

Lager

Seattle, WA

4.6%

IBU

Just Tapped

13

Gigantic

Pay Czech

Dark Czech-Style Lager

Portland, OR

5.6%

28 IBU

Just Tapped

14

Ayinger

Brauweisse

Hefeweizen

Aying, Germany

5.2%

12 IBU

Just Tapped

15

Sierra Nevada

Draught Style Pale Ale

Pale Ale

Chico, CA

5%

0 IBU

Just Tapped

16

Bale Breaker

TrailBreaker IPA

House IPA

Yakima, WA

6.8%

IBU

Just Tapped

17

Old Stove

Warming Hut IPA

Winter IPA

Seattle, WA

7.5%

53 IBU

Just Tapped

18

Living Häus

Sarah

IPA

Portland, OR

6.2%

IBU

Just Tapped

19

Fracture

Luncheon Time

Juicy IPA

Portland OR.

6.3%

IBU

Just Tapped

20

Varietal

Jangle

Winter IPA

Sunnyside, WA

7.4%

IBU

Just Tapped

21

21st Amendment

Fireside Chat

Winter Warmer

San Leandro, CA

7.9%

45 IBU

Just Tapped

22

Rogue

Chocolate Stout Nitro

American Stout Dutch Chocolate

Newport, Oregon

5.8%

IBU

Just Tapped

23

Maritime Pacific

Bourbon Barrel Jolly Roger

English Strong Ale - Barrel Aged (Bourbon Barrel)

Seattle, WA

9.5%

42 IBU

Just Tapped

24

Huyghe

Delirium Noel

Belgian Strong Dark Ale

Melle, Belgium

10%

20 IBU

Just Tapped

25

AleSmith

Barrel Aged Old Numbskull

Barleywine - Barrel Aged (Bourbon)

San Diego, CA

11%

96 IBU

Just Tapped

26

Heater Allen

Sandy Paws

Baltic Porter

McMinnville, OR

7.1%

IBU

Just Tapped

27

Stone

Xocoveza

Mexican Hot Chocolate Imperial Stout

Escondido, CA

8.1%

50 IBU

Just Tapped

28

Block 15

Imagine 23

Belgian-inspired Imperial Stout - Barrel Aged (Bourbon blend)

Corvallis, OR

14.5%

IBU

Just Tapped
---