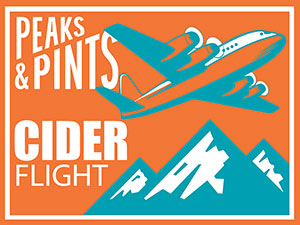 The idea is simple. A cidery reaches out to community members who had an abundance of apples. The cidery gathers the apples, presses them, and turns it into a cider based on the flavor of the town. More often than not, the hosts a community drinking party. The community "harvest" programs also reduce waste with this unique apple recycling program. By "harvest" Peaks & Pints means ciders that allow the apples and their native yeasts to speak of the land and climate where the fruit was grown, ciders that highlight the qualities of the apples themselves. We mean ciders made with local cider apples, firm with tannins and explosive with acid, which taste of place and not of sugar or other additives. Stop by Peaks & Pints today and taste ciders born in backyards, a to-go flight we call Peaks and Pints Monday Cider Flight: Backyard Harvest.
Peaks and Pints Monday Cider Flight: Backyard Harvest
Grit City Ciderworks Tacoma Crush 2020
6.5% ABV
This past July, Husband-wife team Kelsey and David Horne opened Grit City Ciderworks in Tacoma's Hilltop neighborhood. David — who grew up in Washington's Apple Capital Wenatchee and homebrewed for a decade — wanted to make cider to balance the sweet cider market. After studying at Oregon State University's renown fermentation program, along with his beer brewing knowledge, he found his preferred cider taste profile, although he opens the door wide for his Tacoma Crush 2020. Grit City invites the Tacoma community to contribute their apples, which the Hornes press. The result is a drinkable standard cider made without additives. It's a straight expression of Tacoma apple trees.
Wildcraft Your Fruit Your Cider
6.5% ABV
WildCraft Cider Works, Eugene's first cidery, uses whole fruit for seasonal small batch ciders naturally fermented without artificial flavorings and added sweeteners. Their flagship ciders are made from Eugene-sourced apples. They also feature craft beverages created with pears, blueberries, plums, cherries, elderberries and, in the case of Your Fruit Your Cider, Eugener community bartered apples, pears and plums — fermented in season and aged for a full 12 months. It's the only blend from WildCraft that the community decides the result. Lovely and simple dry cider with a classic body and a touch of sweetness. Proceeds support the Eugene Upper Willamette Stewardship Network.
---