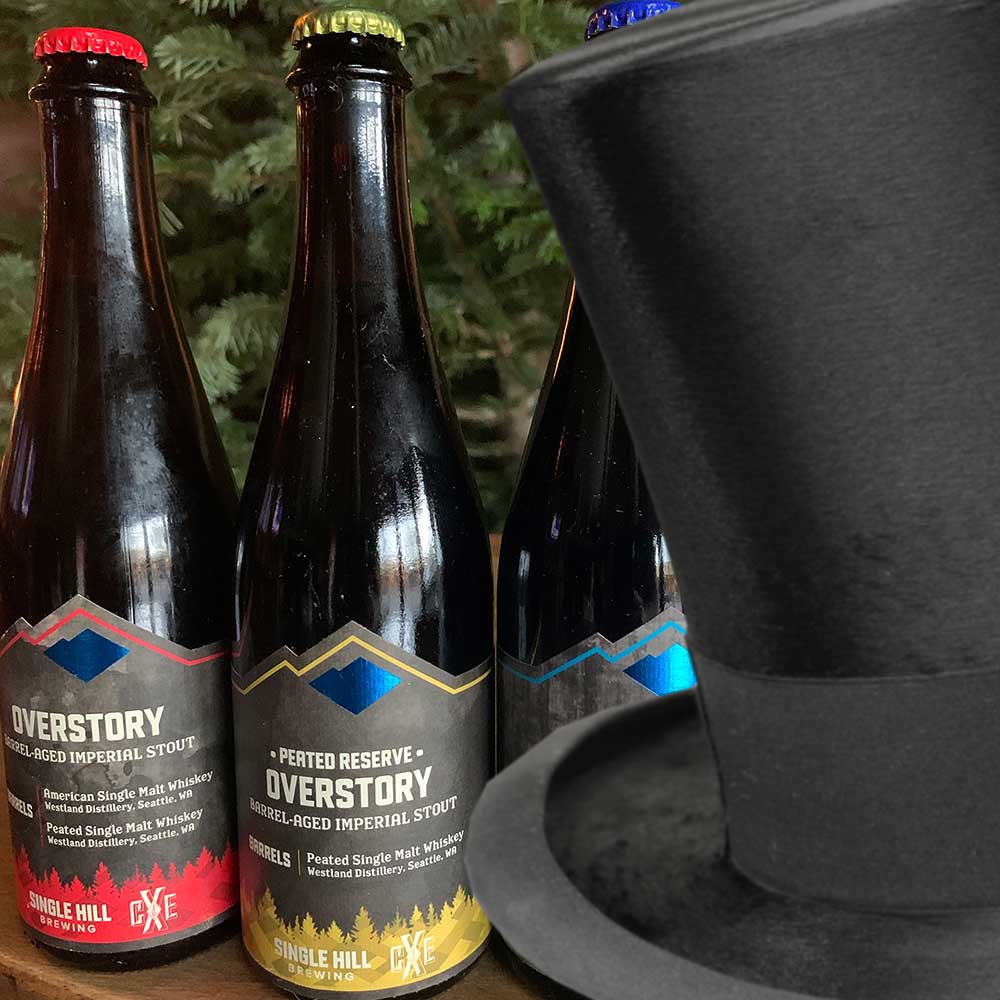 Fancy Pants Sunday: Single Hill Overstory
First there was nothing. Then there was Fancy Pants Sunday: Single Hill Overstory.
In Peaks & Pints craft beer lodge, the air is filled with holiday music and hand sanitizer shout-outs. A woman caresses the Peaks & Pints Menefee 18-foot Norwegian spruce Christmas tree to check its freshness. The tree smiles. Its needles scent the air and a force hums in the heart of the wood. The woman pauses for a second as if she heard the tree speak. The tree is saying things.
It says: "Do you think bartenders Erin and Nicole will ever stop petting that dog and come back inside?"
It says: "That guy is walking fast toward the beer cooler. Do you think he'll stop or be all illegal adding a third to the two-person cooler limit?"
It says: "I think your Beef and Beecher's sandwich is ready lady."
If trees could speak to us, what might they say? In The Overstory, 2019's Pulitzer Prize winner by Richard Powers, nine human characters struggle to understand the hidden connections of the natural world and preserve what may be the continent's last stand of virgin forest. With compassion and erudition, Powers has constructed a sweeping narrative that mixes history, myth, science, and literature. The author takes inspiration from John Muir and Henry David Thoreau and understands the impact of newly developed technology. In The Overstory, Powers presents the treacherous, denuded slope on which humankind has built its dreams, and offers an intricate meditation on extinction, survival, and transcendence.
In August 2016, a silver maple watched Ty Paxton and Zach Turner opened Single Hill Brewing in an old JC Penney Tire Center in downtown Yakima. A sumac tree witnessed Paxton and Turner's first meeting at a cider pressing party that a mutual friend was hosting in 2013. Three years later, over pints at Bale Breaking Brewing, the two hatch the idea for a community-based brewery in a town dear to their hearts while Ahtanum hop bines listened.
"Not all beers are created equal," states Single Hill Brewing philosophy. "In the wild forests, the mature trees of the canopy mingle and blend to comprise the overstory. Overstory is comprised of hand-selected cuts of our imperial stout, barrel-aged in Westland Distilling American Single Malt and Peated Single Malt Whiskey casks. Flavor notes of espresso, dark fruit, and peat abound in each bottle. Not every tree will join the overstory, and not all beers can be Overstory. But, if you got it, flaunt it."
Indeed, the downtown Yakima brewery listened to the trees, then created their Overstory (11.6%) imperial stout barrel-aged in Westland Distilling American Single Malt and Peated Single Malt Whiskey casks for flavor notes of espresso, dark fruit, and peat.
Overstory Peated Reserve was brewed in fall of 2018 and matured in Westland Distilling Peated American Single Malt whiskey barrels. For the highland scotch lover this Overstory edition is the ultimate in complexity. At 13.4 percent ABV, and rich with oak tannins, deep cherry notes and peat smoke it's formidable while holding its balance.
Both Overstory stouts rest in the Peaks & Pints cooler for you to bring home and introduce to your trees.
You fancy Single Hill Overstory!
LINK: Tree-dimensional Tacoma meets Overstory
---