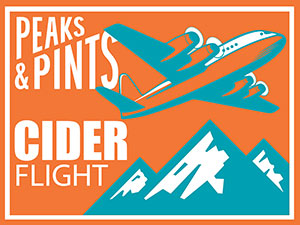 In 2013, AVID Cider Co. invaded the Bend, Oregon craft beer-crazed town with something different. Back then, they went by ATLAS and quickly gained recognition locally and regionally depicted by their major award display case. AVID became known as a semi-sweet cider company placing their craft between the dry and sweet market. They live and die by their "NW to the Core" slogan sourcing regional fruit pressed in Bend to create "core" ciders and seasonally inspired hits. Today, Peaks and Pints picks AVID's seasonal offerings for our to-go Monday Cider Flight, Peaks and Pints Monday Cider Flight: AVID.
Peaks and Pints Monday Cider Flight: AVID
Avid Dragonfruit
6% ABV
Oregon's second-largest cider maker, Atlas Hard Cider, changed its name after Atlas Brew Works, which produces beer in Washington D.C., complained the name was too similar. As mentioned in the introductory paragraph, Atlas found a new home in AVID. The cidery's Dragonfruit isn't new to our bottleshop, but the 19.2-ounce stovepipe can is the cider's new, er, home. The fruits cactus-like neon-magenta skin and lime green scales very closely resemble the flesh of a mythical dragon. It is believed that those who feast on the flesh, which has a mild kiwi/sorbet flavor, will be endowed with the strength, which is nice.
Avid Orange Creamsicle
6.2% ABV
The newest creation from AVID isn't inspired by apples. Instead, the cider is firmly rooted in the wild and imaginative world of craft beer. Inspired by the culinary or milkshake India pale ales filling up the shelves, this delightful treat combines Valencia oranges and a touch of vanilla in a flavorful combination that is reminiscent of the classic orange creamsicle.
Avid Acai Lemonade
6.2% ABV
Dark purple açai (pronounced "ah-sigh-EE") berries are a grape-like fruit native to the rainforests of South America. They are harvested from acai palm trees. The taste of acai berries has been described as a blend of chocolate and berries, with a slight metallic aftertaste. AVID adds the berry with lemons and blueberries to create their Acai Lemonade cider. The acai really comes through and gives it a nice tartness. It drinks like a SweeTart, but less sweet.
---