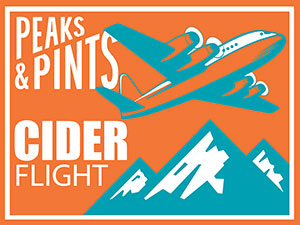 Apples were among some of the first crops grown in colonial America. Potted seedlings and bags of apple seeds were brought over on the Mayflower. The Bible-thumping Puritans were not teetotalers. Apple orchards in colonial America usually meant one thing: hard cider. Apples flourished in the fertile soil and friendly climate, and soon apples were a key part of most colonial farms and menus. The popularity of cider in America grew as the nation's territory expanded. Then, the Temperance movement and popularity of German lager squashed the hard apple cider movement … until 2013. Zealous connoisseurs grow dissatisfied with the mass-produced apple cider sold by far-away, massive corporations. In response, they retreat to their basements and garages and start playing with recipes, learning about fermentation and putting their own spin on the old tried-and-true. Eventually, some hit on flavors in their homemade libation that are so tasty and unique, it seems a shame to hoard it all for themselves. They start putting some in bottles and growlers to share with like-minded friends and family. People flip out. Professional cideries began to pop up. It's an explosion of craft cideries, and a return to the drinking habits of Colonial America. Peaks and Pints Monday Cider Flight returns after three months of closed Monday doors due to the pandemic. It's only appropriate that we concentrate on just apple in our to-go cider flight, Peaks and Pints Monday Cider Flight: Apple On The Fly.
Peaks and Pints Monday Cider Flight: Apple On The Fly
Samuel Smith Organic Cider
5% ABV
This is a medium dry cider straight outta the oldest brewery in Yorkshire, England. Samuel Smith's Organic Cider hits the nose with a big blend of red and green apples with light sugar, a bit of alcohol, and low spicy yeast elements. On the tongue, expect super clean fermentation characteristics and big apple flavors leading to a medium-dry slightly tannic finish with lingering tart notes.
2 Towns The BrightCider
6% ABV
In late 2010, Corvallis homebrewers Aaron Sarnoff-Wood and Lee Larsen filled a gap in the college town's drinking scene — cider. The duo opened 2 Towns Ciderhouse crafting unique ciders brewed with the traditional English and French-style's tannic apples, Oregon grown, of course. Discovered on Long Island in 1759, the Pippin Newtown is one of the oldest original US varieties of apples. Thomas Jefferson grew it and Benjamin Franklin took samples to the English royal court, causing it to become one of the first US apple exports to the UK. 2 Towns Ciderhouse takes advantage of the apple's sweet, rich flavor in its BrightCider, which shines a spotlight on Newtown Pippin with a little help from other Northwest Varieties. The BrightCider is fermented cold to slow the fermentation process, retaining the aromatics of this heirloom fruit. The result is balanced flavor — partly sweet and partly dry.
Alpenfire Glow Rosé Hard Cider
6.8% ABV
Port Townsend's Alpenfire created this a single varietal rosé cider with Hidden Rose apples, a rare, dessert apple variety. The aroma is composed primarily of a really luscious, ripe apple character. Amazing! On the palate expect a robustly built cider, sporting rich tannin, notes of caramel and a rich weightiness that is tamed by the sparkle. Not atypical cider by any means.
Finnriver Sojourn
9% ABV
Sojourn is the first of Finnriver Cidery's "travelling," estate-based bottles that feature cider apples grown at their friends' orchards. Made with a robust list of traditional cider apples — Ellis Bitter, Amere de Berthcort, Reine des Pommes — grown at Vista Ridge Orchard in Quilcene, Washington, this fermentation features Vista's first significant harvest of bittersweet and bittersharps. With indigenous yeast naturally present in the fruit, and bottle conditioned, Sojourn offers a deep sense of leather and apples, with baking spice, warm fruit, tannic chewiness and dry finish.
---