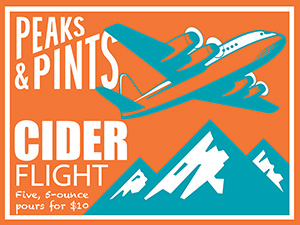 It's Monday, which means Peaks and Pints celebrates the taking of apples and pears and making them alcoholic and drinkable via a cider flight. Today, we focus on Portland, Oregon. While Portland is known for having more breweries than any other city in the world, amazing wines from the nearby Willamette Valley and a host of craft distilleries, the latest beverage trend in town is definitely hard cider. Sure, the city has a penchant for drinking, but maybe also because of Portland's proximity to some of the world's best apples that it's quickly become the place to go for the country's fastest-growing booze option: cider. Also, cider making draws from techniques typically used in brewing and winemaking, such as using oak barrels to age the brew or adding hops to increase its bitterness, making it a perfect fit for Portland. That's all fine and dandy, but let's get to drinking. Enjoy Peaks and Pints Monday Cider Flight 9.3.18: Portland.
Portland Cider Pineapple
6% ABV
Sweetened with fresh pressed pineapple juice, Portland Cider's seasonal Pineapple cider might as well come with a little paper umbrella. The cidery uses whole pineapples fresh squeezed on site, and then added to the cider after fermentation to reach the perfect balance of sweetness. There are no artificial flavorings or concentrates used here, keeping the nose of pineapple and apple undertones with the pineapple flavor crisp and dry with a nice balance from a touch of sweetness.
Reverend Nat's Sacrilege Sour Cherry
6.5% ABV
The generally agreed-upon cidermaking process says to add white wine yeast to apple juice, wait a couple months, then enjoy. Reverend Nat's Hard Cider broke the rules with this cider. Starting with a tart blend of heritage dessert apples, they pressed out their juice, then add a couple hundred pounds of tart pie cherries. Then, they added Lactobacillus. When the dust settled, they added more flavor with some tart cherry juice to make it a bit off-dry with flavors of cherry skin, pear, apple, oak and nice tartness.
Alter Ego The Guardian Angel
6.5% ABV
Friends and winemakers Anne Hubatch, Nate Wall and Kris Wall decided to partner to craft artisanal ciders utilizing winemaking techniques at a Portland ciderhouse, and Alter Ego Cider was born. Anne has been at the forefront of urban winemaking with Helioterra Wines, Whoa Nelly Wines and Guild Winemakers. Nate also has several years of winemaking experience, but additionally has been making cider for the past three years for one of the Northwest's largest cider producers. Anne and Nate bring a winemakers focus on nuance, delicacy, and depth to their small batch production cider. Their blueberry and pomegranate cider, The Guardian Angel, celebrates Northwest summer berries. It offers deep garnet purple color, brambly berry notes and fresh fruit characteristics of both the apple and blueberry, with hints of pomegranate added for a zippy kick. This cider is semi sweet, and perfectly balanced and refreshing.
Portland Cider Mojito
6.9% ABV
In the fall of 2012, Jeff and Lynda Parrish opened Portland Cider in a cramped 1,500 square foot space in Oregon City. In 2015, they opened Portland Cider House in Portland's Hawthorne neighborhood, offering 24 taps pouring a full range of Portland Cider's apple and fruit ciders alongside a range of guest ciders. They continued to grow rapidly. In April 2016, they moved production to a significantly larger space in a Clackamas light-industrial business park. Its Mojito Cider emulates the bright flavors of its cocktail namesake, with a nose of mint and lime, as well as taste with hints of apple.
Reverend Nat's Hallelujah Hopricot
6.9% ABV, 20 IBU
When his North Portland neighbor begged him to take his backyard apples off his hand in 2004, Nat West began experimenting with fermentation, turning the small green apples into hard cider. His friends went nuts. West would go on to hold weekly free cider parties at his house, experimenting on his friends, which ended up at 50 or so people. In the summer of 2011, West launched Reverend Nat's Hard Cider, most likely the only cidery in Portland. The making of Hallelujah Hopricot starts with heirloom American apples as a Belgian wit-style cider steeped with coriander, bitter orange peel and paradise grains, fermented with French saison and Belgian ale yeasts. On top of that rich base, West adds apricot juice and finishes with whole-leaf Cascade and Amarillo hops. A fresh and fruity concoction not dulled by any sweetening, this off-dry cider is his best-seller, and for good reason.
---