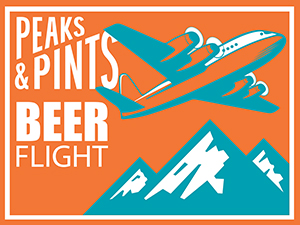 On this date in history, 1962, the Beatles, with their new drummer Ringo Starr, went into EMI's Abbey Road studios in north London to record their first single. The A-side was Love Me Do, one of the least original in John Lennon and Paul McCartney's burgeoning songbook. Through it ran a harmonica riff played by Lennon and shamelessly cribbed from Bruce Channel's recent hit, Hey Baby. The lyrics were rudimentary: "Love, love me do … you know I love you … I'll always be true." No one then recognized a sound with power to change the world. In honor of this historical date, Peaks and Pints presents Craft Beer Crosscut 9.4.18: A Flight of Ringoktoberfest, riffing off our Son of Fresh Hoptoberfest, our month-long, fresh hop celebration paired with Oktoberfest beers. In celebration, we'll load our jukebox with Beatles tunes. Love, love me some Oktoberfest beers and Beatles music.
Left Hand Oktoberfest
6.6% ABV, 24 IBU
Left Hand Brewing's Oktoberfest is a märzen lager brewed true to style, giving tribute to its German roots. The Colorado brewery begins brewing in the late spring and it takes a full two months to reach the brewery's lagered desire. Moreover, the brewers perform a traditional but lengthy decoction mash process, boiling portions of the mash only 40 percent at a time. The laborious method takes up to 8 hours but is key to Oktoberfest's brilliant copper color and notes of warm biscuit reminiscent of home and fall tradition. Oktoberfest begins with the toasty sweetness of the malt up front while the noble pedigree hops allow for a dry crisp finish.
Ayinger Oktober Fest-Märzen
5.8% ABV, 25 IBU
Sweet and grainy on the nose — think of fresh bread baked with honey and raisin — Ayinger Oktober Fest-Märzen features a pronounced sweetness of caramel and caramelized pumpkin on the palate. Hearty, and even a bit creamy as it warms, Oktober Fest-Märzen features a touch of bitter hops and fresh straw upfront before veering into a long malty finish. However, the beer dries out nicely to avoid a sticky or cloying aftertaste. This beer pairs beautifully with our pretzel bread sticks and side of beer mustard. Gemütlichkeit is, of course, free as always.
pFriem Festbier
5.5% ABV, 25 IBU
Festbier, sometimes called Wiesn, Festibiere or Oktoberfestbier — a name that can only be used by Breweries in Munich — has taken the place of Märzen in the beer tents dotting the Theresienwiese (Therese's meadow) in Munich during the two week Oktoberfest celebration. It is a relatively young, and mostly unknown, style here in the United States, but that didn't stop pFriem Family Brewers from crafting Festbier with a malt bill of Gambrinus Canadian Pilsner, Simpsons Caramalt, Simpsons Crystal Light and Simpsons Crystal Dark balanced by Chinook, Simcoe and Amarillo hops. Deep gold to sunset orange topped with bright white foam, pFriem Festbier hist the nose with fresh baked bread with a touch of toffee. Biscuit flavors with hints of caramel glide over the tongue with a slightly sweet, rich and refreshing finish.
Hofbräu München Oktoberfestbier
6.3% ABV
Wilhelm V, Duke of Bavaria wanted a wholesome brewery in Munich. The new brewery, Hofbräu München, lurched into action in 1592 in the city's old courts building with brewmaster of Geisenfeld Monastery, Heimeran Pongratz, to plan and supervise the construction of Hofbräuhaus (the "ducal brewery"), and to be its first master brewer. The only beer produced at that time at the company to be called Hofbräu was brown ale. While the brown ale was brewed with barley, the duke's successor to the dukedom, Maximilian I, preferred lighter wheat beers, and he promptly ordered the brewery to make them. By 1605, the facility was producing 38,000 gallons of beer per annum, and couldn't keep up with the demand. By 1607, a new, larger building had been constructed to house the brewing operations. By 1614, the brewery began making a darker, stronger beer called maibock. King Maximilian I Joseph of Bavaria spared no expense when his son Ludwig married his beloved Theresa of Saxony-Hildburghausen, and held a massive party for 40,000 guests on Oct. 17, 1810. Two years later, desirous of offering His Majesty a really special beverage, the Hofbräu brewers started to brew a beer specially for the festival with a deep golden color, stronger original wort and higher alcoholic content, Oktoberfestbier, using four types of hops that are grown in Hallertau, a central Bavarian region: the bitter Herkules and Magnum varieties, and the milder, aromatic varieties of Hallertauer Perle and Spalt Select. On the tongue, this Märzen has buttered caramel, honey, red apples and toast on the front, while the back gains a floral noble hop bitterness.
Great Divide Hoss Oktoberfest Lager
6.2% ABV
Last year, Great Divide Brewing changed the name of its Hoss Rye lager (2009 Great American Beer Festival bronze, 2010 World Beer Cup bronze and 2010 Australian International Beer Awards gold) to the more market-savvy Hoss Oktoberfest Lager because the beer was based on the Märzen style and moved to a fall seasonal. The rye adds a spicy, earthy character to the dominating rich, layered malt notes, with hints of cherry and dark fruits. The finish is dry and crisp despite the bigger 6.2 percent ABV.
---