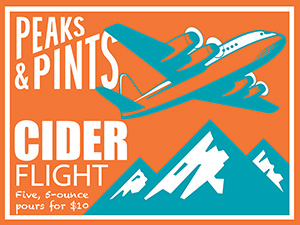 Pumpkins belong to the family of Cucurbitaceae. They are classified to Cucurbita pepo, Cucurbita moschata, Cucurbita maxima and Cucurbita mixta, according to the texture and shape of their stems. Pumpkin is poor in taste and carbohydrates but high in vitamins, especially, provitamin A, antioxidants and minerals, and it is mixed with nutmeg, cinnamon and allspice to improve of its sensory properties. Pumpkin is a vegetable, which is healthy and functional, being rich in phenolic compounds, flavonoids and vitamins, and has a low energy. Pineapple (Ananas comosus L.) belongs to the family Bromeliaceae and is one of the most important commercial fruits of the world. The pineapples fruits are normally eaten fresh or as fresh pineapple juice. Pineapple fruits are an excellent source of vitamins and minerals and supply arrays of color, flavor and texture to the pleasure of eating. Today, Peaks and Pints combines the two in our weekly Monday cider flight to which we call Peaks and Pints Monday Cider Flight 9.17.18: Pumpkin and Pineapple.
Ace Hard Pumpkin Cider
5% ABV
California Cider Company is the first family owned cider in the States. They have been making ACE ciders since 1993 in the beautiful Sebastopol area of Sonoma County, California, just north of San Francisco. First produced in the fall of 2010, this seasonal cider is released after Labor Day and available throughout fall. Made with pumpkins and allspice, ACE Hard Pumpkin Cider hits the nose with pumpkin, spices, apple and wet stone. Taste is tart and lightly sweet with flavors matching the aroma.
Reverend Nat's Viva La Pineapple
6% ABV
When his North Portland neighbor begged him to take his backyard apples off his hand in 2004, Nat West began experimenting with fermentation, turning the small green apples into hard cider. His friends went nuts. West would go on to hold weekly free cider parties at his house, experimenting on his friends, which ended up at 50 or so people. In the summer of 2011, West launched Reverend Nat's Hard Cider, most likely the only cidery in Portland. This cider is a blend of fermented fresh apple juice sourced from Eastern Washington and unfermented fresh pineapple juice. A touch of cinnamon, cloves and allspice is added. The spice and pineapple hit the nose and tongue with notes of green apples and pear. Delicious.
2 Towns Hollow Jack
6.4% ABV
In late 2010, Corvallis homebrewers Aaron Sarnoff-Wood and Lee Larsen filled a gap in the college town's drinking scene — cider. The duo opened 2 Towns Ciderhouse crafting unique ciders brewed with the traditional English and French-style's tannic apples, Oregon grown, of course. Their Hollow Jack kicks pumpkin-spiced lattes back into the patch. Made from A brew of fresh-pressed apples, caramelized pumpkin and sweet potatoes, it's basically fall in a glass. The pumpkin flavor isn't overwhelming, which is enjoyable and not too sweet.
Swift Pineapple Hop Cider
6.7% ABV
Swift Cider is a small-batch, craft hard cider company from Portland, Oregon. The reincarnation of Outcider LLC, Swift carries forward the same dedication to fresh-pressed apples, wholesome local ingredients, slow-and-cold fermentation, wild yeasts, and intensely delicious flavor. Aidan Currie is the head-cider maker, founding owner, and obsessive fermentation sage. This past summer, Swift Cider grabbed "Medium Cidery of the Year" at the Portland International Cider Cup. Its Pineapple Hop Cider took Silver in the Hopped Cider category. The semi-dry cider has balanced flavor between the pineapple and hops with only hints of bitterness.
Seattle Cider Pumpkin Spice
6.9% ABV
Joel VandenBrink, the founder of Two Beers Brewing Co., launched the Seattle Cider Company in August 2013, with the help from his Two Beers sales rep and a former farm hand Eric Willard. Diagnosed with Crohn's disease, which makes beer difficult to digest, VandenBrink launched the cider company with only two products: Semi Sweet and Dry. Today, Seattle Cider has many options, including Pumpkin Spice. We'll tell you what we want, what we really really want: a cider spiced with cinnamon, nutmeg, clove and allspice. It's pumpkin pie's long-lost love.
---