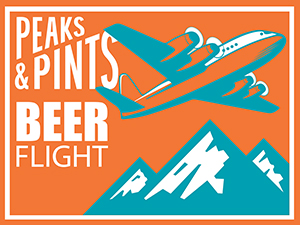 On its own, chocolate is a wonderful treat. Marry chocolate with the perfect flavor pairing, and the confection becomes even more memorable. Classic pairing — such as chocolate with peanut butter, raspberry or mint — is here to stay, but adventurous flavors are increasingly popular. Pairing chocolate with fruit is nothing new, but instead of strawberries and banana flavors, why not try pumpkin? You may be thinking, "pumpkin and chocolate?" And Peaks and Pints will be thinking right back at you, "Yes, pumpkin and chocolate!" When combined in just the right way — a freakin' beer flight — pumpkin and chocolate can create a really tasty and often unique treat. Think about it — how much better would your favorite pumpkin cheesecake recipes be if only they included chocolate? Just short of putting chocolate in your pumpkin ale, Peaks and Pints offers a flight of chocolate and pumpkin beers that we call Craft Beer Crosscut 9.18.18: A Flight of Pumpkin and Chocolate.
Icicle Brewing Dark Persuasion
6.5% ABV, 22 IBU
Icicle Brewing Co. sits in the Bavarian theme park known as the city of Leavenworth, which seems perhaps the most appropriate place for a brewery. Owner Oliver Brulotte, who has deep family roots in Washington's hop farming history, basically launch the Wenatchee Valley's craft-beer boom. The brewery draws their water from nearby Icicle Creek, a run-off from surrounded by numerous mountain ranges including the Stuart Range and Wenatchee Mountains. And, Icicle Brewing makes a liquid German chocolate cake, Dark Persuasion. Seriously, this stout tastes exactly like German chocolate brownie, with strong chocolate and coconut notes, a touch of vanilla and a smooth finish.
Alaskan Imperial Pumpkin Porter
8.5% ABV, 26 IBU
So. Much. Pumpkin. Alaskan Brewing Co. brews its Imperial Pumpkin Porter with more than 11 pounds of pumpkin added to every barrel for a smooth, velvety rich texture. Aroma is pumpkin, allspice, caramel, roast, brown sugar, dark caramel, doughy yeast and hints of smoke and herbal and citrus hops. Flavor parallels the nose with added dark fruit, light roast, pumpkin sweetness, pie spice and cooked orange.
Boulder Beer Shake Chocolate Porter
5.9% ABV, 39 IBU
Boulder Beer Company's Shake Chocolate Porter (Boulder, Colorado) tastes like a chocolate shake with its rich chocolate aroma and velvety mouthfeel. This beer, which took home a gold medal in the Chocolate Beer category from the 2014 World Beer Cup, is brewed with five different grains, including Chocolate Wheat, and has added cacao nibs.
Pike Harlot's Harvest Pumpkin Ale
8.5% ABV, 30 IBU
Pike Brewing Harlot's Harvest Pumpkin Ale shows off Pike's Head Brewer Art Dixon's ability to brew full-flavored beers and add fruit and spices to them while maintaining their balance. Never cloying, Harlot's Harvest is a big Belgian double first and pumpkin ale second. On the palate, Harlot's Harvest is round and rich with a burst of caramel and molasses yielding a smooth sweetness reminiscent of pumpkin pie, and the boldness of a Belgian, monastic-style, strong dark ale. Bonus: Pike owner Charles Finkel designed the saucy label.
Rogue Double Chocolate Stout
8.8% ABV, 68 IBU
Rogue Double Chocolate Stout, which debuted for Valentine's Day in 2001, is an oatmeal chocolate chip cookie and a chocolate truffle together in a bed that had been strewn with hops. Now imagine the imperial version. Rogue's Double Chocolate smells like the inside of pain au chocolat thanks to ample bittersweet Dutch chocolate. Clocking in at 8.8 percent alcohol by volume and wearing a red 750ml casing, this 2010 World Beer Championships gold medal winner is definitely a one-beer buzz.
---