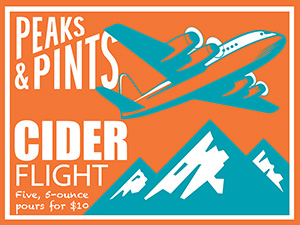 In common American usage, raw apple juice that has not been filtered to remove pulp or sediment is referred to as "fresh cider" or "sweet cider." The term "apple juice" indicates the juice has been filtered to remove solids. Fermented apple juice is called "hard cider." In Europe, all non-fermented apple juice is referred to as "juice," and fermented apple juice is referred to as "cider." Worldwide, cider varies in alcohol content from less than 3 percent alcohol by volume (ABV) as found in French cidre doux, to 8.5 percent ABV or above in traditional English ciders. New tax legislation passed by Congress in December 2015 brought U.S cider definitions into alignment with international standards, raising the allowable levels of carbonation and alcohol content and including pears as well as apples in the definition of (hard) cider. That's all fine and dandy, but let's get to drinking them. It's Monday, which means Peaks and Pints presents a flight of cider. This week it's all about Washington state: Peaks and Pints Monday Cider Flight 8.20.18: Washington State.
Schilling Grapefruit and Chill
6% ABV
In 1881, Colin Schilling's great-great-grandfather, August, founded the Schilling Spice Company in San Francisco, with a goal of bringing pure, natural spices to everyone at a fair price. Today, at Schilling Cider, August's core values are carried forward and paired with innovative cider-making techniques to produce quality and complex hard ciders that, according to media hype, is the number on selling craft cider with three taprooms — Auburn, Seattle and a 50-tap cider house in Portland — and retail in 20 states. Think about all that plus the fact that Schilling uses only 100 percent fresh pressed apples, locally sourced non-GMO ingredients, and individually hand-selected yeast strains with beer yeast rather than wine yeast (Schilling likes beer yeast rather than wine yeast for the malt flavor) as you enjoy this light, semi-sweet, smooth cider made with fresh-pressed apple juice, Non-GMO sugar and essential oils of lime, grapefruit, citric acid and hibiscus.
Tieton Apricot Cider
6.5% ABV
In 2008, Craig Campbell and his wife, Sharon, began experimenting with making cider from dessert apples grown in their 400-acre commercial fruit orchards. Despite naysayers who warned that cider apples required a maritime climate, Craig also planted a two-acre test orchard with 25 varieties of cider apples. Today, their two-acre experiment expanded into Cider View, a 30-acre "high-density" cider orchard. In their commercial cidery, Tieton Cider Works, they blend American heritage, English and French cider varietals with dessert apples to capture the best of what each variety brings to the bottle: sweetness, acidity, tannin and aroma. The results are ciders with body and a depth of finish, including their semi-dry Apricot Cider. When they infuse their crisp apple cider with the tartness of apricot, the apple notes play a supporting role and let the tartness of the apricots shine.
d's Wicked Troppi Poppi
6.9% ABV
Sun River Vintners co-owner Daniel Washam homebrewed a hard cider after his wife, Heidi, discovered she enjoyed the beverage. Washam eventually brought the homebrew project to his Kennewick, Washington winery and d's Wicked Cider Co. was born. d's tropical season, Troppi Poppi, is a blend of mango, banana, pineapple, passion fruit, orange and of course, apples. Expect a big fruity aroma and sweet juicy flavor that reminds of Juicy Fruit gum.
Seattle Cider Pumpkin Spice
6.9% ABV
Joel VandenBrink, the founder of Two Beers Brewing Co., launched the Seattle Cider Company in August 2013, with the help from his Two Beers sales rep and a former farm hand Eric Willard. Diagnosed with Crohn's disease, which makes beer difficult to digest, VandenBrink launched the cider company with only two products: Semi Sweet and Dry. Today, Seattle Cider has many options, including Pumpkin Spice. We'll tell you what we want, what we really really want: a cider spiced with cinnamon, nutmeg, clove and allspice. It's pumpkin pie's long-lost love.
Finnriver Autumn's Blush
6.9% ABV
When one of Washington's earliest cidermakers, Drew Zimmerman, retired, Finnriver Farm & Cidery owners Keith and Crystie Kisler transplanted 1,000 of his trees from Mount Vernon to Chimacum, a heartwarming, if labor-intensive transition from old guard to new. Finnriver's Autumn's Blush is made with Organic heirloom Washington apples and organic black currants blending the lines between trees and vines. Expect crisp undaunted acidity, layered earth tones and a lighthearted sweetness to bring it all together.
---