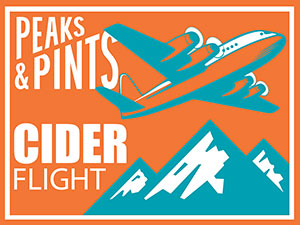 In late 2010, Corvallis homebrewers Aaron Sarnoff-Wood and Lee Larsen filled a gap in the college town's drinking scene — cider. The duo opened 2 Towns Ciderhouse crafting unique ciders brewed with the traditional English and French-style's tannic apples, Oregon grown, of course. Named after the cities of Corvallis and Eugene (Larsen's a Beaver; Sarnoff-Wood a Duck), their childhood friend, Dave Takush, joined the company and his master's degree in fermentation science at Oregon State University helped him eventually become 2 Towns head cidermaker. Now the number one independent cidery in the country, 2 Towns has more than 100 employees and is dedicated to producing quality craft cider from 100-percent fresh-pressed Pacific NW apples. While 2 Towns Ciderhouse sources many of its cider apples from the Yakima area, some varieties are grown at Takush's family orchard. Today, 2 Towns is our Monday cider flight — a flight we call Peaks and Pints Monday Cider Flight: 2 Towns, 5 Ciders.
Peaks and Pints Monday Cider Flight: 2 Towns, 5 Ciders
2 Towns Strawberade
6.5 % ABV, draft
Strawberade is made with juicy, West Coast strawberries, hibiscus, and tangy, California Meyer lemons blended with Northwest apples to make a pink lemonade cider. The grown-up strawberry lemonade pours a pink hue from whole hibiscus flowers and fresh-pressed strawberry juice. It hits the nose with fresh strawberry, light citrus, and floral hints. On the tongue, expect a fruit forward, juicy strawberry profile with a citrus kiss.
2 Towns Cosmic Crisp
8% ABV, can
Cosmic Crisp apple is the work of 20 years of study and research by Washington State University, resulting in a classically bred hybrid of Enterprise and Honeycrisp apples that's large, round, crisp, and super juicy apple. "When fermented, the aromatics that are released from the Cosmic Crisp apples are truly unique," said Dave Takush, 2 Towns Ciderhouse head cidermaker in a press release. "Strong notes of white currant and pineapple blossom off a platinum-colored cider that is as crisp and sparkling as you could imagine. People can make all the interstellar puns they want, but this is truly a unique and beautiful cider." 2 Towns was the first cidery to produce a cider crafted from this exceptional new apple. Crafted from a resplendent blend of fresh-pressed juice from its namesake, Cosmic Crisp®, and other Northwest apples, 2 Towns Ciderhouse's Cosmic Crisp cider shines with strong notes of white currant and pineapple blossom off a platinum-colored cider that is as crisp and sparkling.
2 Towns Hollow Jack'd
8.4% ABV, bottle
2 Towns' Hollow Jack'd imperial pumpkin cider kicks pumpkin-spiced lattes back into the patch. Made from A brew of fresh-pressed apples, caramelized pumpkins, sweet potatoes and finished with a dash of honey and spices, it's basically fall in a glass. The pumpkin flavor isn't overwhelming, which is enjoyable and not too sweet.
2 Towns The Bad Apple
10.5% ABV, can
The Bad Apple is made of fresh-pressed Northwest apples and Meadowfoam honey aged on Oregon white oak. Beekeepers bring their hives to the massive meadowfoam fields close to the 2 Towns Ciderhouse to pollinate the flowers. The rich dark amber colored honey is some of the highest quality with incredibly robust notes of vanilla, toasted marshmallows, marzipan, and crème brûlée. Honey is added along with the fresh pressed apples directly to the fermenting tanks, boosting the initial gravity (or fermentable sugars) of the cider to produce the 10.5-percent ABV from which The Bad Apple's namesake originates.
2 Towns Nice & Neat
11% ABV, can

Starting with Dead Guy Whiskey barrels from Rogue Ales & Spirits, 2 Towns ferments fresh-pressed apples on oak with warming spices. The result is a bold imperial sipper with beautiful apple notes up front, warming spices in the middle, and oaky tannins on the finish.
LINK: Peaks & Pints beer and cider cooler inventory
---