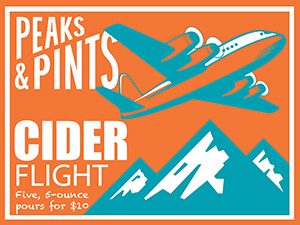 'Twas the day before Christmas, and all through the city, everyone yearned for a cider and a Pesto Pastrami. The waffles were devoured, with nary a care, and boredom set in at every household lair. "Hey, it's Monday," they realized, "let's head to Peaks and Pints! This is the glorious day that they serve cider flights!" Peaks and Pints Monday Cider Flight 12.24.18: Christmas Eve is a thing, five ciders on a log crosscut, all could be called cider bling. As the 11 p.m. closing time neared, folks summoned Uber, arm full of craft beer and cider were grabbed from the cooler. But we heard them exclaim, as they rode out of sight, "Happy Christmas to all, and to all a good night!"
Peaks and Pints Monday Cider Flight 12.24.18: Christmas Eve
Ferme De Beau Soleil Cidre Fermier Bio
5% ABV
Since 2002, Thomas Renouard has been growing apples on his family's 8 hectares in Matignon, in western France. The orchards are full of traditional apple varieties, many of which were planted by Thomas' grandfather. In 2005, he began the process of converting his orchards from standard to organic. ECOCERT awarded the Renouard orchards organic status in 2008. Today, Thomas Renouard runs a one-person operation under the Beau Soleil label (he's the delivery driver, the cider maker and the sales staff all wrapped in one). Cidre Fermier Bio is big, earthy semi-sweet cider with a solid load of tannins that balance nicely with the acidity and apple fruitiness.
2 Towns Pinot Rose
6.5% ABV
In late 2010, Corvallis homebrewers Aaron Sarnoff-Wood and Lee Larsen filled a gap in the college town's drinking scene — cider. The duo opened 2 Towns Ciderhouse crafting unique ciders brewed with the traditional English and French-style's tannic apples, Oregon grown, of course. Named after the cities of Corvallis and Eugene (Larsen's a Beaver; Sarnoff-Wood a Duck), 2 Towns Pinot Rose is cider aged on Pinot Noir grapes.
WildCraft Elderflower Quince
6.5% AVB
WildCraft Cider Works, Eugene's first cidery, uses whole fruit for seasonal small batch ciders naturally fermented without artificial flavorings and added sweeteners. Their flagship ciders are made from Eugene-sourced apples. They also feature craft beverages created with pears, blueberries, plums, cherries, elderberries and, in the case of this cider, elderflower and quince. Fans of floral aromatics will dig this one. Expect huge flowery aromatics that kick up similar characteristics from the cider's fermentation. It's easy-drinking, but complex.
Finnriver Black Currant Lavender
6.5% ABV
Finnriver Farm & Cidery Black Currant Lavender Cider celebrates the botanical bounty and beauty of the Olympic Peninsula. This refreshing purple-hued sparkling cider features the organic Washington apple fermented and blended with the sweet and tart delights of black currant. Add to that the delicate floral notes of organic Sequim lavender, sourced from Purple Haze farm, and you have an aroma of strong lavender, currant, Concord grape, and honey, followed by lavender, tart currant, grape, and apple flavors.
Chatter Creek Luya
6.9% ABV
Gordon Rawson began making wine in the early 1980s as a home winemaker. Some of his first wine came from fresh apple juice purchased from the local grocery. Fun, but he desired to be a serious winemaker. After working for Columbia Winery as cellarmaster for nearly a decade, Gordon Rawson opened Chatter Creek Winery in 1996 to produce top-quality sparkling wines in Woodinville, Washington. In 1998, he broadened the focus of Chatter Creek to include still wines. Early in 2000, he departed Columbia Winery to focus solely on Chatter Creek. After a bad day making wine, he bought some apples to clear his mind. Next thing he knew, he added ciders to his label. Luya is an apple cider made with ginger and honey. The ginger is the strongest element of this cider, dominating the aroma and taste. There is a nice body behind the ginger, too.
---