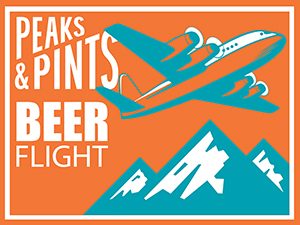 We have Northern California's Dr. Elmo to thank — or blame — for the unsinkable Christmas novelty hit "Grandma Got Run Over by a Reindeer," a goofy little ditty that has surpassed Bing Crosby's "White Christmas" as the season's most popular single. Annoying radio programmers love that song this time of year. So do kids in elementary school. But why couldn't Run DMC's "Christmas in Hollis" be the big contemporary Christmas classic, or "Christmas (Baby Please Come Home)" by Darlene Love? Or anything? "Grandma Got Run Over by a Reindeer" is now part of our cultural landscape, though, so you gotta give Elmo props. What the song doesn't include is the fact that the reindeer each had a craft beer before running over Grandma. Duh. While Peaks and Pints can't find exactly what the reindeer drank that night, we can make educated guesses. And, since we only have five slots on our flight crosscut, we chose to highlight our five favorite reindeer. Enjoy Craft Beer Crosscut 12.23.18: A Flight for Santa's Reindeer and happy holidays!
Craft Beer Crosscut 12.23.18: A Flight for Santa's Reindeer
Reuben's Reuben Claus
5.9% ABV, 30 IBU
Poor Vixen. Peaks and Pints can't imagine why she ever thought things with Blitzen would last. We mean, Blitzen has always had his eye on Cupid — it was just a matter of time. Reuben's Brews' Reuben Claus porter may not fix her broken heart, but she probably took comfort in the peppermint. Eight different grains are used to create Reuben's award-winning Robust Porter, the base for the Seattle brewery's holiday porter. Roasted malts are the star in both aroma and flavor that's nutty and slightly sweet with an espresso bitterness balanced by a touch of creamy vanilla, chocolate and caramel sweetness, without being cloying or off putting. That is … until Reuben's Brews' brewers added candy canes and cocoa nibs. The resulting Reuben Claus holiday porter now has a peppermint nose and flavor with slightly more chocolate flavor. Peppermint is known to soothe an upset stomach and other aches and pains, which is exactly what Vixen needed.
Founders All Day IPA
4.5% ABV, 42 IBU
You know Dasher, all about speed. She chugs. She's a member of the PNW Chuggers Facebook group. Peaks and Pints is pretty sure Dasher pounded Founders All Day IPA in one chug and then raised the can where all the other reindeer could see it. Founders Brewing's All Day IPA has the hoppy characteristics of an IPA, but light on the alcohol side for the style. It's heavy on the citrus and medium on the pine resin, with a very light bready malt character. Dasher could drink it all day.
Block 15 Ol' Saint Nick
9% ABV
Santa was a little reluctant to encourage Rudolph to drink even more, but he knows Rudolph is a reindeer of his word: absolutely not a drop till after the last gift is delivered. And when Rudolph did his part, Santa rewarded him with his malt-forward winter warmer namesake, Block 15 Brewing Ol' Saint Nick. This seasonal craft beer offers notes of toffee, cocoa, plum, and caramel with citrusy hops and a warm, lingering finish. And before you get all sanctimonious rewarding a reindeer with a 9 percent beer, let us remind you: it's Rudolph's red nose Santa hired him for.
Ecliptic Filament Winter IPA
7.2% ABV, 70 IBU
Santa's little stargazer, Comet, probably performed a furry little back flip after she drank an Ecliptic Filament Winter IPA. In 2013, John Harris founded Ecliptic Brewing, combining his love for brewing and astronomy as he pushes the limits of creativity rotating Ecliptic's offerings every six weeks in accordance with the old world calendar, producing seasonal favorites — such as Filament Winter IPA. Pale Munich and Caramel malts create a rich malt character with honey-like flavor. A bounty of Crystal, Chinook and Centennial hops combine to lend a spicy, citrus hop note. As much as we believe Filament was the blame for Comet connecting with Grandma that Christmas Eve night, we know how distractible Comet is when she flies underneath the stars. We're surprised Santa hasn't given her blinders for Christmas Eve and let her enjoy herself the rest of the year.
Heathen Bourbon Barrel Aged Epitaph
12% ABV, 92 IBU
Not to be critical, but when you name a reindeer after the pioneers who ended up eating each other in the mountains, you can't be too surprised that Donner is fascinated with creepy subject matter. Peaks and Pints bets Heathen Brewing's Bourbon Barrel Aged Epitaph satisfied his craving for that sort of thing since an epitaph is a phrase or statement written in memory of a person who has died. This Russian Imperial Stout is aged in wet bourbon barrels for several months for strong notes of bourbon, black licorice, vanilla, toffee, and subtle roasted coffee. It's a sipper, which we're sure kept Donner focused more on the beer (and less on his serial-killer trading cards).
---