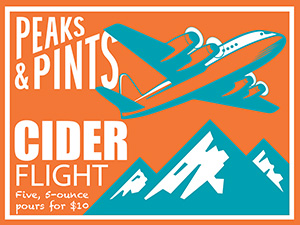 Hard cider, when done right, can be as good as beer or wine. Better even. Think about what we're working with here. Beer starts as starchy water. Wine starts as grape juice. Hard cider starts as apple juice. There are 7,000-plus apple varieties to choose from in various colors, shapes, and flavor profiles. Further, apples thrive across America. Cider was one of the most popular drinks in America from colonial times to the 20th century. In 1920, the 18th Amendment went into effect, Prohibition started, and cider was cast to the margins of drinking culture until the first half of this decade. In 2018, Peaks and Pints offers a cider flight every Monday, such as today's Peaks and Pints Monday Cider Flight 10.29.18: Wyld.
Peaks and Pints Monday Cider Flight 10.29.18: Wyld
WildCraft Elderflower Quince
6.5% AVB
WildCraft Cider Works, Eugene's first cidery, uses whole fruit for seasonal small batch ciders naturally fermented without artificial flavorings and added sweeteners. Their flagship ciders are made from Eugene-sourced apples. They also feature craft beverages created with pears, blueberries, plums, cherries, elderberries and, in the case of this cider, elderflower and quince. Fans of floral aromatics will dig this one. Expect huge flowery aromatics that kick up similar characteristics from the cider's fermentation. It's easy-drinking, but complex.
Newtopia Cyder Wyld
6.8% ABV
Newtopia Cyder co-founder and cyderist Rick Moreno got his start in the industry as co-owner of beer bar Toronado in Seattle. The San Diego cidery sources apples and other fruits in nearby Julian and Temecula, and as far away as Santa Cruz, Hood River and Yakima. Newtopia's Wyld cyder is an off-dry funky, earthy sweet and sour cider made with marionberry. It hits the nose with white wine, cranberry and sweet apples. The flavors match the nose with added lemon.
Finnriver Autumn's Blush
6.9% ABV
When one of Washington's earliest cidermakers, Drew Zimmerman, retired, Finnriver Farm & Cidery owners Keith and Crystie Kisler transplanted 1,000 of his trees from Mount Vernon to Chimacum, a heartwarming, if labor-intensive transition from old guard to new. Finnriver's Autumn's Blush is made with Organic heirloom Washington apples and organic black currants blending the lines between trees and vines. Expect crisp undaunted acidity, layered earth tones and a lighthearted sweetness to bring it all together.
Chatter Creek Luya
6.9% ABV
Gordon Rawson began making wine in the early 1980s as a home winemaker. Some of his first wine came from fresh apple juice purchased from the local grocery. Fun, but he desired to be a serious winemaker. After working for Columbia Winery as cellarmaster for nearly a decade, Gordon Rawson opened Chatter Creek Winery in 1996 to produce top-quality sparkling wines in Woodinville, Washington. In 1998, he broadened the focus of Chatter Creek to include still wines. Early in 2000, he departed Columbia Winery to focus solely on Chatter Creek. After a bad day making wine, he bought some apples to clear his mind. Next thing he knew, he added ciders to his label. Luya is an apple cider made with ginger and honey. The ginger is the strongest element of this cider, dominating the aroma and taste. There is a nice body behind the ginger, too.
Incline Fresh Hop Imperial Rhubarb
8.5% ABV
Auburn, Washington cideries Incline Cider and Schilling Cider gathered around the same piles of freshly-picked Comet, Cascade and Amarillo hops then raced them back to their own cideries where they each created a different cider. Peaks and Pints grabbed Incline's version, which is an imperial cider made with rhubarb and heirloom apples. The rhubarb rules this dry-ish cider.
---