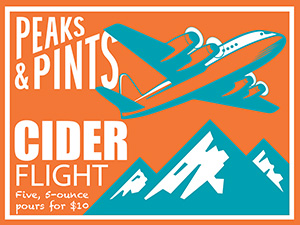 Hard cider, once the prevailing nectar of colonial days past, is having a renaissance. Though it was knocked off the radar in the mid-19th century, the recent interest in craft beer has taken artisanal cider along for the ride. Hard cider is tapping into the beer and wine markets as well as the gluten-free trend, and it is developing an identity of its own. And for hyper-local aficionados, there's no lack of appeal when it comes to regional varieties of apples influencing flavors from batch to batch. Enough chit-chat. Let's get to drinking. Enjoy Peaks and Pints Monday Cider Flight 10.22.18: Flavor Town.
Peaks and Pints Monday Cider Flight 10.22.18: Flavor Town
Seattle Cider Dry Cider
6.5% ABV
Made primarily from culinary/table apples modern ciders are generally lower in tannin and higher in acidity. Seattle Cider Company, the city's first post-Prohibition cider producer, delivers delicious modern ciders. With zero percent residual sugar, its Dry is a very dry cider in a classical style. The dryness doesn't equate to a lack of flavor, however, as it still has a refined apple nature underlined by notes of stone fruits and a light tickle of lilac on the nose. It's a cider that can stand alongside one of our roast beef sandwiches without losing the flavor battle.
Fierce County Gin Gin Cran
6.5% ABV
John and Tolena Thorburn adore craft beer. For 15 years they traveled the world drinking it. But, an oversaturated market lead them to cider. Learning and enjoying the varying styles and flavors unique to each brewer and set of ingredients, the Thorburns applied that experience to years of homebrewing and cidermaking. In 2017, Fierce County Cider launched its first commercial operating space in a 97-square foot ciderhouse in Puyallup. The ciderhouse is built for efficiency, utilizing the latest brewing technology and equipment to allow lead cidermaker Tolena to create "fiercely" ciders, including Gin Gin Cran. The nano cidery's second release, Gin Gin Cran is a light, semi-sweet cider with just a touch of tartness from the cranberry, balanced perfectly with fresh ginger flavor.
Reverend Nat's Sacrilege Sour Cherry
6.5% ABV
The generally agreed-upon cidermaking process says to add white wine yeast to apple juice, wait a couple months, then enjoy. Reverend Nat's Hard Cider broke the rules with this cider. Starting with a tart blend of heritage dessert apples, they pressed out their juice, then add a couple hundred pounds of tart pie cherries. Then, they added Lactobacillus. When the dust settled, they added more flavor with some tart cherry juice to make it a bit off-dry with flavors of cherry skin, pear, apple, oak and nice tartness.
One Tree Caramel Cinnamon
6.8% ABV
Grant Barnes and Neal Hennessy started making cider as a hobby, and it turned into a vocation. One Tree Hard Cider started in Barnes' Spokane Valley garage, with exactly one recipe: a relatively straightforward semi-sweet apple cider. They went pro in the summer of 2014. One Tree's Caramel Cinnamon is an apple pie in a glass. Sweet notes of caramel and apples married together with the spice of cinnamon for a complex, classic American flavor profile.
Reverend Nat's Fresh Hop Hopricot
6.9% ABV, 20 IBU
When his North Portland neighbor begged him to take his backyard apples off his hand in 2004, Nat West began experimenting with fermentation, turning the small green apples into hard cider. His friends went nuts. West would go on to hold weekly free cider parties at his house, experimenting on his friends, which ended up at 50 or so people. In the summer of 2011, West launched Reverend Nat's Hard Cider, most likely the only cidery in Portland. The making of Hallelujah Hopricot starts with heirloom American apples as a Belgian wit-style cider steeped with coriander, bitter orange peel and paradise grains, fermented with French saison and Belgian ale yeasts. On top of that rich base, West adds apricot juice and finishes with whole-leaf Cascade and Amarillo hops. A fresh and fruity concoction not dulled by any sweetening, this off-dry cider is his best-seller, and for good reason. BUT, once a year, the Rev dumps a bunch of fresh Cascade hops in a batch for added grassy, nutty and herbal flavors.
---