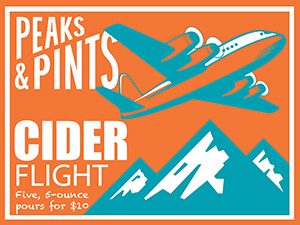 Martin Luther King Jr.'s "I Have a Dream" speech at the March on Washington in August 1963 serves as the touchstone for today's annual King holiday. He brought hope to untold people both black and white. Remembering his dream matters more than ever today . It's Monday, which means in addition to Martin Luther King Jr. Day, it's Peaks and Pints weekly cider flight. We bumped up the alcohol by volume today because, well, we need it. Crank up your personal volume and plan the nation's karmic overhaul as you enjoy Peaks and Pints Monday Cider Flight 1.21.19: Dream Time.
Peaks and Pints Monday Cider Flight 1.21.19: Dream Time
Baird & Dewar Silvestra
7.4% ABV
Let's face it. Baird & Dewar sounds more delicious than Trevor & Zeb. Trevor Baird is a highly regarded second generation farmer and fruit grower, whose peaches, cherries, and apples are used by many of Portland's finest restaurants and breweries. Zeb Dewar has made cider for more than 17 years, working for more than 10 years as a cellar hand, assistant winemaker, and harvest manager at premium Willamette Valley and Columbia Gorge wineries. He has been making cider from the apples grown at Baird Family Orchard for more than eight years. Baird & Dewar Farmhouse Cider was started slowly and quietly in the fall of 2011 as an extension of Zeb Dewar's home cidermaking. Silvestra is a dry, unfiltered cider aged for a year in oak casks for a Brett-y nose followed by crisp and effervescent, mild green apple tartness
Schilling Pear Imperial Cider
8.5% ABV
In 1881, Colin Schilling's great-great-grandfather, August, founded the Schilling Spice Company in San Francisco, with a goal of bringing pure, natural spices to everyone at a fair price. Today, at Schilling Cider, August's core values are carried forward and paired with innovative cider-making techniques to produce quality and complex hard ciders that, according to media hype, is the number on selling craft cider with three taprooms — Auburn, Seattle and a 50-tap cider house in Portland — and retail in 20 states. Think about all that plus the fact that Schilling uses only 100 percent fresh pressed apples, locally sourced non-GMO ingredients, and individually hand-selected yeast strains with beer yeast rather than wine yeast (Schilling likes beer yeast rather than wine yeast for the malt flavor) as you enjoy this light and crisp imperial cider with a sweet pear aftertaste.
Snowdrift Dry Fly Whiskey Barrel Aged Cornice
7.6% ABV
Snowdrift Cider Company sits in Central Washington near East Wenatchee. The cidery controls its own source of apples, tending an orchard that not only produces dessert apples, but also an array of traditional cider apples including Dabinett, Foxwhelp, Golden Russet, Brown's, Wickson Crab, Calville Blanc d'Hiver, Yarlington Mill and Ashmead's Kernel. Snowdrift took their off-dry cider light-drinking cider and aged it in Dry Fly Wiskey barrels for soft fruit flavors hovering over subtle deeper tones of caramel, vanilla, fresh biscuits and roasted marshmallows.
WildCraft Krampus Cranberry Spruce
9% ABV
Historically, Krampus is a horned anthropomorphous creature that roams the world alongside St. Nicholas. He is often depicted with hoofed feet and mouth agape with a disproportionally long, serpiginous tongue, carrying a bundle or birch branches and a basket on his back.  While Santa is well known to reward the good children with gifts and stocking stuffers, Krampus, as the Bavarians will attest, is tasked to punish the moppets of abominable behavior. This holiday season WildCraft Cider Works is unleashing Krampus Cranberry Spruce. The ingredients are sourced from Oregon — not only the apples, but also the cranberries from Cape Blanco Cranberries in Port Orford, as well as the foraged spruce tips. The cranberry comes through in the front, then comes around to help with a lightly acidic dry finish. This is rounded out with subtle coniferous notes from the spruce.
Portland Cider Perfect 10
10% ABV
"The Perfect 10 was inspired by the cider I first made at home in our guestroom closet," says Jeff Parrish, co-owner of Portland Cider Co., in Perfect 10 hype. "It's dangerously delicious and easy to drink!" Indeed. The Perfect 10 is an artisanal hard apple cider crafted in the style of a traditional English scrumpy or imperial cider, with a clean Northwest finish. It's a blend of 100 percent Northwest apples, fermented cold and slow to preserve fresh apple flavors and aromas. Parrish and crew allow the new year-round cider to rest for more than two months to further develop the rich flavors. The cider is then sweetened with a touch of juice and balanced with a little acidity to round out the higher tannin profile.
---