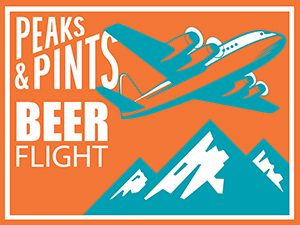 Say kids — do you like the touchdowns? Get your butt to Points and Pints in Tacoma's Proctor District. OK, we were drinking craft beer when we wrote this, but seriously — there could be all the point scored today in the AFC and NFC conference championship match-ups. On our 130-foot screen you'll see the four teams still alive in the playoffs that just so happen possess the most efficient four offenses in football. The Chiefs led the league at 35.3 points per game during the regular season. The Rams were second at 32.9, the Saints third at 31.5 and the Patriots fourth at 27.2. Seriously, it's the highest combined total in league history for the four teams who comprise the conference title games. Sure, offensive efficiency is at its peak in the NFL. The notion that defense wins championships has long expired. Anyway, snug in at Peaks and Pints for all the football — and a beer flight featuring a craft beer from each team's home region, as well as a halftime beer. You should reap the rewards with a an enthralling afternoon of football and Craft Beer Crosscut 1.20.19: A Flight of NFL Championships.
Craft Beer Crosscut 1.20.19: A Flight of NFL Championships
NFC Championship: New Orleans Saints vs Los Angeles Rams, 12:05 p.m.
Abita Purple Haze
4.2% ABV, 13 IBU
Located 30 miles north of New Orleans, Abita Brewing fired up the mash tun in 1986, making it the oldest craft brewery in the southeastern United States. Abita's Purple Haze is an American wheat ale with fresh raspberries added during secondary fermentation. The result pours a hazy beige with just the faintest hint of lavender. It's a lively combination of soft wheat and sweet raspberry on the nose. Smooth and creamy, it offers bright raspberry flavors up front, backed by grain-laced malt and just the right hint of hops. 'Scuse us while we kiss the sky!
Golden Road Wolf Among Weeds
8% ABV, 80 IBU
In 2011, Meg Gill and Tony Yanow co-founded Golden Road Brewing to bring fresh, delicious craft beer to the Los Angeles area. Beginning with its headquarters in the Atwater Village neighborhood of Los Angeles, California, Golden Road has since become the city's largest craft brewer with a state-of-the-art brewery and tasting room in Anaheim, as well as beer and food concepts at Grand Central Market and LAX. Their Wolf Among Weeds is a balanced showcase of the majestic hop specie, in Latin, Humulus Lupulus, which translates, "Wolf Among Weeds." At 8 percent, Wolf will tackle you from behind with robust citrus and dank earthy hop notes mirrored in its aroma and flavor profile.
Peaks and Pints Craft Beer Crosscut Halftime Beer
Georgetown Gusto Crema Coffee Ale
4.5% ABV
Back in the day Caffè Umbria and Georgetown Brewing had addresses on Airport Way in Seattle's Georgetown neighborhood. Every Friday, Caffè Umbria would trade a few bags of coffee blends for growlers of Georgetown beers. Slowly, a plan began to emerge to create a light bodied, crisp, drinkable cream ale infused with cold brewed Gusto Crema Blend. Georgetown hosted tasting trials, dialing in the coffee flavor, and the brewing process. Holy Juan Valdez! They did it! Gusto Crema Coffee Ale has roasted flavor, aroma, and color from cold brew coffee. Smooth, rich mouthfeel comes from oats and Munich malt. Flavor blends the coffee and lactose really well — a perfect marriage between earthy coffee and the sweet milk sugars.
AFC Championship: Kansas City Chiefs vs New England Patriots, 3:40 p.m.
Boulevard Chocolate Ale
9.1% ABV, 24 IBU
In 1989, believing that Kansas City was suffering from light-beer fatigue, John McDonald launched Boulevard Brewing Co. McDonald is a pioneer in creating a craft beer culture in Missouri and beyond, redefining American beer as Boulevard grew from a small-scale brewery to the largest in the Midwest. Boulevard's two top-selling flagship beers, Pale Ale and Unfiltered Wheat, were instrumental in developing a market in Kansas City for craft beer. In Kansas City, Missouri, Christopher Elbow has been handcrafting masterpieces in chocolate for more than 15 years. In developing Chocolate Ale, Elbow and Boulevard brewmaster Steven Pauwels harmonize the interplay of chocolate and malt. Valrhona chocolate from Dominican cacao nibs weaves between layers of honey, brown sugar, caramel and nutty malt, rounding into a luscious, lingering finish.
Fat Orange Cat She Drives A Plymouth Satellite
7.5% ABV
Fat Orange Cat Brew Co. is a small, seasonal farm brewery in East Hampton, Connecticut, but many of their craft beers, including She Drives A Plymouth Satellite New England-style IPA, is brewed and canned at Dorchester Brewing in Boston, Massachusetts. They specialize in small batch recipes making an effort to support and promote local agriculture. She Drives A Plymouth Satellite is brewed with Galaxy, Simcoe, and Citra hops for an aroma of orange with some tropical fruit, light flora and a sweet grain backbone right to the nose. Flavor has dank tropical and orange with a hint of onion and light sweet grains backing.
---