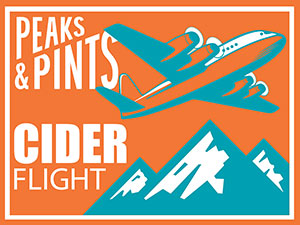 Martin Luther King Jr.'s "I Have a Dream," speech at the March on Washington in August 1963 serves as the touchstone for today's annual King holiday. He brought hope to untold people both black and white. Remembering his dream matters more than ever today as we witness, still, the openly mocking and demeaning of women, blacks, Islam, and immigrants while ignoring human rights, denying science and climate change, supporting violence and conspiracy, and taking away the health care of millions of Americans. It's Monday, which means in addition to Martin Luther King Jr. Day, it's Peaks and Pints weekly to-go cider flight. We suggest attending the Dr. Martin Luther King, Jr. Day Commemoration at the Washington State History Museum at 11 a.m., 1 and 3 p.m. then stop by for Peaks and Pints Monday Cider Flight 1.16.23: MLK Day. The History Museum has waived admission fees today so you can enjoy Tacoma Arts Live's the original production 11 Days in the Life of Dr. King chronicling Dr. King's life and legacy through 11 vignettes featuring spoken word, dance, music, shadow play, and historic images at 11 a.m. and 1 p.m., as well as Living Voices' The Right to Dream: Civil Rights Movement of the 1960s, a story that considers the struggle and sacrifice for Black civil rights through the eyes of a young African American activist growing up in Mississippi in the 1960s, and highlights the role of women activists.
Peaks and Pints Monday Cider Flight 1.16.23: MLK Day
Incline Cranberry
6.5% ABV
When poured in a glass, Incline Cider's Cranberry cider looks like a serving of cranberry juice. And first taste certainly tricks you into thinking you're drinking hard juice — of course, because that's what cider is — but tartness doesn't overwhelm the drink. This is a well-balanced cider made with 100 percent apple juice infused with real cranberry juice and a hint of key lime for a bright and slightly tart cider.
Cockrell Blackberry
6.7% ABV
Brothers Richard and John Cockrell have been making cider and beer in their Puyallup homes for more than 27 years, sharing their craft with family and friends, as well as grabbing many local, state, and national awards and accolades. As the brothers began planning for their retirement their fans begged them to go pro. Their hobby became Cockrell Hard Cider. Their crisp, tart and refreshing semi-sweet blackberry cider is made with local fruit for aromas and flavors of blackberry, apple, and baking spice.
Fierce County Mango
6.8% ABV
John and Tolena Thorburn adore craft beer. For 15 years they traveled the world drinking it. But an oversaturated market led them to cider. Learning and enjoying the varying styles and flavors unique to each brewer and set of ingredients, the Thorburns applied that experience to years of homebrewing and cidermaking. In 2017, Fierce County Cider launched its first commercial operating space in a 97-square foot ciderhouse in Puyallup. The nano cidery's Mango cider blends the crispness of Washington apples with sweet mangoes for big juice flavor of Alphonso mango nectar without being overly sweet.
LINK: Peaks & Pints cooler inventory
---
Category:
Beer Line Blog
,
Craft Cider
,
Critical Drinking
,
Events and Festivals
,
In The Cooler
,
News and Updates
,
Peaks and Pints Pilot Program
,
Shop
,
South Sound
,
Specials
,
Tacoma events
,
Tacoma Strong