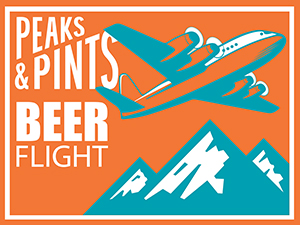 We know, we know, you're thinking, "Is there really a food holiday for every day of the week?" The answer: Yes, yes there is. Today, January 15, is National Strawberry Ice Cream Day, so we'd encourage you on this 47-degree day to head to Peaks & Pints for … strawberry beer. Strawberries have become more and more popular as a flavor component in malted barley brewed beverages. Though it has been pointed out that some hop varietals impart flavor characteristics likened to strawberries, there are in fact actual brews that use the scrumptious fruit to add their own deliciousness. Stop by our Proctor District Tacoma craft beer bar, bottle shop and restaurant for our to-go strawberry beer flight, Peaks and Pints Pilot Program: Strawberry Beer Flight.
Peaks and Pints Pilot Program: Strawberry Beer Flight
Drekker Slang Du Jour – Strawberry Shortcake
5.9% ABV
In the early 1600s, William Shakespeare used the name Alice Shortcake in "The Merry Wives Of Windsor." By 1850, strawberry shortcake was a well-known biscuit and fruit dessert served hot with butter and sweetened cream. Drekker Brewing's version is a pastry sour loaded up with strawberry, shortcakes, lactose, and vanilla soft serve ice cream.
Samuel Smith Organic Strawberry Fruit Beer
5.1% ABV, 16 IBU
One of the oldest operating breweries in the world, Samuel Smith's Old Brewery has been brewing with the same derivative yeast strain in the same stone vats for the last 255 years. They even keep a small team of Shire horses — a breed that traditionally pulled brewery wagons — to deliver beer around its hometown of Tadcaster. But for all this tradition, Samuel Smith is remarkably modern. All but one of its beers is vegan and the brewery has an entire line of organic ales, including its Strawberry Fruit Beer. According to Samuel Smith's, it's brewed at All Saints Brewery in Stamford, England using all manually operated equipment. Barley and wheat are combined to make an ale, fermented and aged for an extended period, then taken to Samuel Smith's brewery in Tadcaster, England. It is at this stage where they blend in pure strawberry juice to create a fruit-forward ale with malt and some bittering hops on the back.
Imprint Schmoojee Strawberry Blueberry Vanilla Cake
6% ABV
Ryan Diehl and Richard "Sid" Sidman opened Imprint Beer Company in Hatfield, Pennsylvania, in September of 2018. Located in Montgomery County just north of Philadelphia, Imprint immediately had to increase their brewhouse size due in part to their creative hazy IPA, luscious stouts, and mind melting Schmoojee fruited sour with lactose series such as Strawberry Blueberry Vanilla Cake. This heavily fruited smoothie style sour ale is brewed with real strawberries and blueberries, plus lactose and fresh baked vanilla cake.
Imprint Schmoojee Strawberry White Chocolate Cheesecake
6% ABV
Imprint Beer Company might be more of an acquired taste for some, but if you like your beer with a lot of fruit in it, man is this the brewery for you. Their Strawberry White Chocolate Cheesecake is a heavily fruited smoothie style sour ale with strawberries, loads of Ghiradelli white chocolate, lactose, and decadent cheesecake.
Anchorage Hysteria
6.45% ABV
Anchorage Brewing's Hysteria hazy IPA is brewed with Strata hops, fermented with thiol-boosting yeast, double dry hopped with Strata hops and Citra YCH 701 for notes of strawberry. Anchorage Brewing is one of five breweries selected by Yakima Chief Hops to use the new experimental hop product Citra YCH 701.
LINK: Peaks & Pints cooler inventory
---