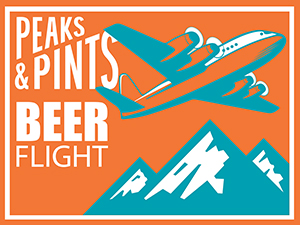 The early days of the American craft beer revolution — and much of consumer demand — was driven by the West Coast IPA. Introduced to the American drinking public via Sierra Nevada, Stone Brewing, Green Flash, Russian River, Ballast Point, Lagunitas, and ilk, the West Coast IPA minimizes malt richness and supersizes citrusy, resinous, and piney hops. Next came Vinnie Cilurzo — who went on to co-found Russian River Brewing and brewed the first West Coast double IPA at his Blind Pig Brewing in Temecula in 1994. He brewed Blind Pig Inaugural Ale, marking the birth of the Double IPA, and — perhaps more significantly — the dawn of the American craft-beer scene's "bigger is better" ethos. Also known as an imperial IPA, this style seeks to take both alcoholic strength and hop intensity to new levels with strong hop profiles for resiny, piney and/or citrus tones. Stop by peaks & Pints and grab a to-go flight of West Coast double IPAs — a flight we're calling Peaks and Pints Pilot Program: West Coast Double IPA Flight.
Peaks and Pints Pilot Program: West Coast Double IPA Flight
Icicle Peak Seeker Double IPA Series – Glacier
7.7% ABV
Founded in 2010 by Pamela and Oliver Brulotte, Icicle Brewing continues to be a 100 percent family and employee-owned production brewery and brewpub in Leavenworth, Washington. The brewery draws water from nearby Icicle Creek, a run-off from surrounded by numerous mountain ranges including the Stuart Range and Wenatchee Mountains. Icicle's West Coast Peak Seeker Double IPA series that works the same as their Enchantments Hazy IPA series, with a new variant being released every quarter. The eighth release in their modern West Coast Double IPA series, Glacier is brewed with Mosaic, Simcoe and Galaxy hops for light, fruity, and tropical notes.
Stone Ruination IPA (2023)
8.2% ABV
In 2002, Stone Brewing's Ruination IPA became the first full time brewed and bottled West Coast style double IPA on the planet. It's the big brother of Stone IPA, which was Stone's first anniversary IPA. The original Stone Ruination IPA was in their year-round lineup for 13 years. It's seen a couple different recipe iterations, but this 2023 version is the first time since 2015 that they've brewed the OG. It's brewed with a classic trio of hops: Magnum, Chinook, and Centennial for a piney and resinous aroma. The first sip is a vibrant blast of citrusy bitterness with a light malt balance.
Eel River Midnight Rider
9% ABV
Famed as America's very first certified organic brewery, Eel River Brewing began in 1995 when proprietors Ted Vivatson and Margaret Frigon decided to open a full-service gastropub in Fortuna — a micro town in the furthest northwest area of California just south of Eureka. Eel River Brewing maintains a strong commitment towards high-quality, award-winning beer made from environmentally friendly ingredients. Their Midnight Rider bold and bright West Coast double IPA is brewed with organic grains and Citra, Idaho 7, Mosaic, and Amarillo hops for resinous, fruity hop notes.
Silver City Whoop Pass
9.2% ABV
Silver City Brewery's Whoop Pass Double IPA returns bigger, bolder, and hoppier than ever. An authentic West Coast double IPA, bursting with citrus and pine aromas and flavors, Whoop Pass incorporates its classic hop lineup of Cascade, Chinook, and Columbus through modern hopping technologies and brewing equipment to wring out every drop of danky bitterness and flavor.
LINK: Peaks & Pints cooler inventory
---