Peaks and Pints discount growler fills and Tacoma events
PEAKS AND PINTS MORNING FOAM
Wednesday, Nov. 21, 2018 — Goldie Hawn turns 73 today
Peaks and Pints Weather Guy has today's weather for Lime Kiln Trail near Granite Falls.
Today's Morning Foam was compiled while watching a raccoon solving a Rubik's Cube in less than three minutes.
PEAKS AND PINTS DRAFT HIGHLIGHTS TODAY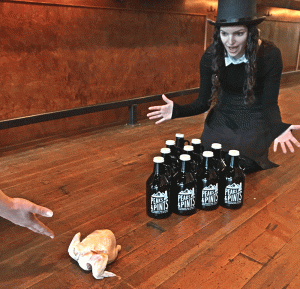 Don't show up empty handed to Thanksgiving dinner. Peaks and Pints will be open from 11 a.m. to 11 p.m. so you can stock up for the weekend. Stop by our bottle shop, taproom and restaurant in Tacoma's Proctor District for 20% off growler fills, as well as some fantastic beers on draft and tons of fun cans and bottles to bring to your turkey day event. Happy Thanksgiving!
FRAMBLANC, Cascade Brewing & Barrel House: Brewed in 2017, Framblanc is a blend of sour blond ales aged for up to 14 months in oak wine barrels with more than 3,500 pounds of white raspberries, which earned the gold medal in the Wood & Barrel Aged Sour & Brett category at the 2017 Oregon Beer Awards. It's definitely sour, with fresh flavors of raspberries, green grapes, white peaches, pears, gooseberry and a hint of sour apple and oak. 7.6%
SPEEDWAY STOUT (VIETNAMESE COFFEE), AleSmith Brewing: A blend of four Vietnamese coffees are added to Speedway Stout for intensely aromatic and bold tasting coffee that complements the notes of chocolate and roast in this massive stout. 12%
PRAIRIE BOMB!, Prairie Artisan Ales: An imperial stout aged on Nordaggio's espresso beans, chocolate, vanilla beans, and ancho chile peppers. 13%
CRAFT CHOICE CLICKABLES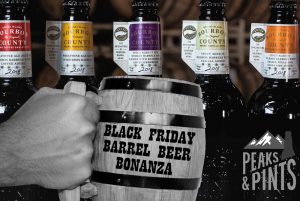 Ghostfish Brewing Company will help to ring in the holiday season in Seattle as the beer sponsor for Enchant Christmas Christmas Light Maze and Market at Safeco Field Nov. 23-Dec. 30. Ghostfish beer will be on draught in the main field level bar area and other select locations throughout the stadium. Additionally, a variety of Ghostfish canned beers will be available for sale in numerous spots inside Safeco Field.
While many will flock to malls and department stores after Thanksgiving to get a head start on their holiday shopping lists, a legion of beer lovers will line up to secure their own liquid treasure: Goose Island Bourbon County Brand Stout beers. Peaks and Pints will carry this year's BCBS, as well as five of the variants, when we open at 10 a.m. Friday, Nov. 23.
Congratulations to Kendall and Kim Jones. Their Beer Church Turkey Bowl grossed $12,000, by far the largest total they're ever earned at Turkey Bowl. They also collected more than 1,000 pounds of food. Kendall's Washington Beer Blog has the Beer Church Turkey Bowl scoop.
TODAY'S LOCAL STEW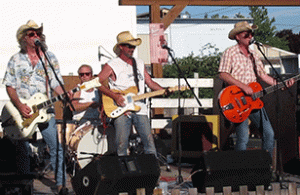 TURKEY FEST 2018, The Valley: With all sorts of relatives and homeys from back in the day returning to T-town for the holiday, Thanksgiving eve is one of the best nights for hittin' your favorite pub for brew or two. Peaks and Pints and the Parkway are two such hot spots. And while they're great spots for catching up, you may want to take your out of town guest to check out the awesome show at The Valley Tonight. Peaks and Pints bartender Joe Rosati emcees the show, as well as performs during the 6:30 p.m. Singer Songwriters Showcase that also include Dennis Porter, James Hunnicutt and Buford Rock & the No-Shows. At 8 p.m., the Twang Junkies drop all the twang, followed by rockers China Davis at 9 p.m. 1206 Puyallup Ave., Tacoma
THE APPROACH, Airport Tavern: Make no mistake: brothers Joseph and Jeramey Abarca are a good time. Since first working out their eclectic blend of ska, reggae, hip-hop, metal and funk in a basement four years ago with their Approach band, they've earned a reputation for being, well, fun. Just ask the large roving group of family and friends that follow the two around. What in on the fun? The Approach plays the Airport Tavern with Perfect By Tomorrow and Keif Urban tonight. 8-11 p.m., 5406 South Tacoma Way, Tacoma
---