Peaks and Pints craft beer news and Tacoma events
PEAKS AND PINTS MORNING FOAM
Monday, Nov. 19, 2018 — Meg Ryan turns 57 today
Peaks and Pints Weather Guy has today's weather for Mount Adams' South Trail, Washington.
Today's Morning Foam was compiled while watching the new video from BTS and Steve Aoki for their hit "Waste It on Me." The three-minute and 18-second mini film features a star-studded, all Asian-American cast, including Ken Jeong, Jamie Chung, Ross Butler, Devon Aoki and Ben Baller.
PEAKS AND PINTS DRAFT HIGHLIGHTS TODAY
ARMORED FIST, Boneyard Beer: Three Floyds out of Chicago collaborated on this imperial Cascadian dark ale. It is a very well-balanced, extremely hoppy black ale. 9%
GERMAN ALTBIER, Chuckanut Brewery: When lager brewing set out to conquer the world in the mid-1800s, not everyone got with the program.  Though Germany was the center of the lager revolution, Düsseldorf was one of the only cities to hold onto its tradition of ale brewing in the form of altbier.  Alt "old," is an adjective that Germans tend to use wistfully. Chuckanut Brewery German Alt has only a hint of fruitiness that gives it away as an ale- otherwise the flavors are very clean and round, with a medium-bodied malty center made with Skagit Malts supported by a refreshingly sharp whack of hop bitterness. Chuckanut German Alt hits the nose with a nutty, biscuit aroma. Flavors are moderate sweet caramel with a slight bitterness on the finish. 5%
GRAIN MECHANICS, Matchless Brewing: Matchless invited Mirage Beer Co. to its Tumwater brewery to brew this helles that smells of summer breezes and grape notes put forward by the Slovenian hops. The bitterness is balanced and supported by a single decoction mash with Helles malts and Undermodified Chit malt. 4.4%
CRAFT CHOICE CLICKABLES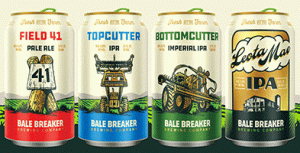 After five years brewing, Yakima's Bale Breaker Brewing is set to refresh its label artwork that adorns its four core 12-ounce can offerings. The new can artwork will be featured on cans of Topcutter IPA, Bottomcutter IIPA, Field 41 Pale Ale, and Leota Mae IPA.
There's a lot to like about brewing in Portland, Oregon but for Justin Miller, the head brewer of Hopworks Urban Brewery, having access to terrific hop growers just a short drive away tops the list. On Beer And Brewing's latest podcast Miller discusses the important relationship between farm and brewery, why all brewers and drinkers need to be more focused on environmental concerns, and why the Cascadian dark ale is a style with substance.
This year was an eventful one for Ecliptic Brewing and their 2019 calendar indicates that this upcoming one will be no different. Their 2019 beer calendar reveals the return of all year-round beers, some exciting changes to the seasonal and special release selections, along with the addition of the limited release series.
TODAY'S LOCAL STEW
BOY ERASED, The Grand Cinema: In this true-life story, parents Russell Crowe and Nicole Kidman send their son for conversion therapy. But despite everyone's best efforts, he remains Australian. 1:05, 3:40, 6:10 and 8:40 p.m., 606 S. Fawcett, Tacoma
PARTY BATTERY, Parkway Tavern: As you know, Parkway Tavern Manager Sean Jackson went on vacation last week to re-charge his battery. We can't say where he went, but we hear he went out clubbing every night. Anyway, Jackson will keep the party battery charged when he taps Royale Brewing's Party Battery IPA for his weekly Randall Night. What fresh ingredients he will run through the IPA is still a mystery, but we wouldn't be surprised if his infusion tube was filled with gold chains, platform shoes and tight slacks. 5 p.m., 313 N. I St., Tacoma
---